Androulla Theokle
Androulla Theokle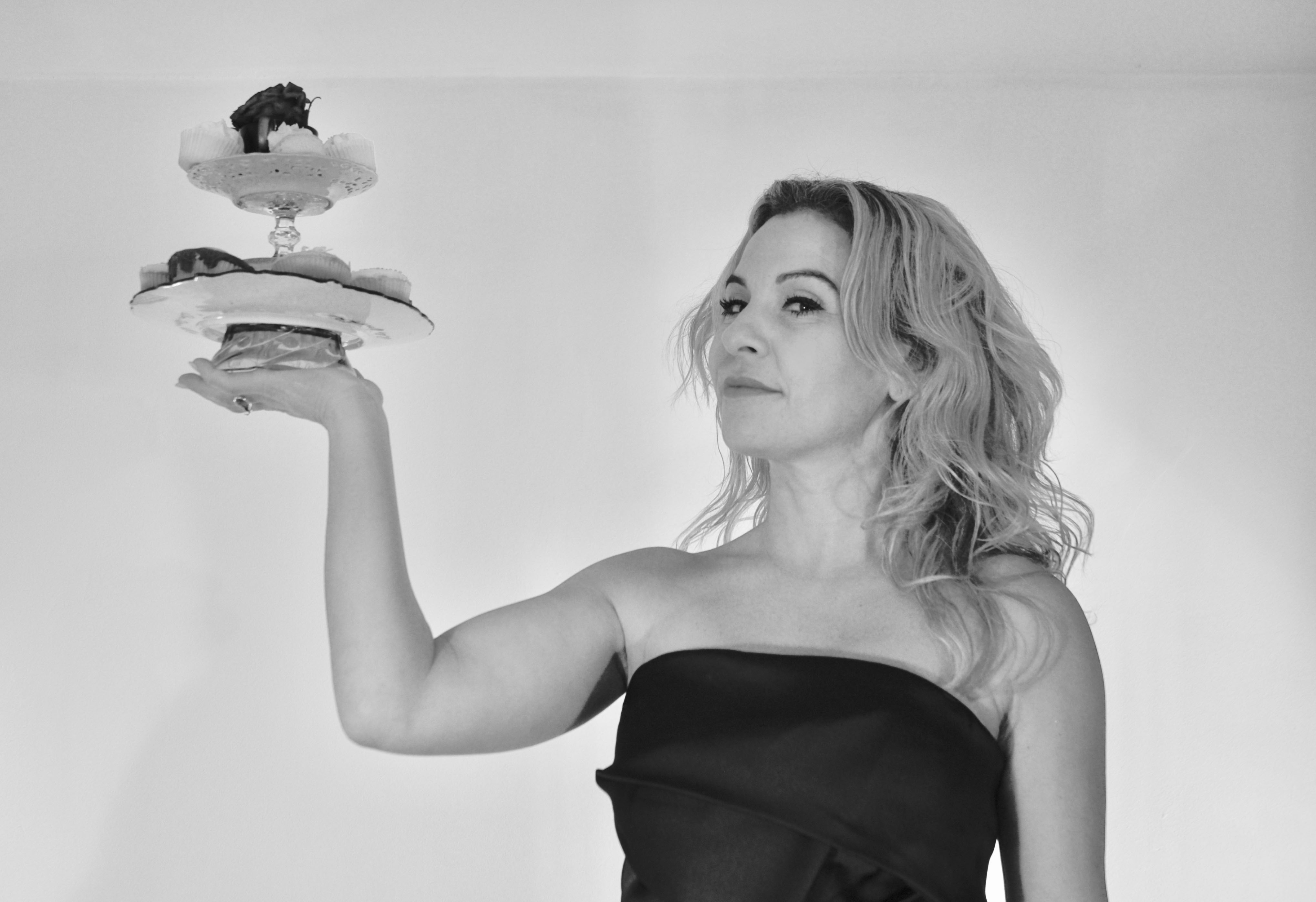 Andi's recent artworks of water painted on canvas originate with her fascination with this element. Our blue planet is 71% water, it is what makes up about 65% of our bodies, depending on our weight.  It is the compound we most depend on.  It is the most ordinary but yet one the of the greatest mysteries, it takes us into the darkest secrets of the oceans, the curiosities of lakes with monsters and stories, it seduces us, as it dances with light in every change of the day, it's blue and turquoise, white and black, this odourless almost colourless and tasteless compound.  This magical matter has been photographed, filmed, and documented, and this is what Andi's recent collection of paintings represent, she paints abstract versions of water.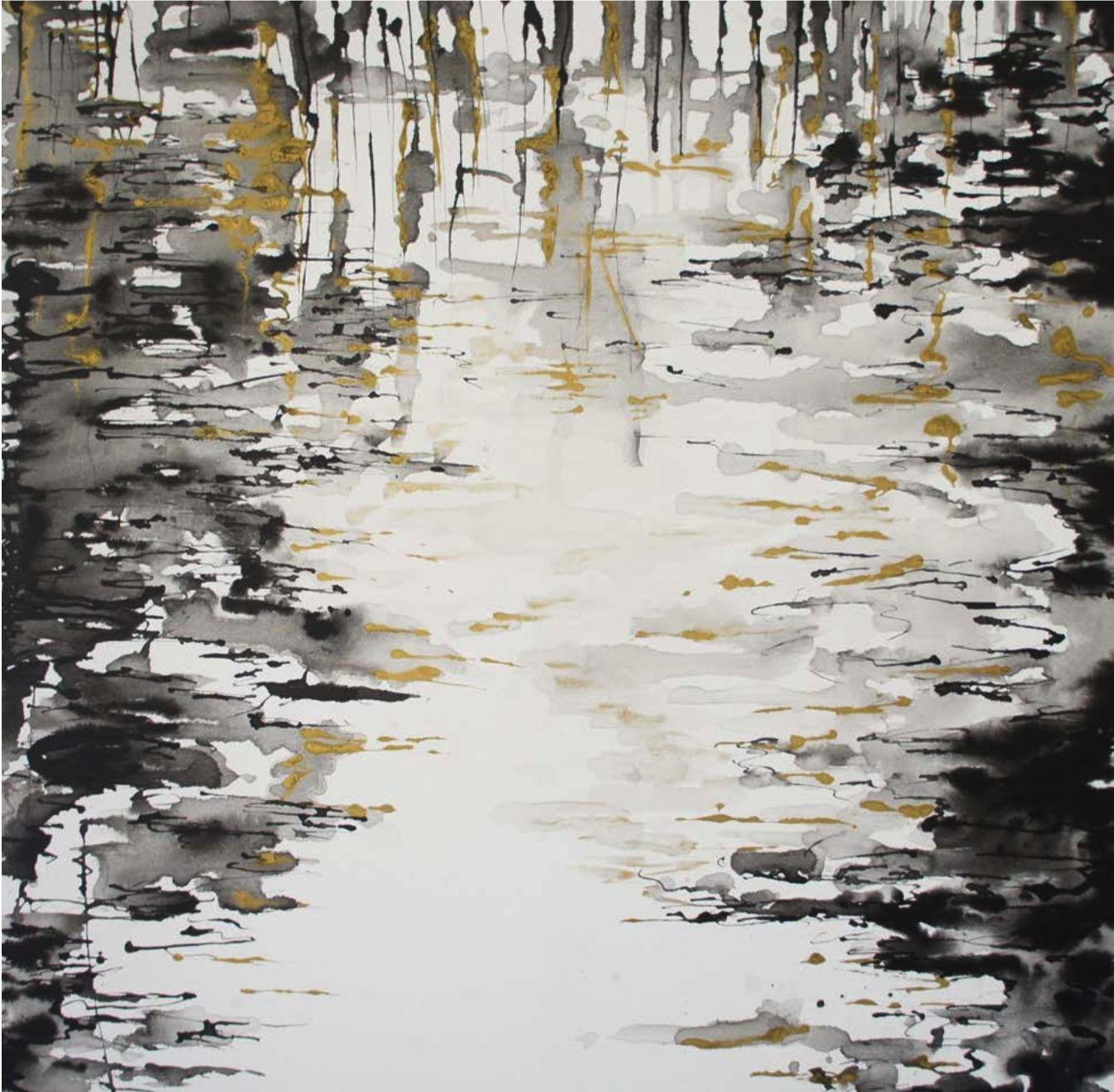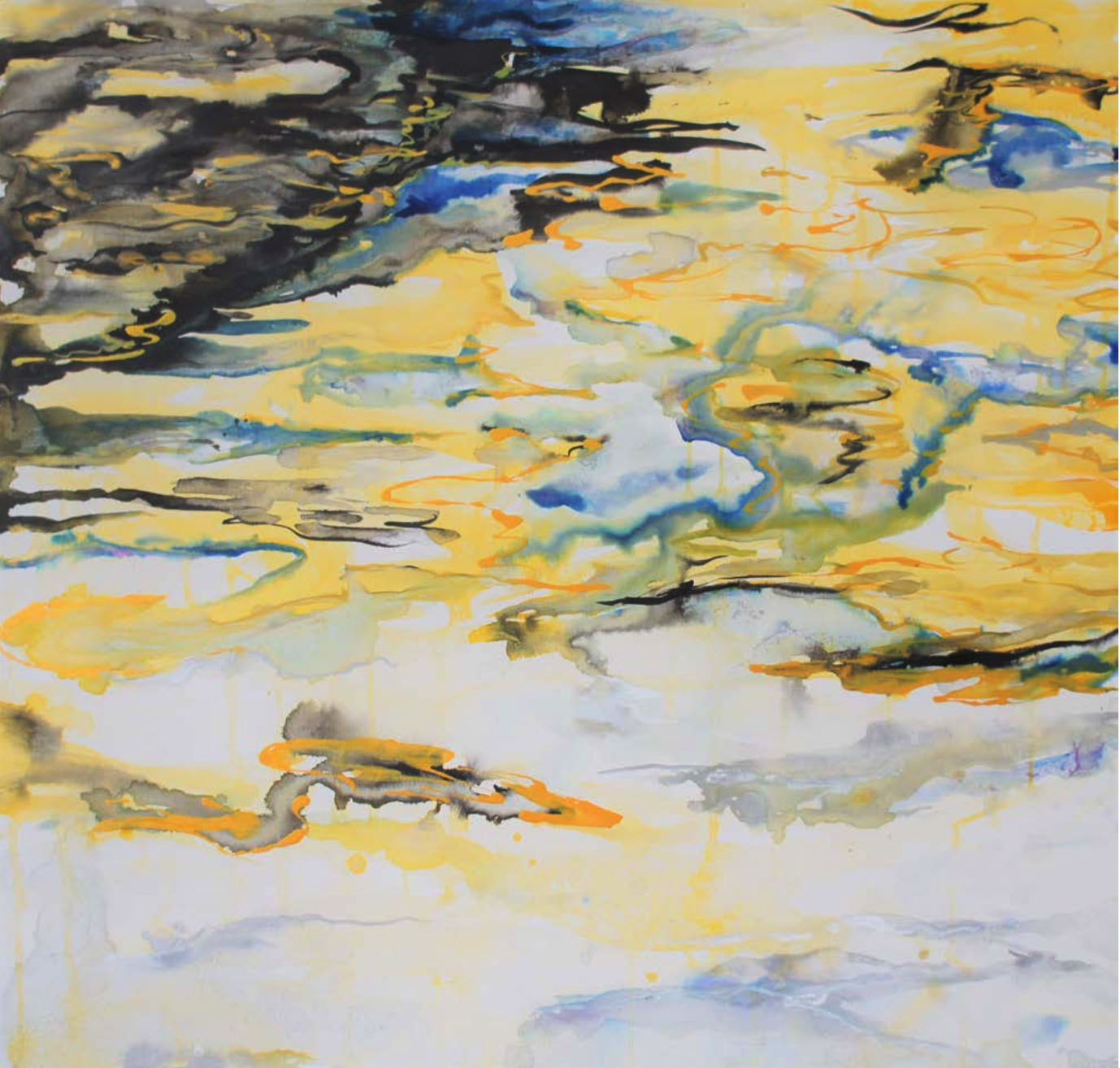 Her artworks explore the sunrises and sunsets in her skies in Africa and landscapes of cities or mountain ranges, which hint on the Chinese ink wash, as she blends the delicacy of water and ink on canvas.  Or her artworks on the human form in motion, some with splashes of colour, resonate the deep emotions of passion and love.  This intensity is still present in her recent works, It's how she sees the dance of light on what she calls 'the mirror to the world'.  Water is the only place where she can relax, but she confesses to me she can't swim.  Being thrown into water as a very small child, is something she hasn't got over, yet.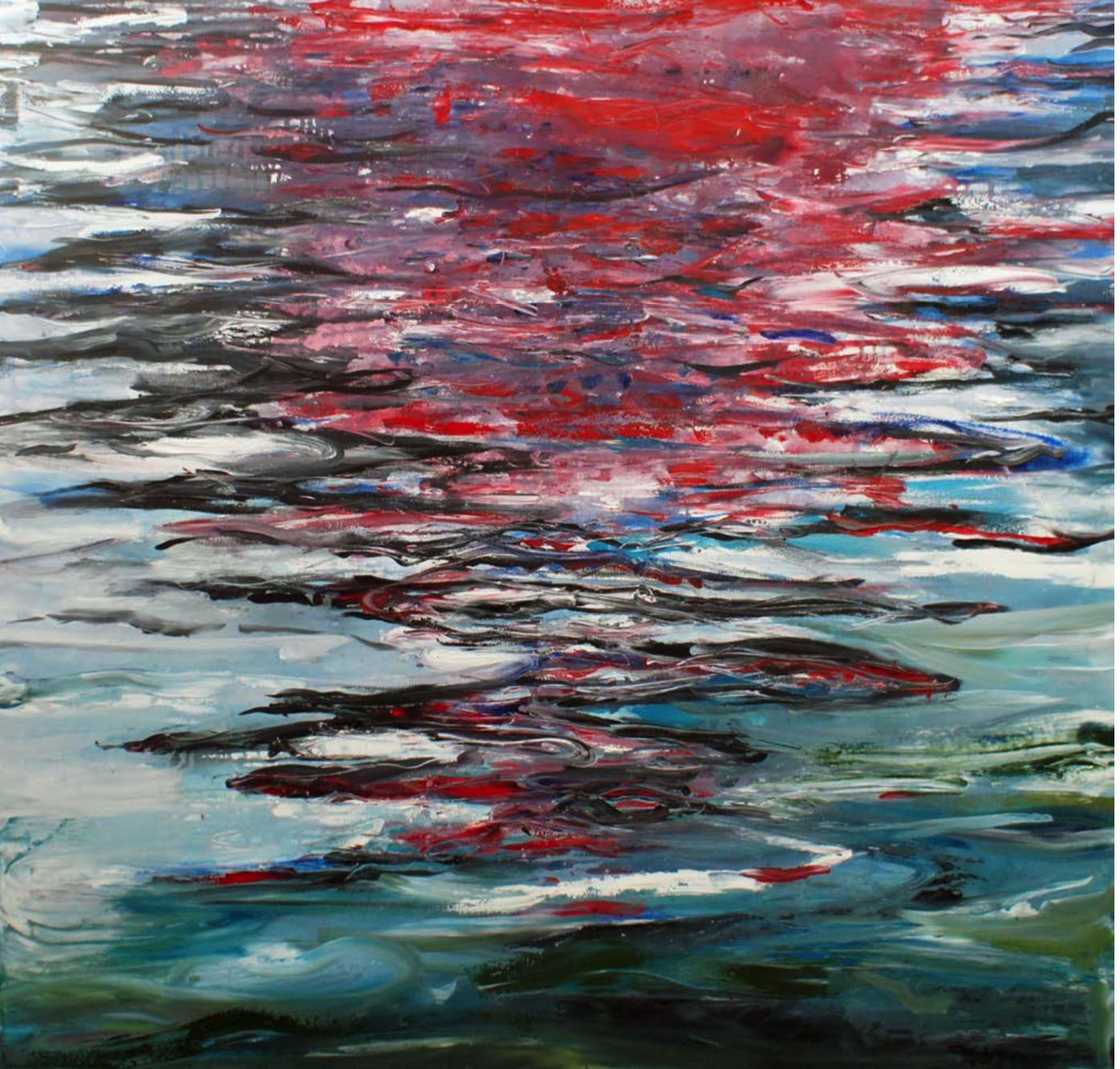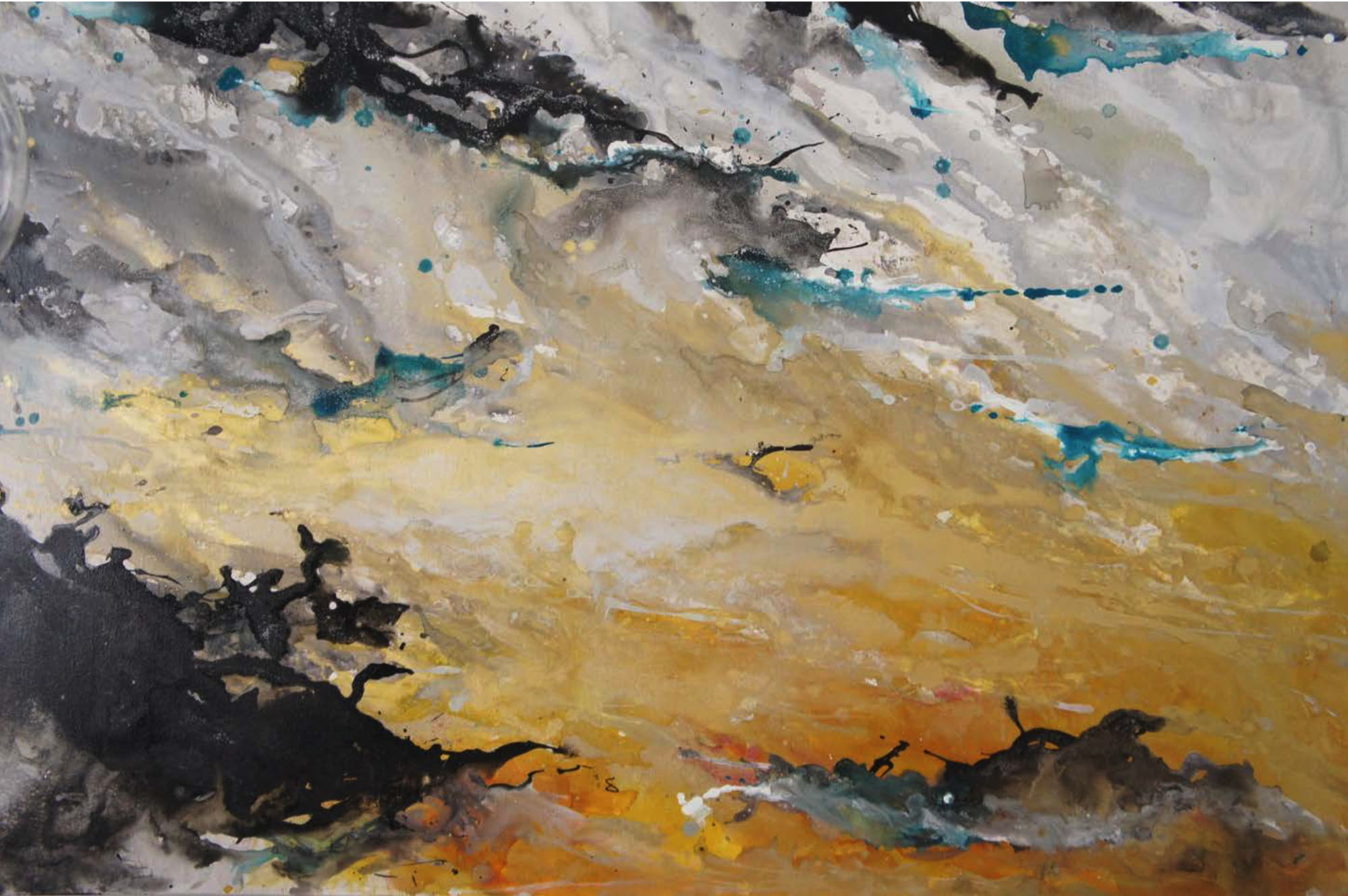 Andi, as she prefers to be called, is a North Londoner, she grew up in Cockfosters with her traditional greek family, raised to be a wife and have children.  Even though Andi's educational path was accelerating, her parents were not willing for her to move away and study.  However she went to Manchester metropolitan university to gain her independence and forge a career.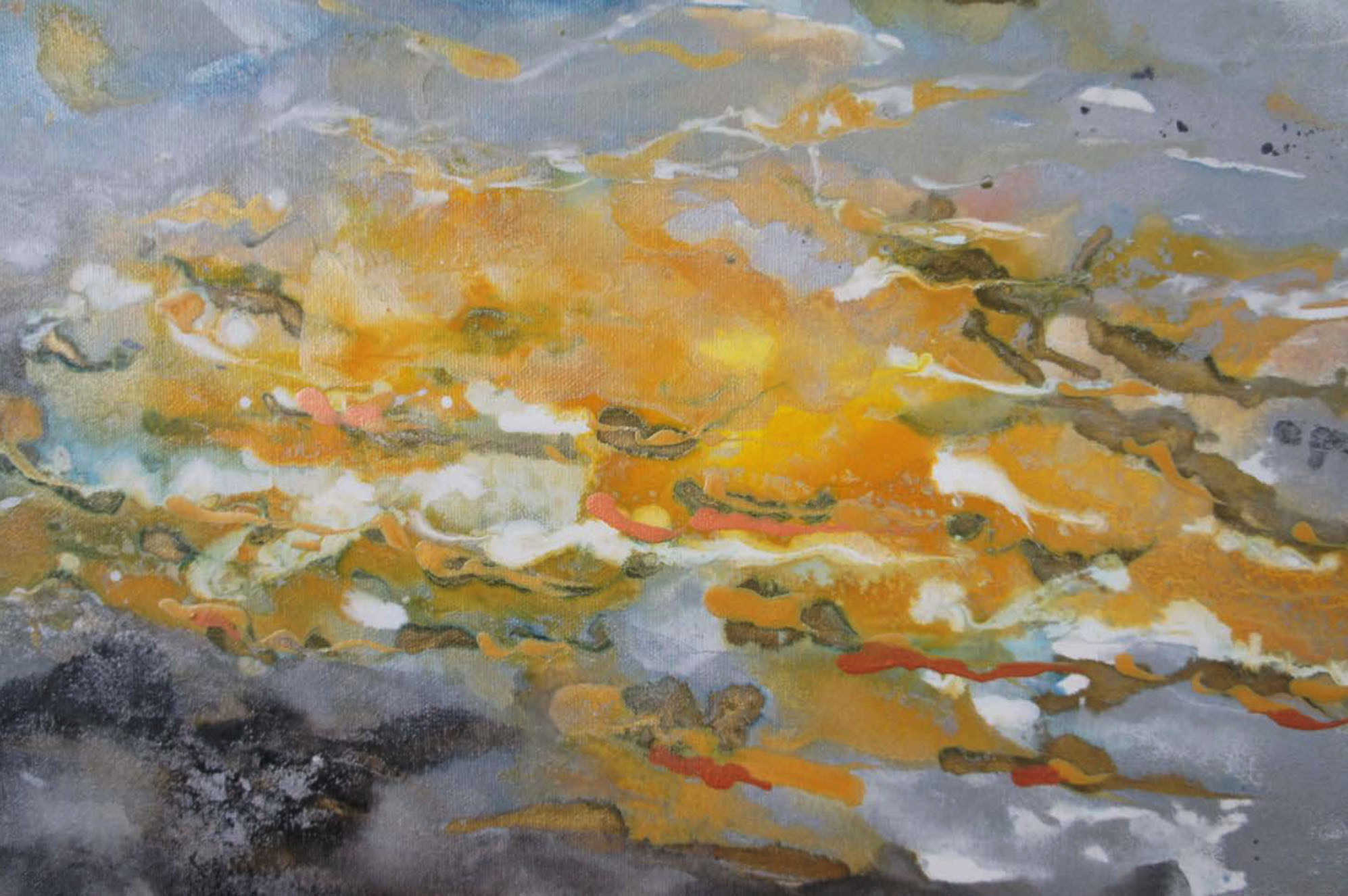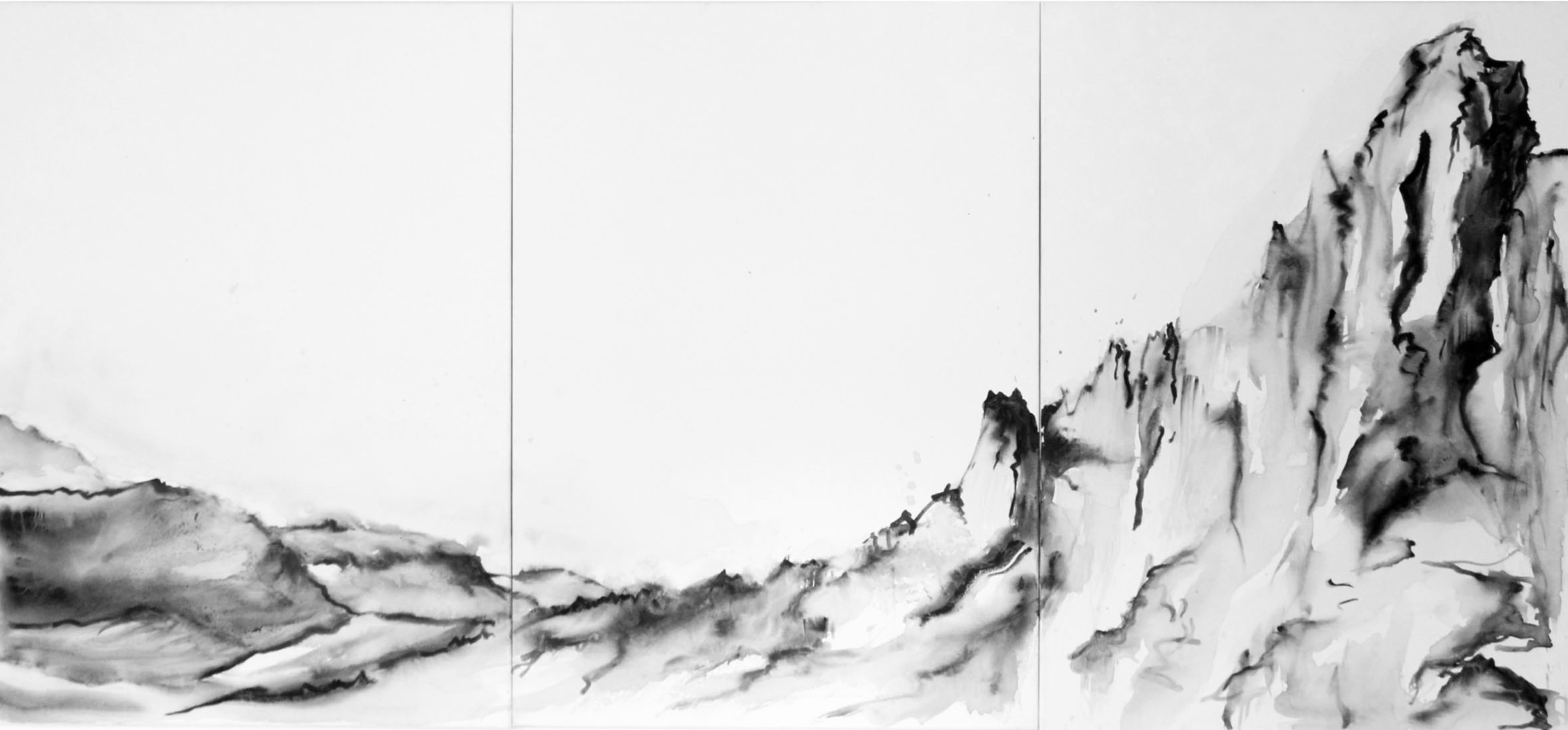 Andi's foundation tutor advised her career choices to continue her studies as an interior designer, but to never give up on art.  During her dissertation work she traveled to Canada and North America, studying Henry Moore and Barbra Hepworth, 70% of Henry Moore's work is in North America, she informs me. Her work was published and placed in the Henry Moore foundation in Bishops Stortford. "I blagged my way to stay longer" Andi confesses, and after an intense three month round trip from Toronto, New York, San Diego, Vancouver Andi was always sketching and painting architecture whilst travelling.  She continued to the Iberian peninsula, this was her first collection of works; 'Iberian impressions'.  The sketching and painting continued, Lisbon, Barcelona, Madrid and Naples.  Her first art show was on Frith Street, Soho, her works hanging for two months.  She was 23 at the time, her next show titled Origins, narrated the topics, Greece as the Motherland, Cyprus as being her roots, London her home.  The exhibition comprising 3 sections and 42 pieces.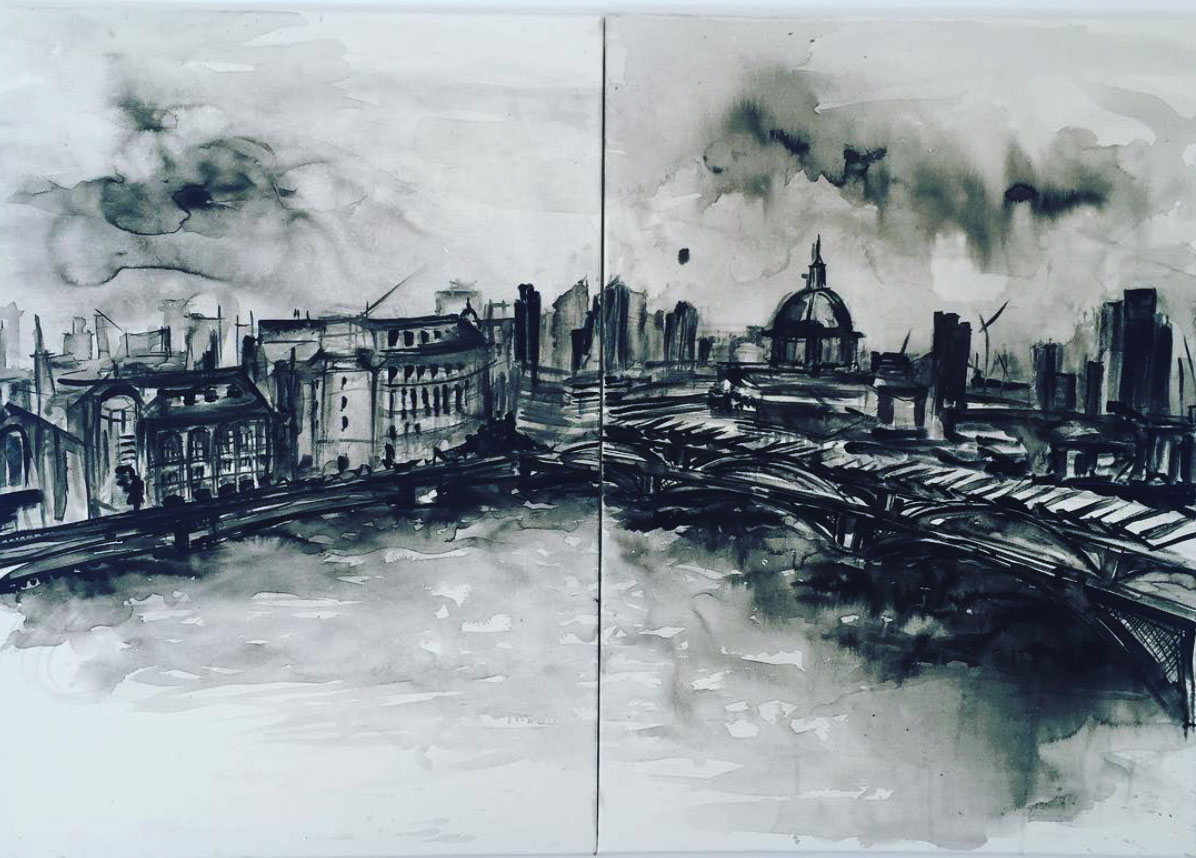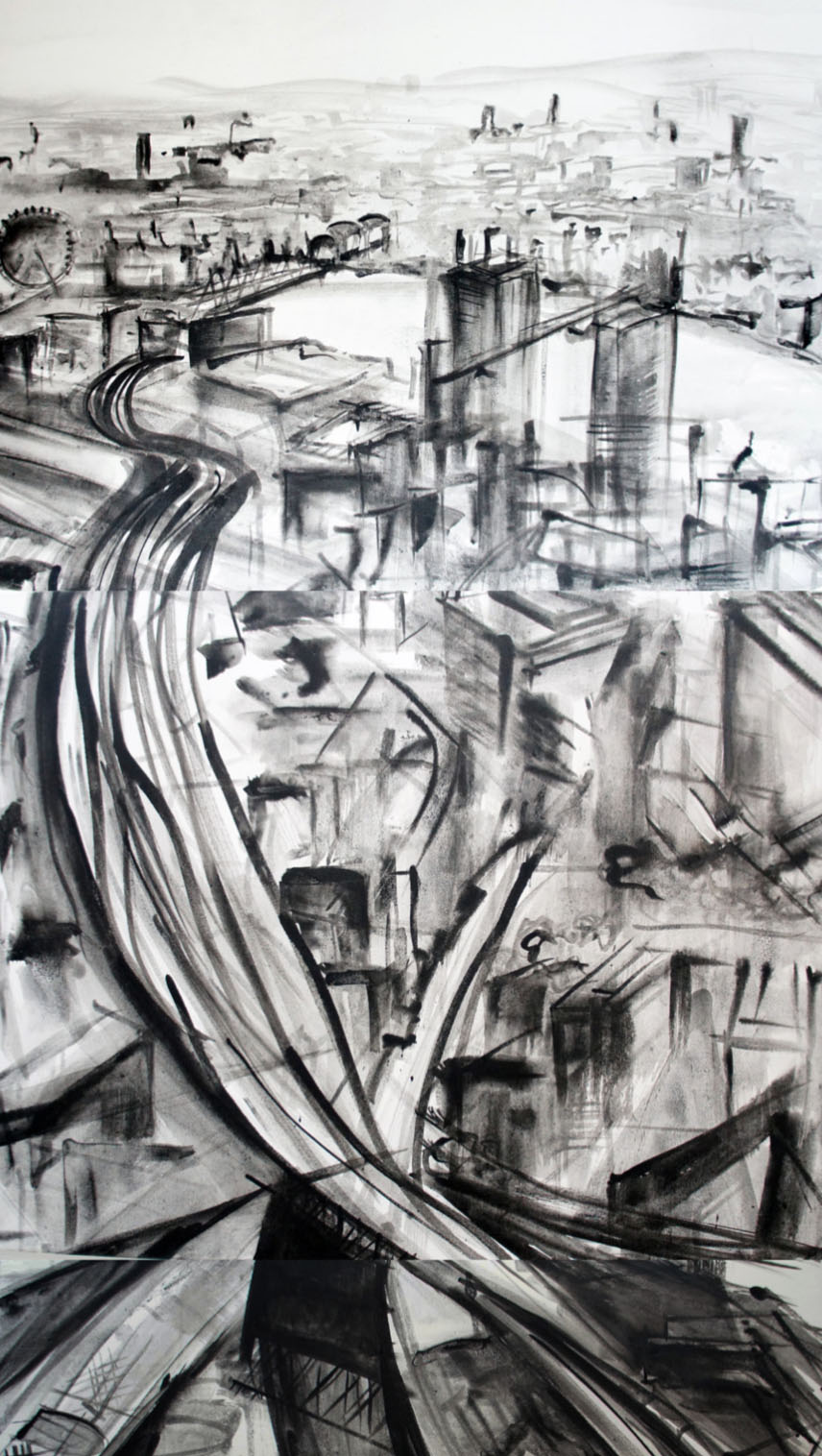 At 26 she decided to take a break from interiors, so she took a sabbatical and headed to Cyprus, and created her next body of work, `The Human Form and Movement Collection'.  The collection that followed was Man made natural world which was a departure from painting and sketching as it focused on digital manipulation of photography.  A combination of nature and architecture, the 'paintings' were one off prints of abstracted digital montage. This was followed by her photography and painting artworks, traveling to Egypt and Jordan for inspiration.  Still working internationally as an interior designer.  Meanwhile, winning awards, she won the BCO award for interior design 12 years ago for Network rail, for their HQ in Manchester.  She designed the famous Sky Garden reception area and won a BCO for Gartner 2018.  Her show in 2017, titled '90×65' paintings of Cyprus and Jordan made up of 2/3 or five  65 x 90 sized canvases, nearly sold out over the course of two weeks, including the biggest piece she ever sold. "I was awestruck, I thought I had won the lottery" she tells me beaming, and was able to place a deposit and buy her second property.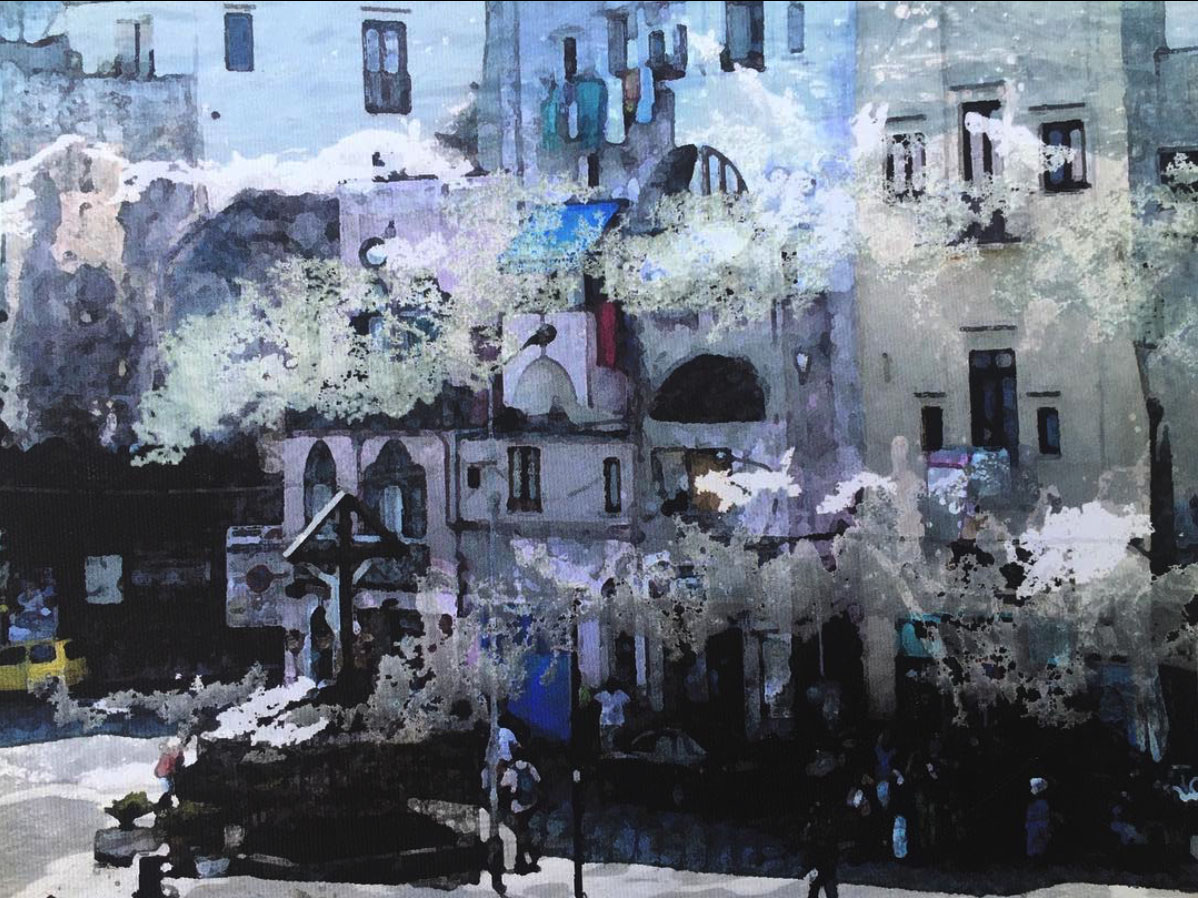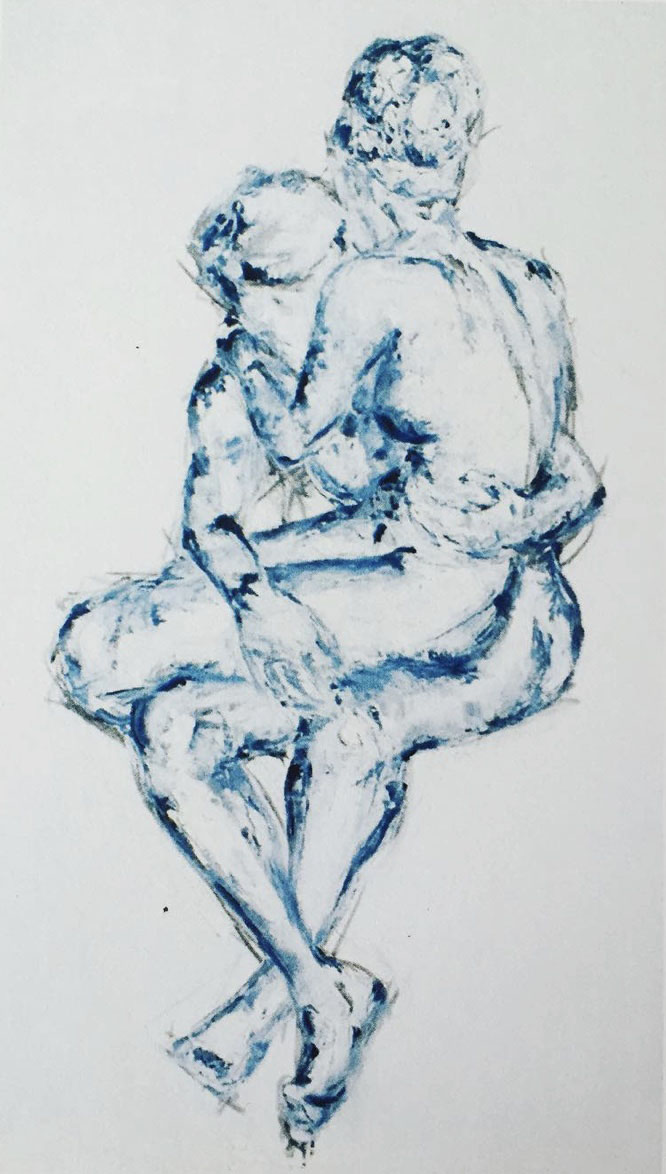 The reflection on her face then takes a slight turn, she looks at me with a teeny bit of sadness, not everyone is happy for others' success, but what she wanted was to give the message to others, "If she can do it, so can I".  For the mother of a little girl herself, nothing could be more profound.  We as women can facilitate and liberate ourselves from those shackles by which many of us have been conditioned by raising each other up. "I have always been fascinated with reflection," she tells me when she describes one of her first sculptures made with glass.  This reminds me of a saying I heard a long time ago, 'Our children hold the mirror to us' and if our children can learn anything today, is that we are equal no matter what sex we are.
Her next show will be 14 November at Herman Millar, 61 Aldwych, Holborn, London.
Interview: Antoinette Haselhorst