Contemporary Art Keen Enthusiast (CAKE), explores the art world, featuring comprehensive interview based articles, with a diverse range of artists, showcasing their works from around the world.  CAKE additionally has an online art gallery, with events and exhibitions promoting our artists.
About 29 years ago, whilst strolling through a market on the outskirts of rural Johannesburg, South Africa, I stumbled upon some sculptures made of burnt clay, the artist was sitting on the ground in the dirt with his work.  He had burnt the clay with an open fire, however the expressive and yet simple shapes and lines in his work took my breath away.  It reminded me of a  combination of the works of art by Henry Moore and Francis Bacon.  I wanted to purchase one of his clay effigies that I found particularly striking.  I asked the price, "R250.00" he said looking up at me, expecting me to haggle him down.  To his surprise I paid him the money he asked and told him I thought he was a genius and walked away.  To this day I regret not taking a note of his name and contact details, I often think about him and what became of him. 
So that's what C-A-K-E is about, meeting the artists and appreciating their work . The influence and enigma of the art world, inspiring, empowering and challenging artists worldwide. We seek out the brightest in a diversity of emerging and accredited visual creators. Artists who push the boundaries of creativity, showcasing their works with journalistic interview-based articles. Art directed with wit and enthusiasm, a portrait of every artist featured with a cake. 
If you are a Contemporary Art Keen Enthusiast, and like CAKE, I hope you will enjoy the showcasing of some inspiring work and artists.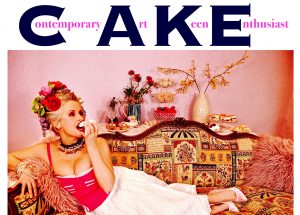 Antoinette is a London based photographer, she primarily shoots portraits and editorials.  She graduated from Art College in Hamburg, The School of Visual Arts NYC and the D&AD London.  She started her career as an Art Director in advertising, working in New York and London for nine years.  She finds immense reward in being creative, developing concepts and thinking out of the box.  She turned to fashion photography in 1990 and has had many exhibitions of her work in London including Proud Galleries and the Halcyon, as well as being the author of two books 'Motherhood' sponsored by De Beers, and her most recent 'Reflections on Nelson Mandela: Icon of peace'.