Elliot Walker
Elliot Walker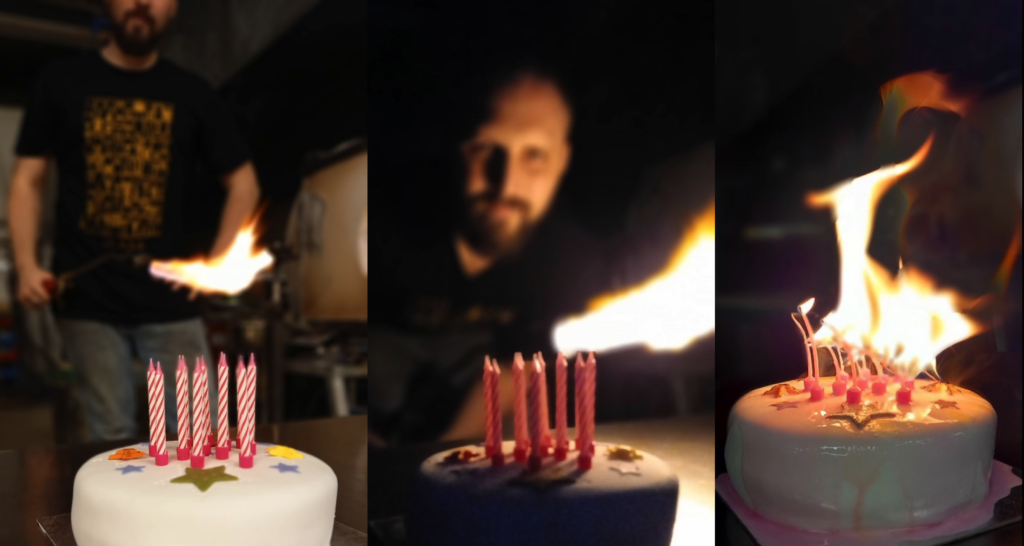 Reminiscent of Aladdin's cave of treasures, Elliot's glass art is a bedazzlement of candescent banquets, a feast of exquisitely created lamb cutlets, salmon steaks, lemons and limes, carafes and goblets feasting your eyes on a reverie of colour. Extensively detailed glass craftsmanship, from the tiniest detail of a prawn's antenna, to a lobster's claw, a skull and bone and magic black apple. His works are realms of literary fables, full of bewitchment and sorcery, however finished with a conceptual wit and intelligence, a proficiency and refined elegance like that of 007, turning the whole concept of glass art on its head. The psychology of this opulence is well thought out, combined with the master craftsmanship of glass blowing, it is not for the faint hearted. It requires speed and dexterity, precise temperature control, extensive skill when sculpting with molten glass, dealing with temperatures at 2000 degrees Fahrenheit, (1100 celsius) as the glass blower turns a blob of melted sand into a work of art. Much of Elliot's artworks are inspired by studying the still life paintings of the Dutch masters. He observed the skills they used to paint glass, and "flipping it on its head" he explains, to make sculptures with glass, using the contrast and use of light with his monochromatic use of colour and colourful fruits.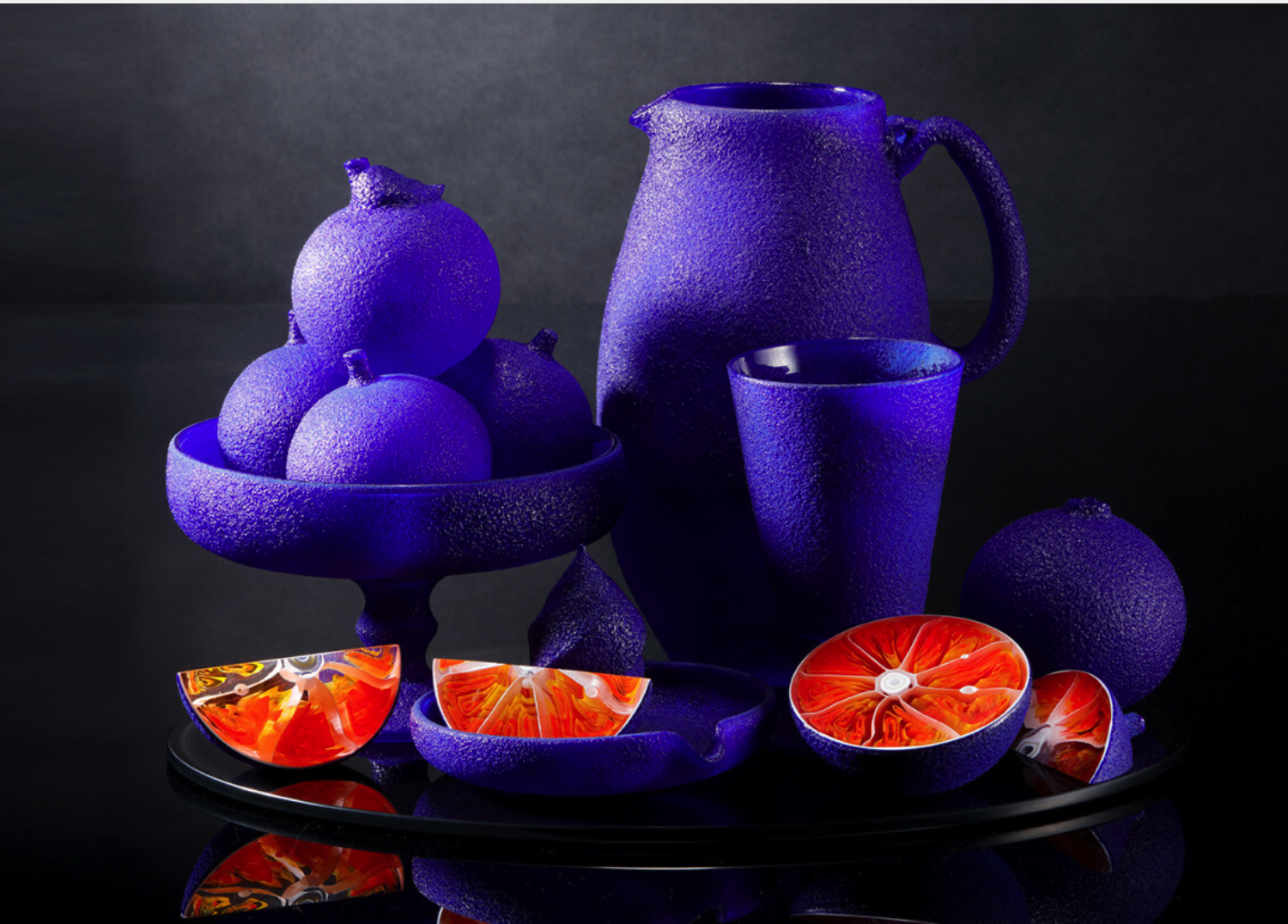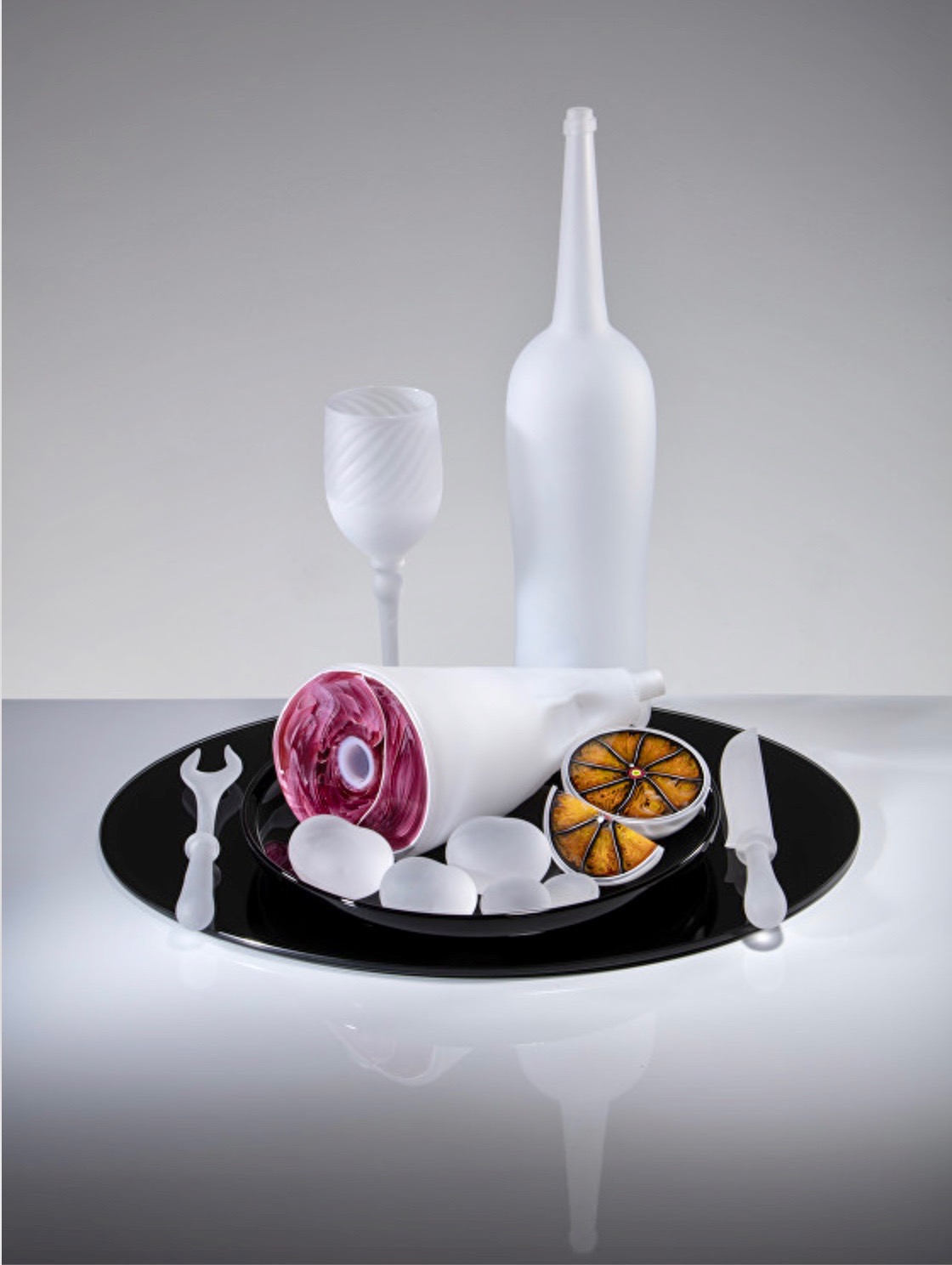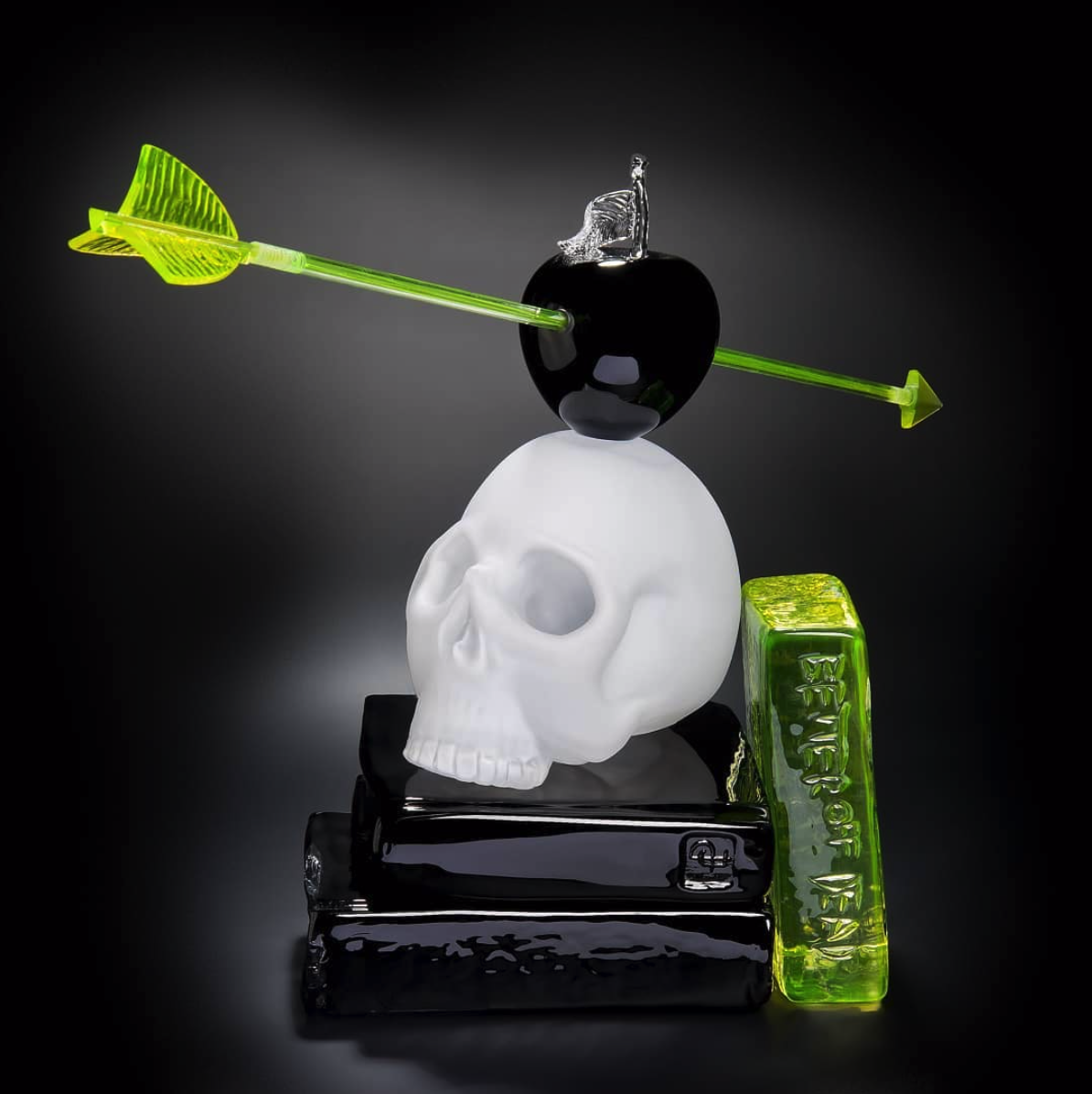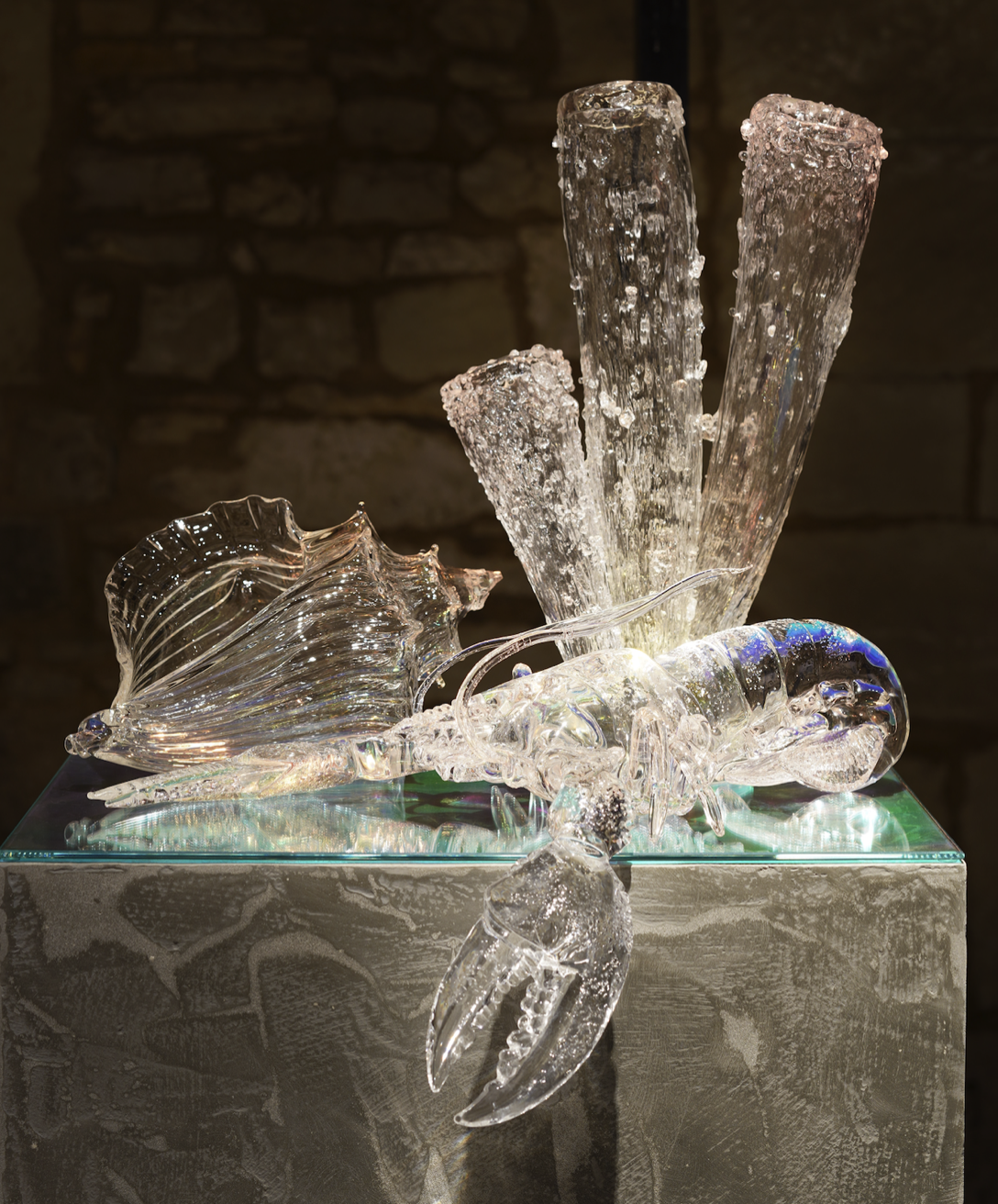 The technique of blowing glass has been around for hundreds of years, as an art-form Elliot tells me, however recently it has been more prominent in the US than the UK, although Elliot, as the British contestant and the winner on the Netflix series Blown Away proved; that he has taken this art form to a whole new level. The conceptually driven art form to make sculpture with glass, is very new, he explains. It took a while for the glass galleries to appreciate it, for his work to sink in, it was the public's response to his work, that fine line between fine art and glass art, that glass galleries were at first uncomfortable with. Now that his popularity is building up, he is one of a few glassblowers in the world who focuses solely on figurative sculpture, sculpting from molten glass, known as the 'Massello' technique, a legendary Venetian art in glass sculpture. "It's a hazardous environment to work in, everything around you is metal, it's easy to burn yourself, you have to be aware physically of space around you" Elliot explains. Lots of deep concentration is required, the material is constantly moving, you have to be very focused. That's the tradeoff, describing the sculpting process with molten glass, as very intuitive and he compares it with making or playing music. It needs to be made well, he emphasises, however if you make a mistake, it's destroyed, and you have to recover quickly, and see the whole process through again in one go.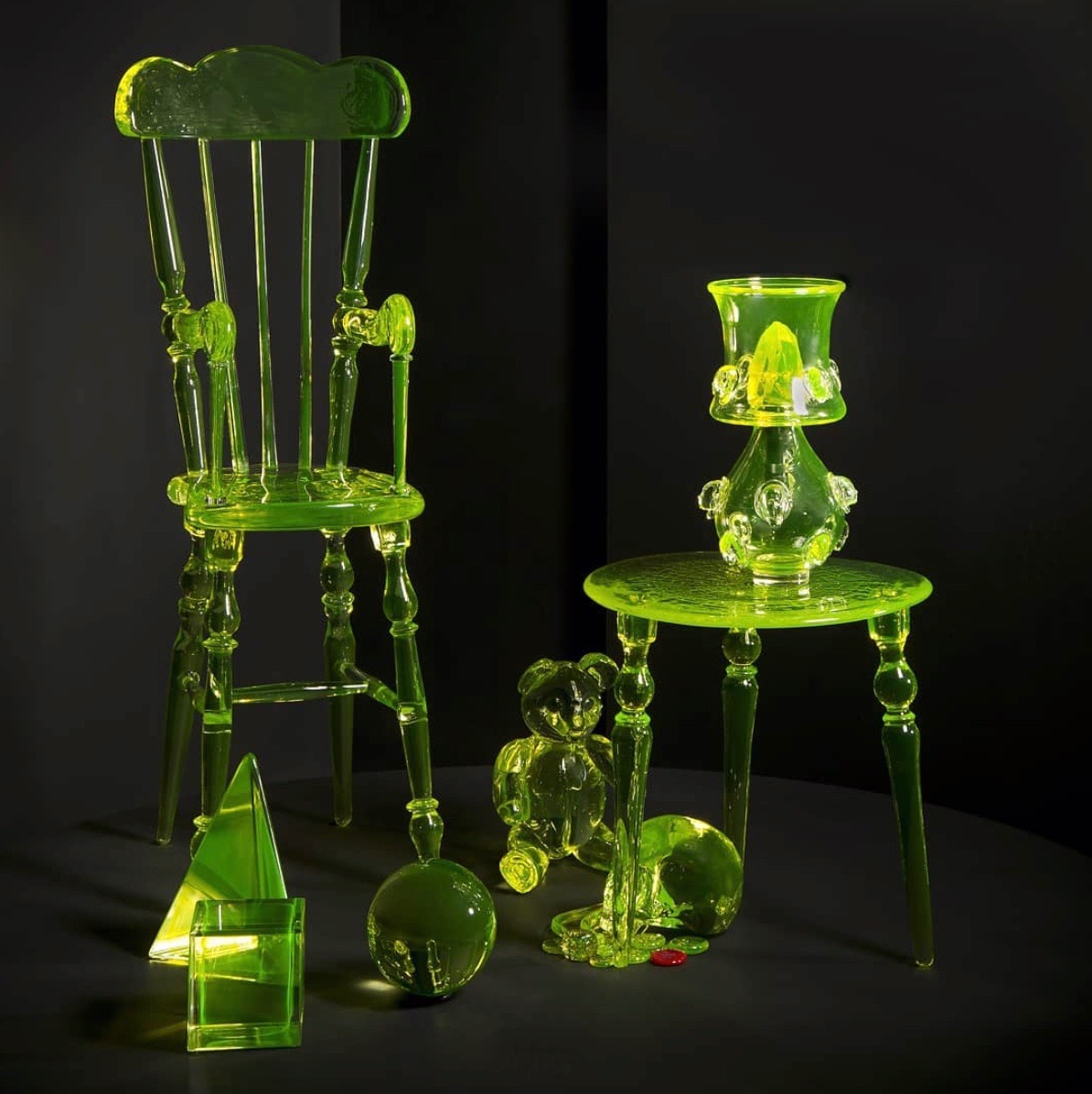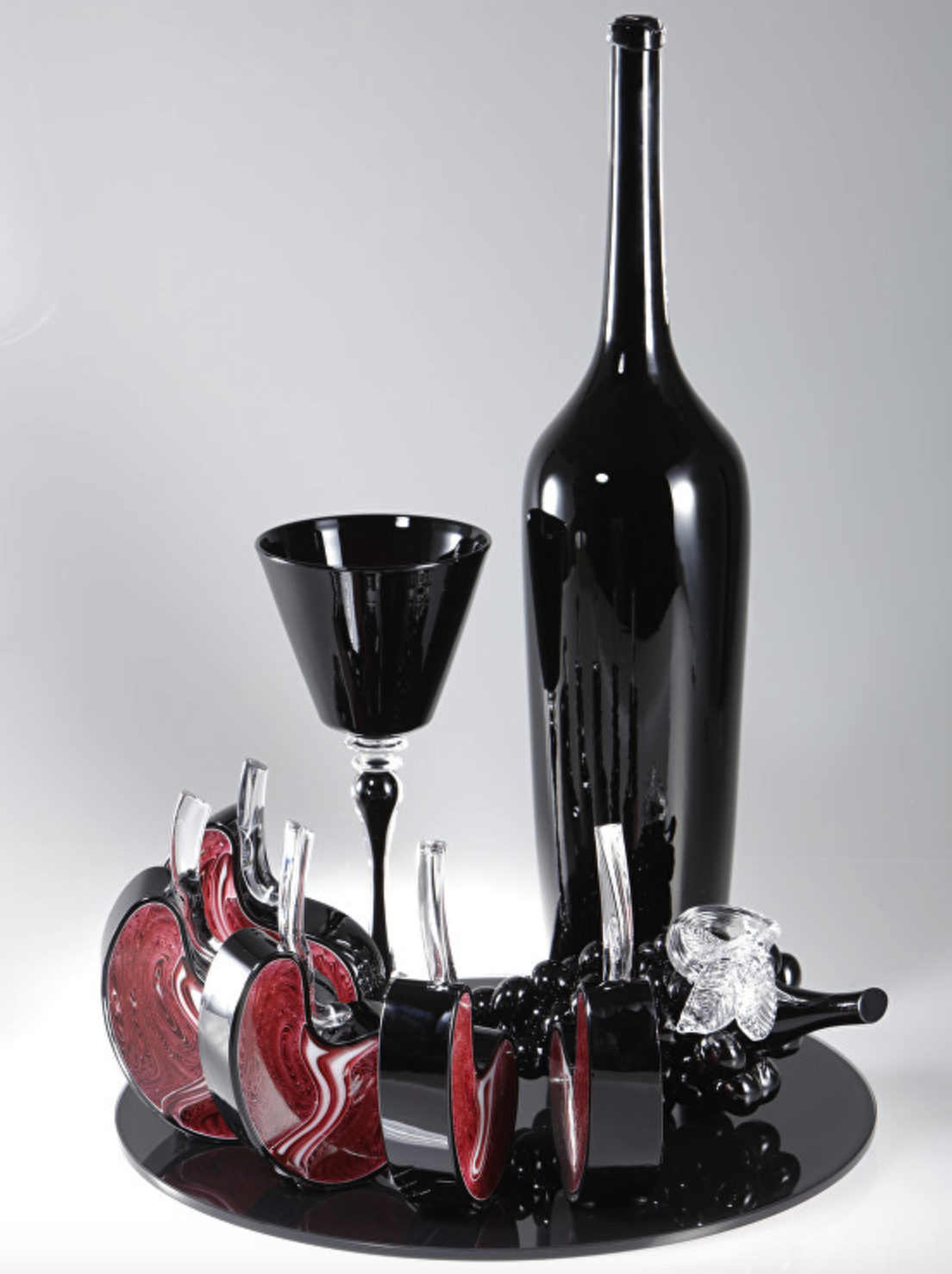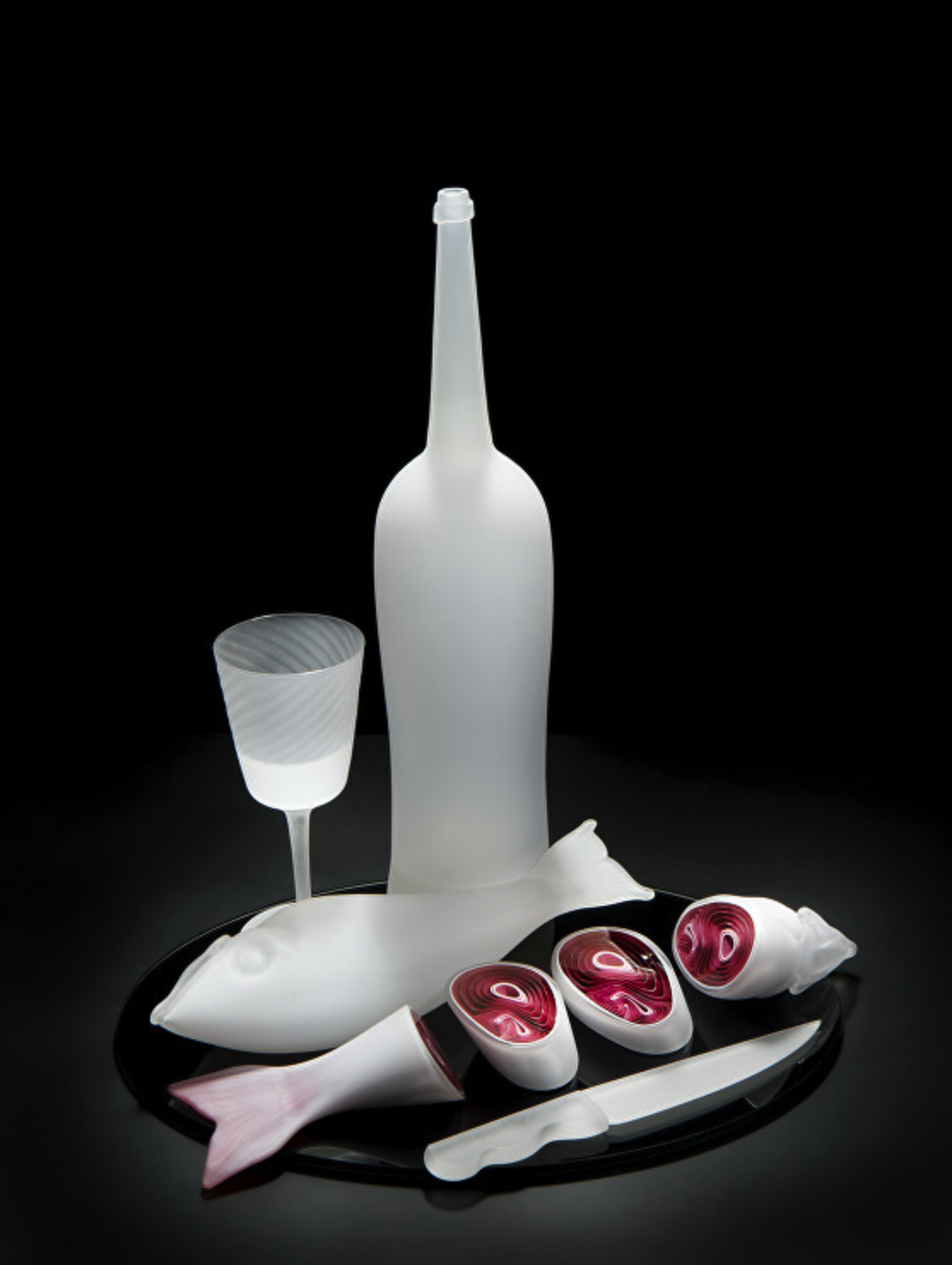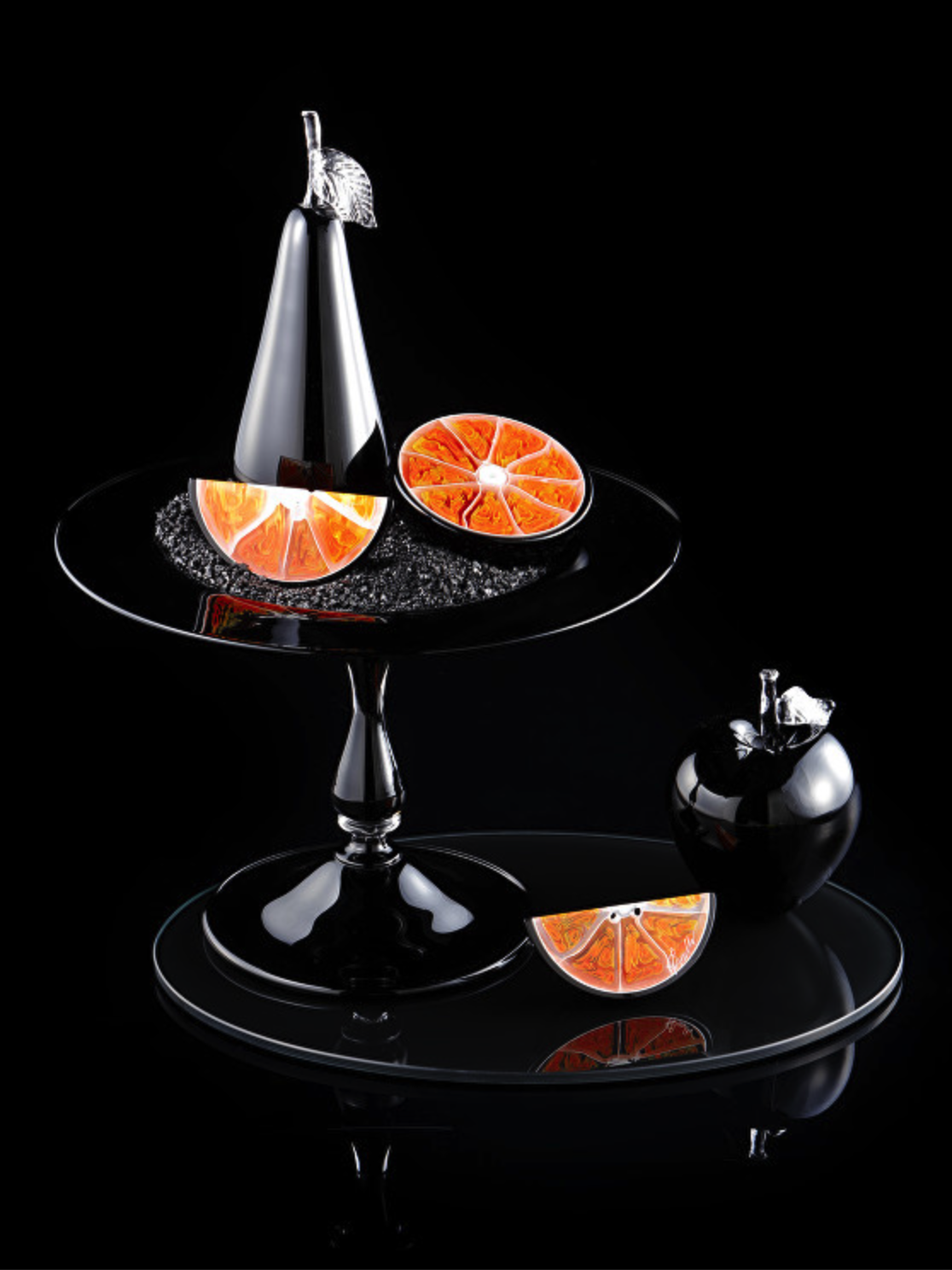 He always sketches, "Loads and loads of sketches" and to see how it translates into the material, he explains, including procedural diagrams to figure out how to do it and convince the glass what you want it to do "when the glass just wants to be a blob!" he emphasises. As soon as he completes a work, he moves on to the next idea, sending the artwork off to the gallery. As a stern critique of his work, he tells me how pleased he is, he doesn't have to see it and that is it as the gallery. Elliot grew up in Wolverhampton, England, an academic at school, he took his A-Levels in science, chemistry and biology. As a boy, he describes himself as 'outdoorsy', always creating and making things, mostly with natural objects, pebbles and sticks and inspired by British sculptor and environmentalist, Andy Goldsworthy. He never thought of being an artist when he was younger, he explains, he thought it wasn't sensible, he has a BA in psychology at Bangor University in North Wales; whilst at university taking night classes in stained glass windows.  Followed by an MA in applied arts at Wolverhampton University for four years. His studio is currently in Hartford, just north of London, having moved recently from Camden, he now lives in St Albans with his life partner, colleague and an artist as well Bethany Wood, she is also the owner of the Blowfish art gallery, currently selling Elliot's works online.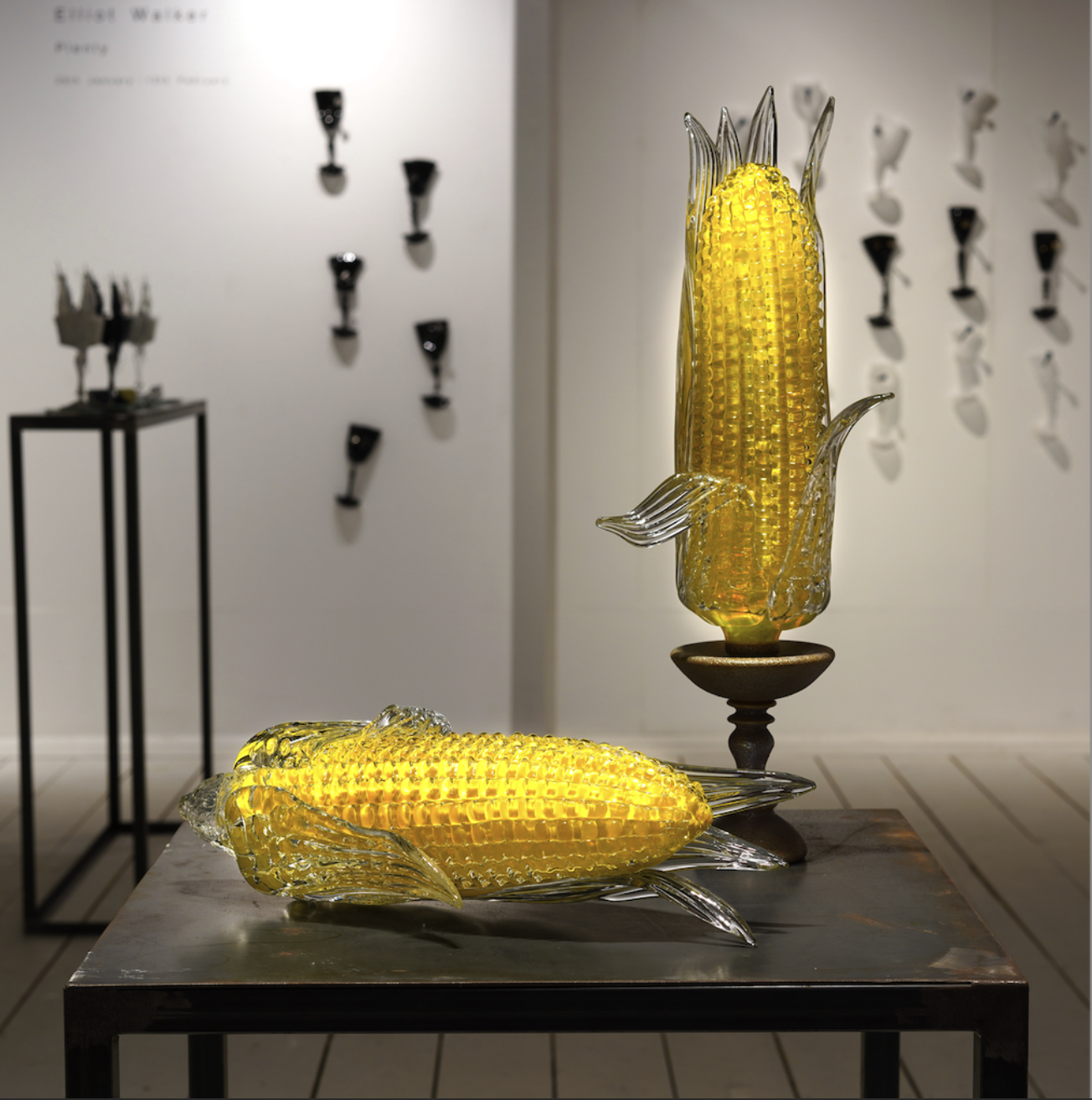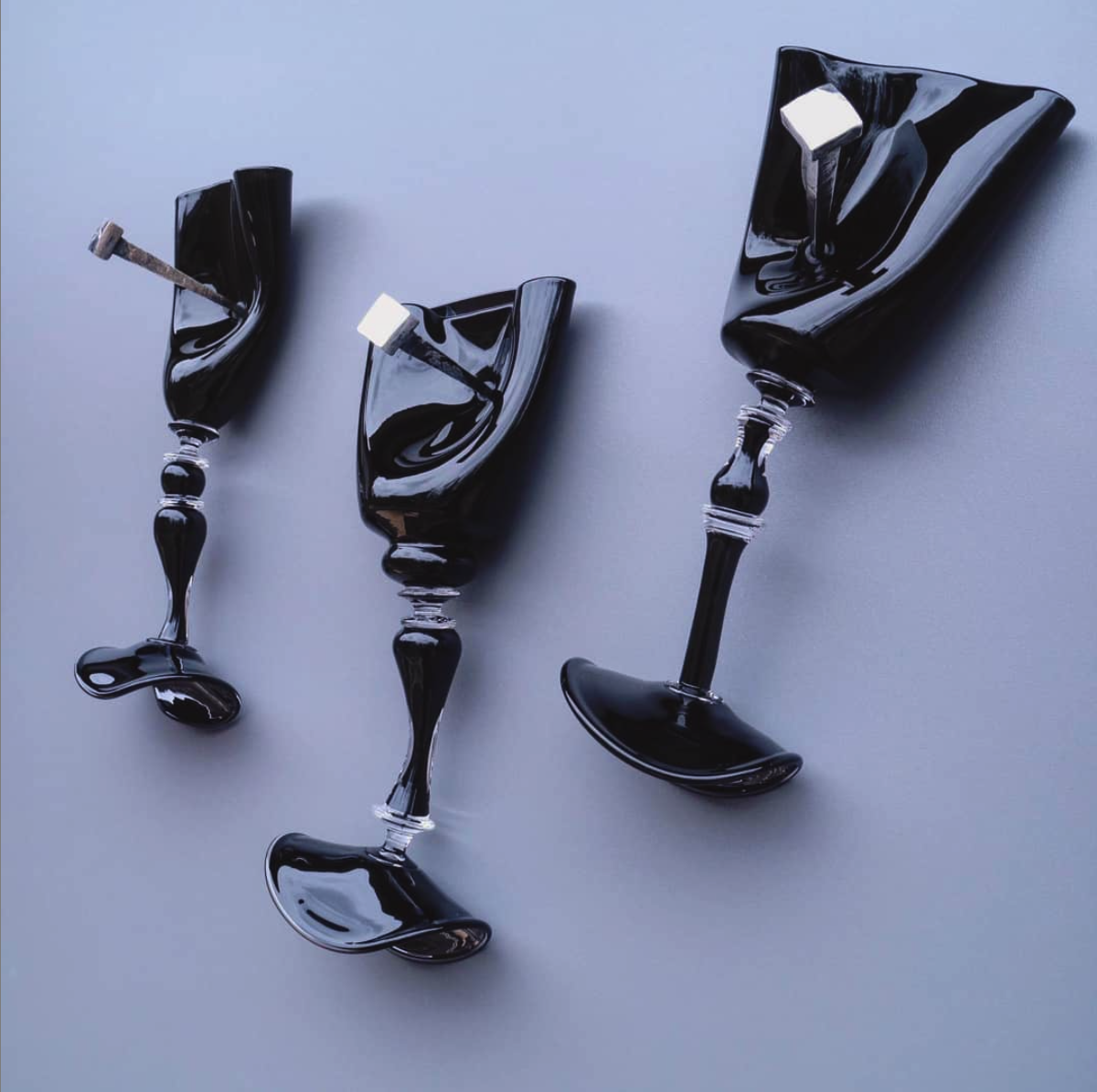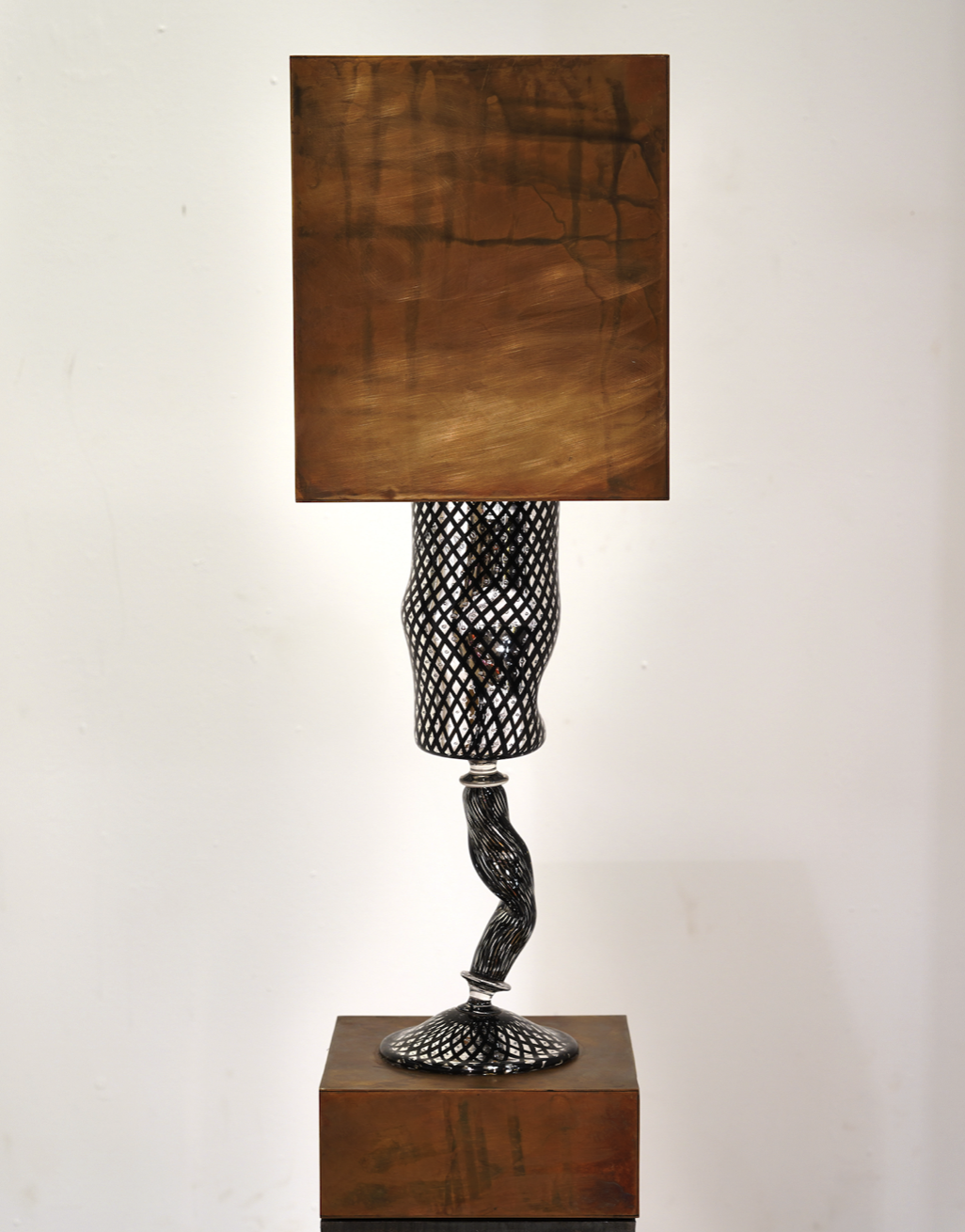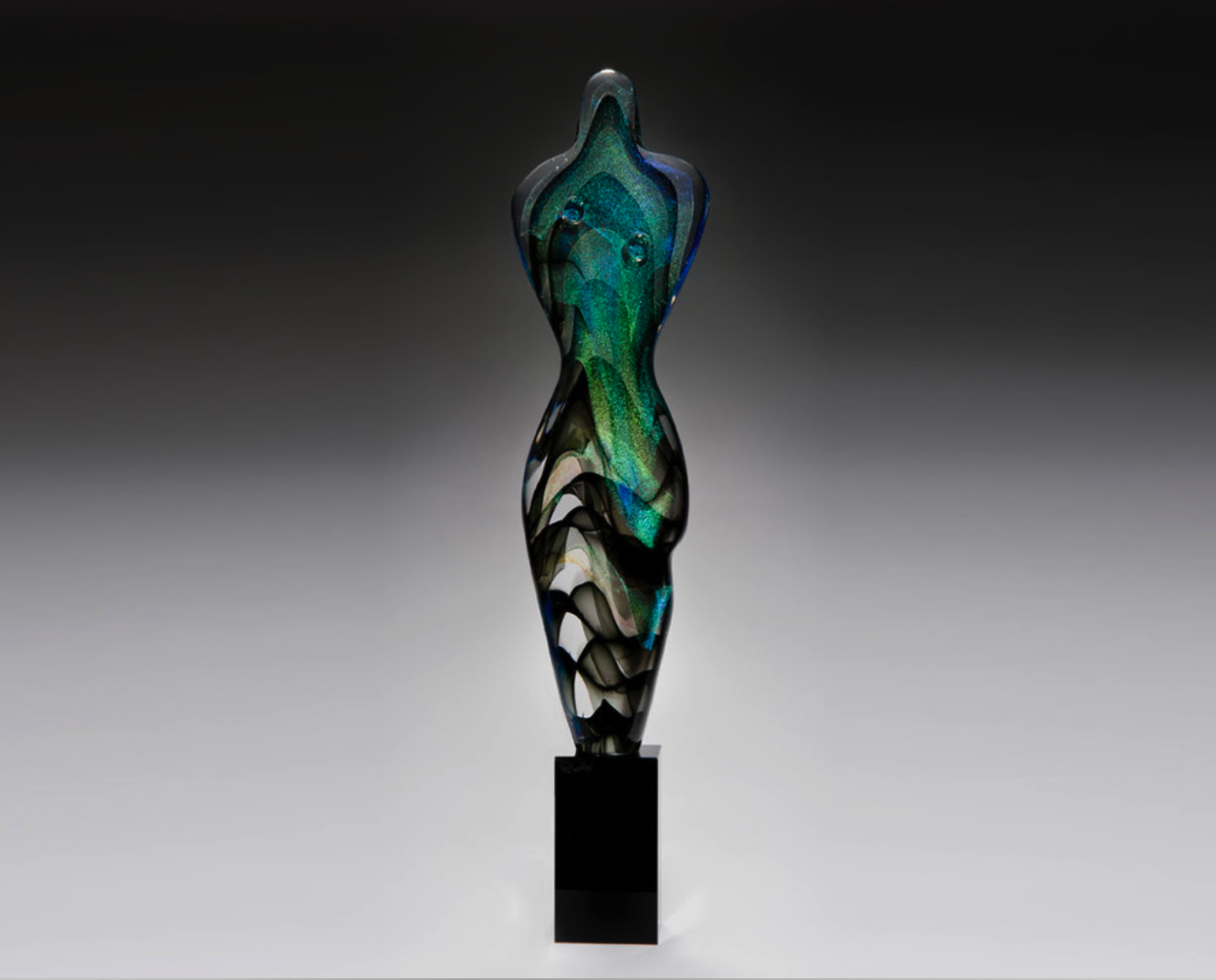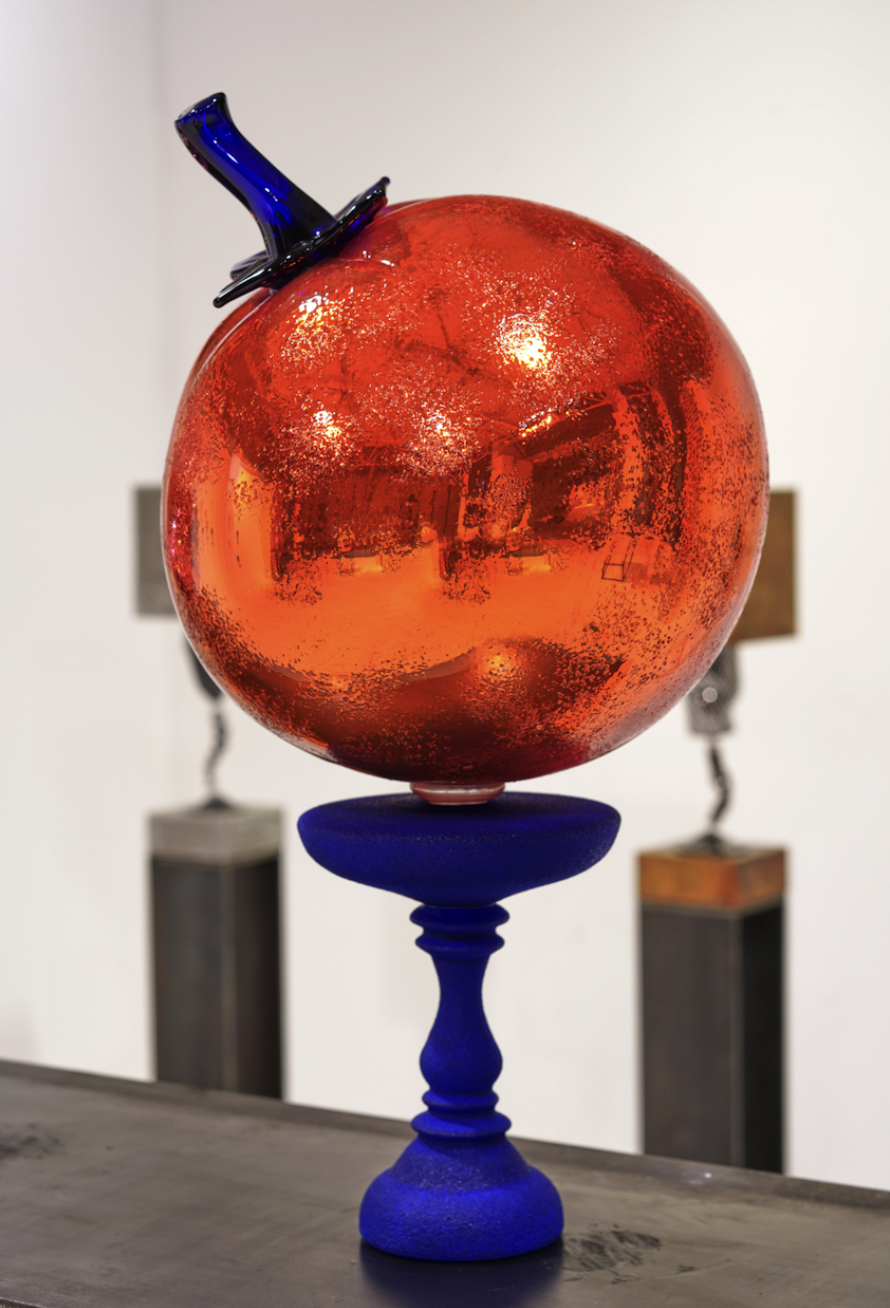 When I ask Elliot about his influences, he is vague, briefly touching on photography. His influences are subconscious, Elliot tells me, conscious of not getting too heavily influenced by other mediums, he tries not to be too specific. That although he has to sell his art, he is quite self serving and always wants to make what he wants to make, he tells me. This is where it gets interesting, as with conceptual art, the concept is considered more important and the execution perfunctory, however this is what is so unique in Elliot's glass sculptures, it is the opposite of perfunctory. When investigating the internet, I read philosopher Henry Flynt, who coined the term of concept art, he maintained it devolved from his notion of "cognitive nihilism," in which paradoxes in logic are shown to evacuate concepts of substance. Elliot's works are a combination of both, exquisite to look at, however, it's the humour and satire he employs and thinking of the origins of his ideas. As a psychology student, Elliot uses insinuation, this is complex, his recent artwork 'Spilt Milk' in the Netflix series, could be misinterpreted, as him not interpreting the brief correctly, however quite the opposite is true. As he explains on his instagram post, the artwork refers to Cognitive Analytic Therapy; which encourages the active separation of the self from emotions and turmoil in order to better understand and cope with them. It is this mindset of subtle humour and innuendo that sets his work apart from anything else.
Interview: Antoinette Haselhorst