Alexandra Gallagher
Alexandra Gallagher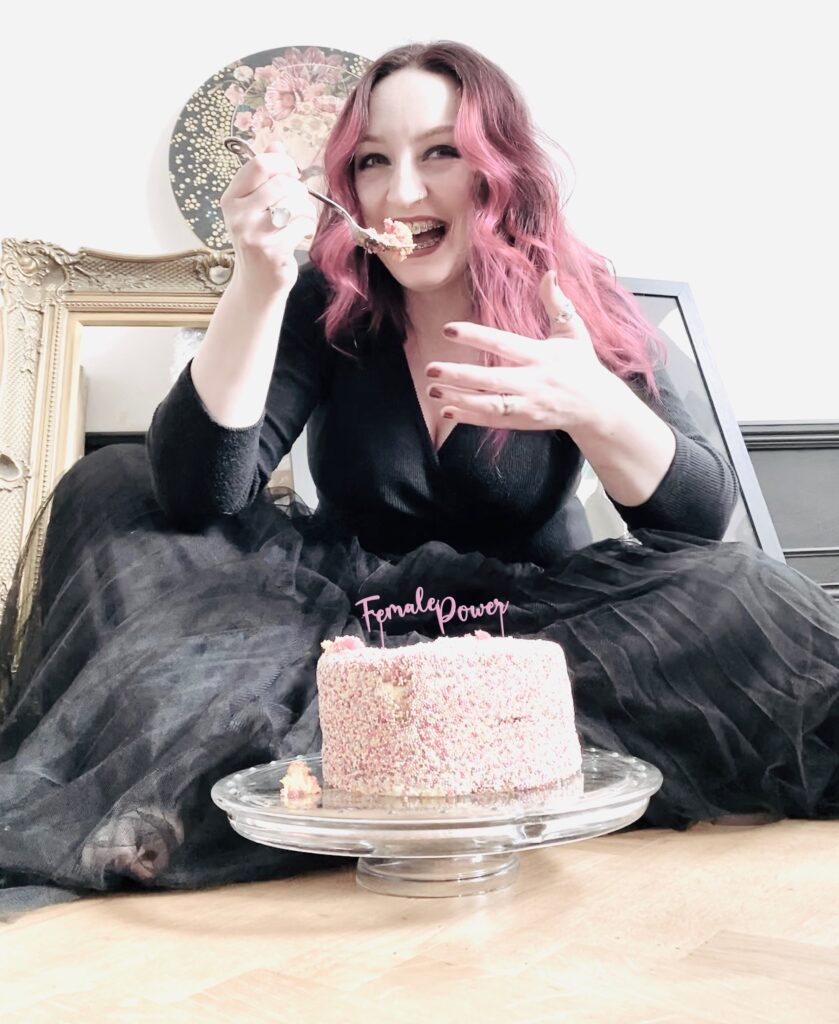 Gentle, evocative, delicate, sensitive, fragile, refined all these adjectives pop up, yet these ethereally sumptuously delicious extravagant artworks that can fill a wall with birds, flowers and gentile looking goddesses are perhaps alluding to something more complex. Alexandra's technique of mixed media, using her skills as a painter combined with collage, photography, beads and gold leaf, create an intricately detailed poetic art form, filling every space with the natural beauties of flowers, fawns and birds with a surrealist modern twist. As if looking through the looking glass and falling through the rabbit hole into a wonderland, a modern art nouveau, hinting on that alternative rock element with the opulence of photographer David Lachapelle's images of Courtney Love from the 90's. It's this political savvy that gives her artworks the edge, as they represent a meaning of transformation overcoming obstacles and turning darkness, fear, despair and persecution into something beautiful. When speaking with Alexandra, it's interesting how well versed she is with politics and we could spend the whole hour just talking about world affairs.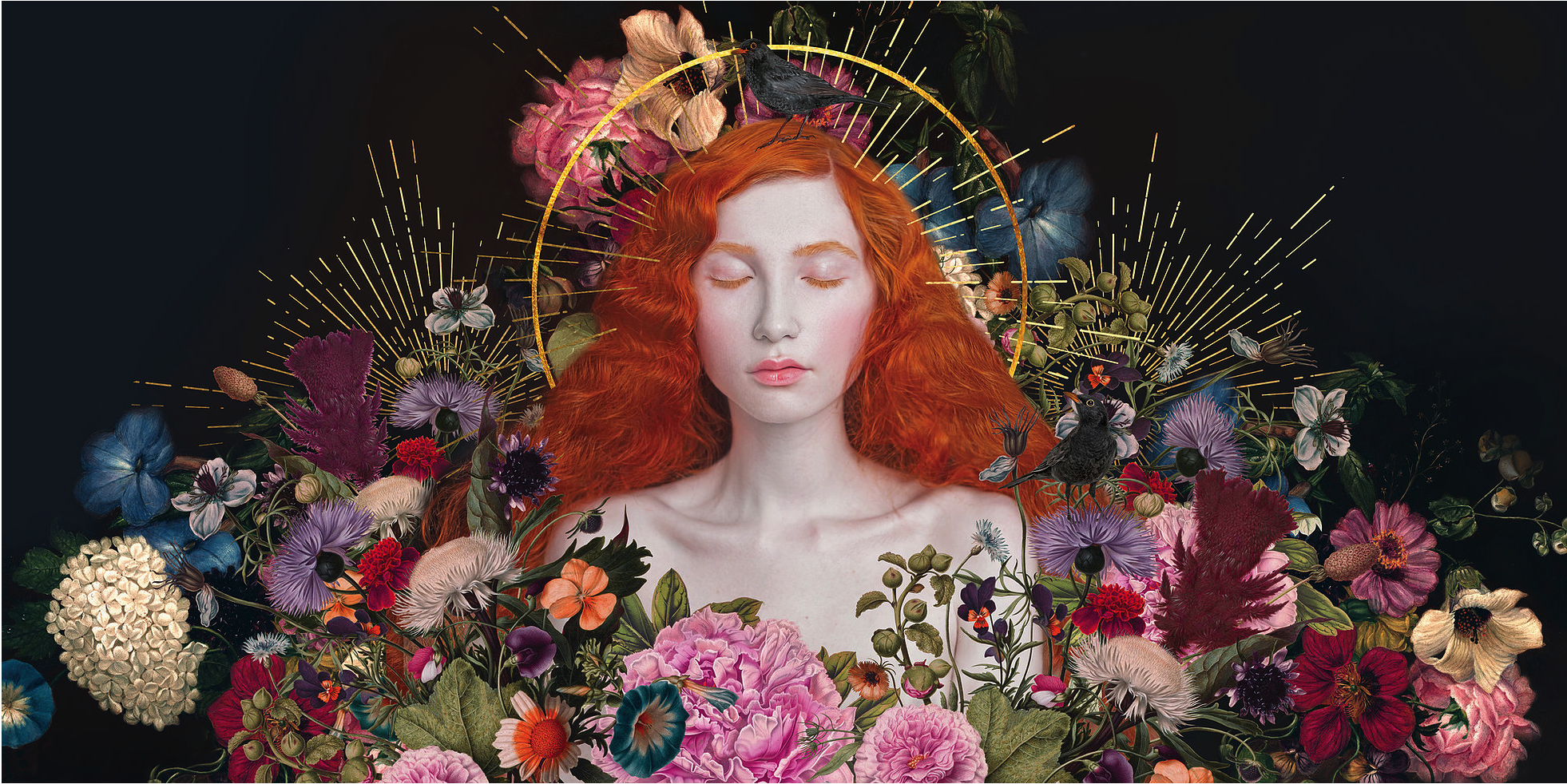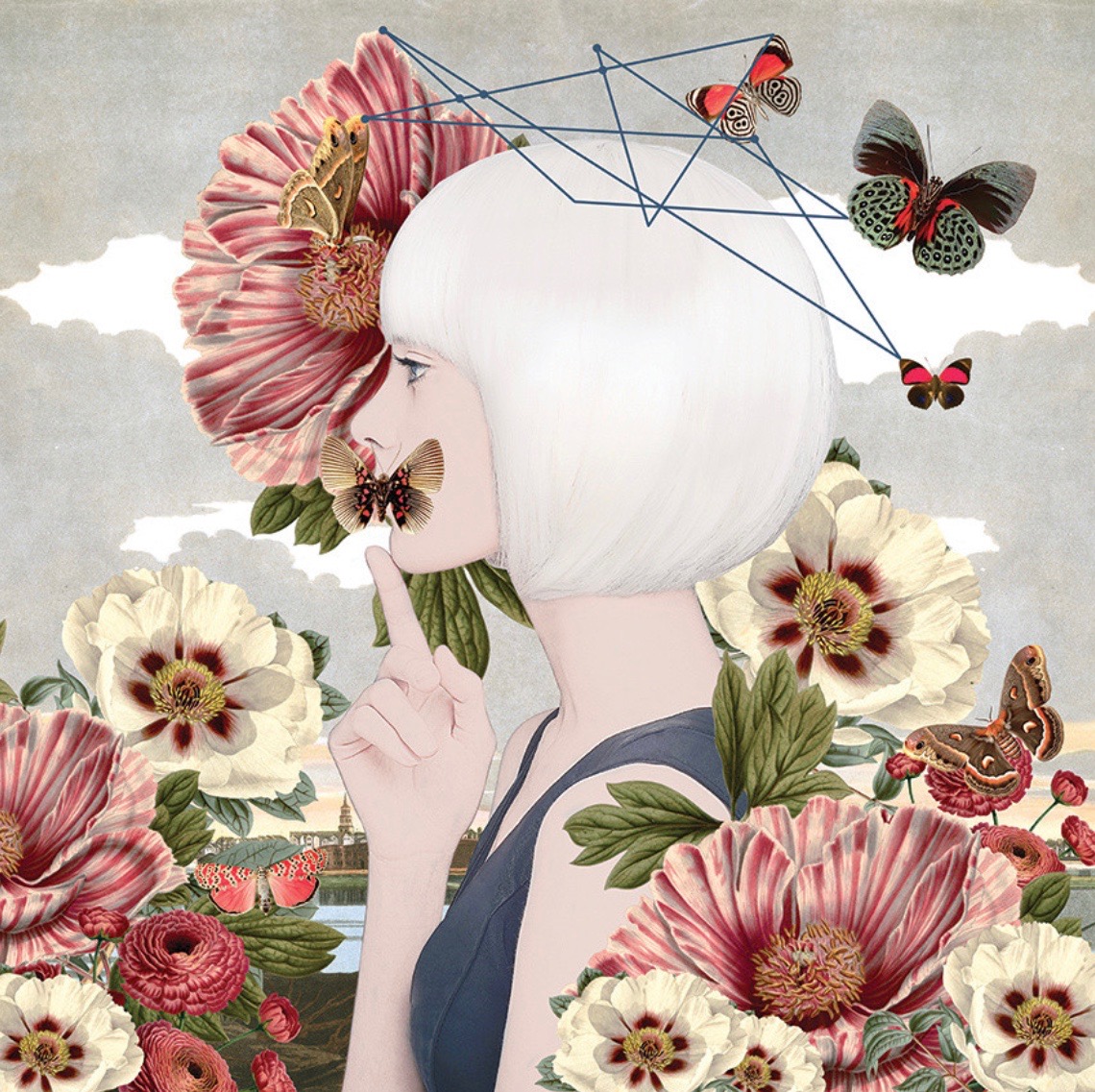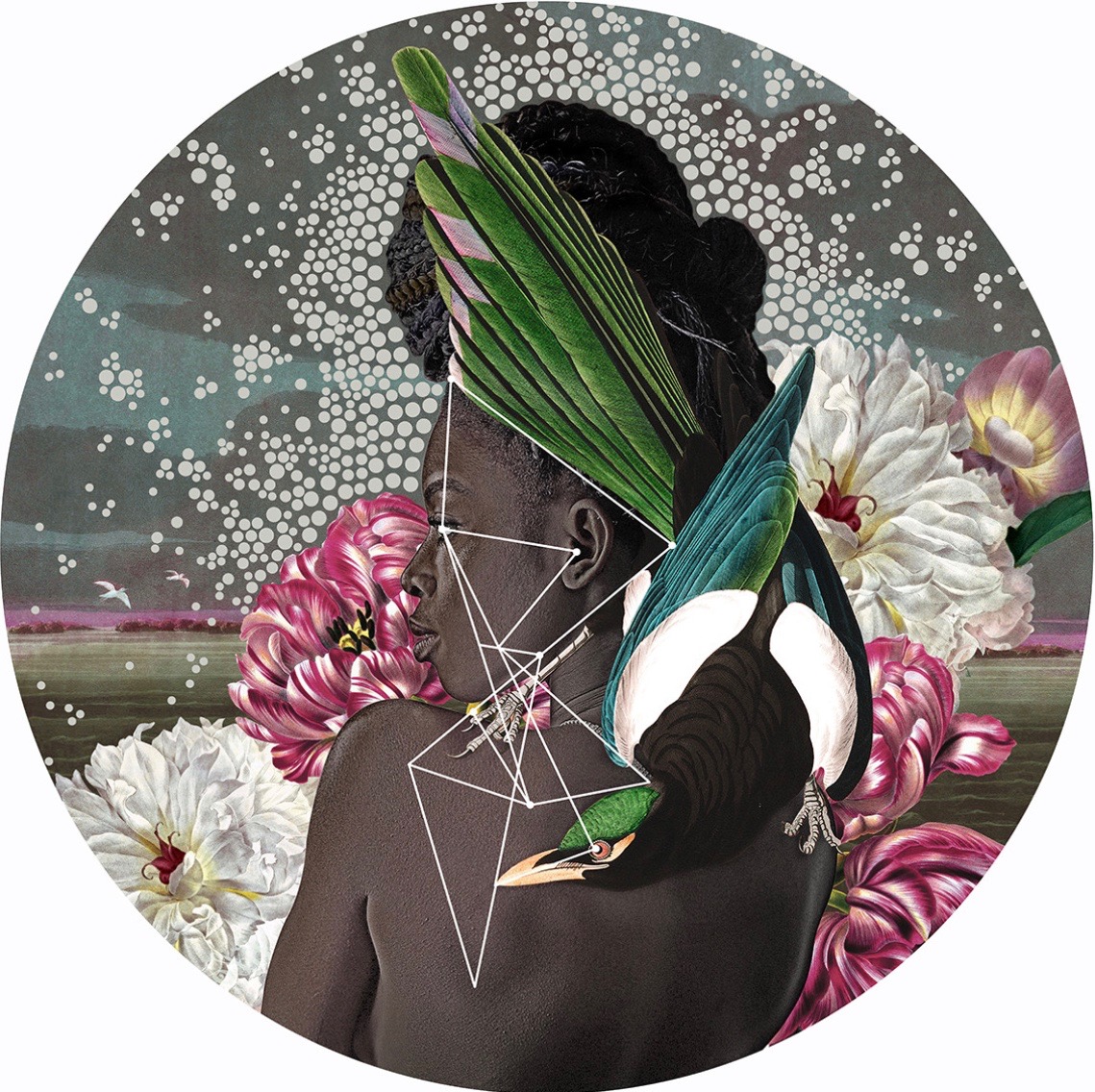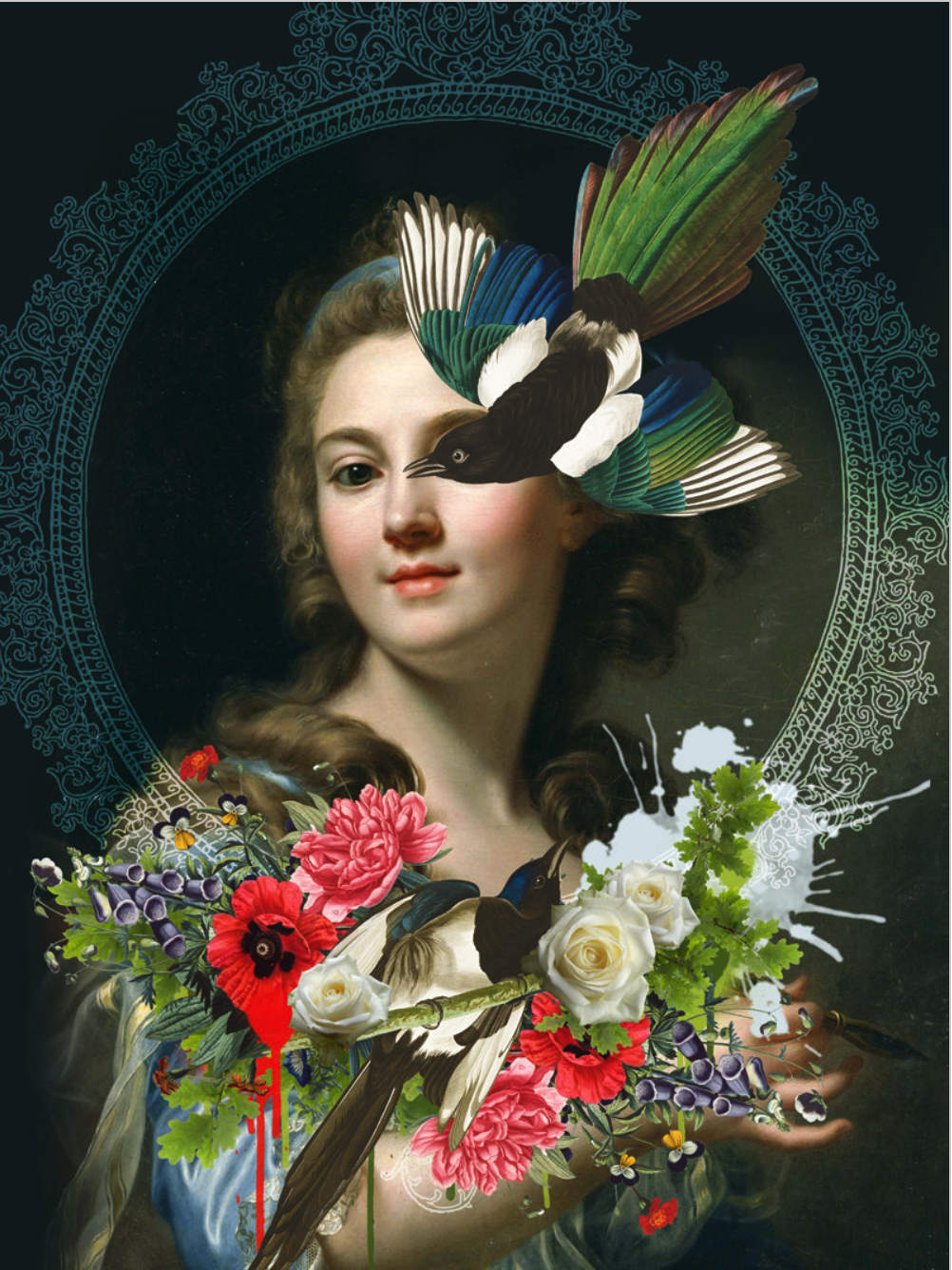 Born in the outskirts of Manchester, the county of Lancashire in England, she describes her bohemian youth, "I was raised by two hippies" she tells me and that she didn't really pay attention to rules and partied a lot. Although she describes herself as not academic, her father was an art teacher who taught prisoners, and he taught her the skills she needed to be a painter.  He taught her how Monet painted, how to work with paint, and even when she was small, he would tell her if something was "rubbish" she explains, encouraging her that she could do better. Alexandra, always loved art she tells me and she started out painting portraits, although she then points out how she felt suffocated by just painting portraits, feeling she lacked the knowledge to push it forward. She was interested in surrealism, however telling me, that whilst she was attending her foundation at art college she was discouraged, that surrealism was regarded as not serious and kitsch and she was talked out of it. The irony in this is extraordinary; as a painting by Salvador Dali adorns the cover of my art bible, the 'Highlights of Art' published by Taschen.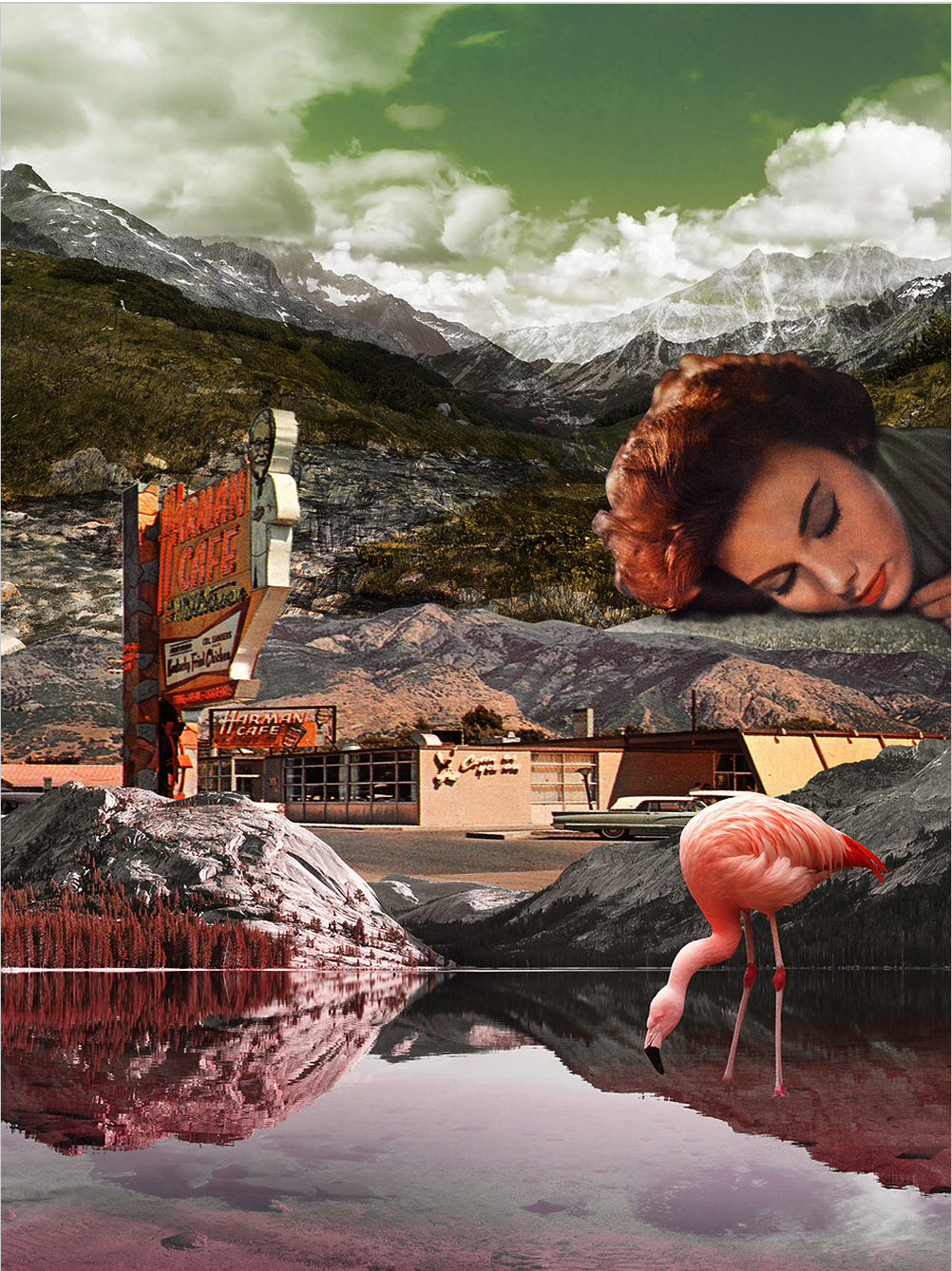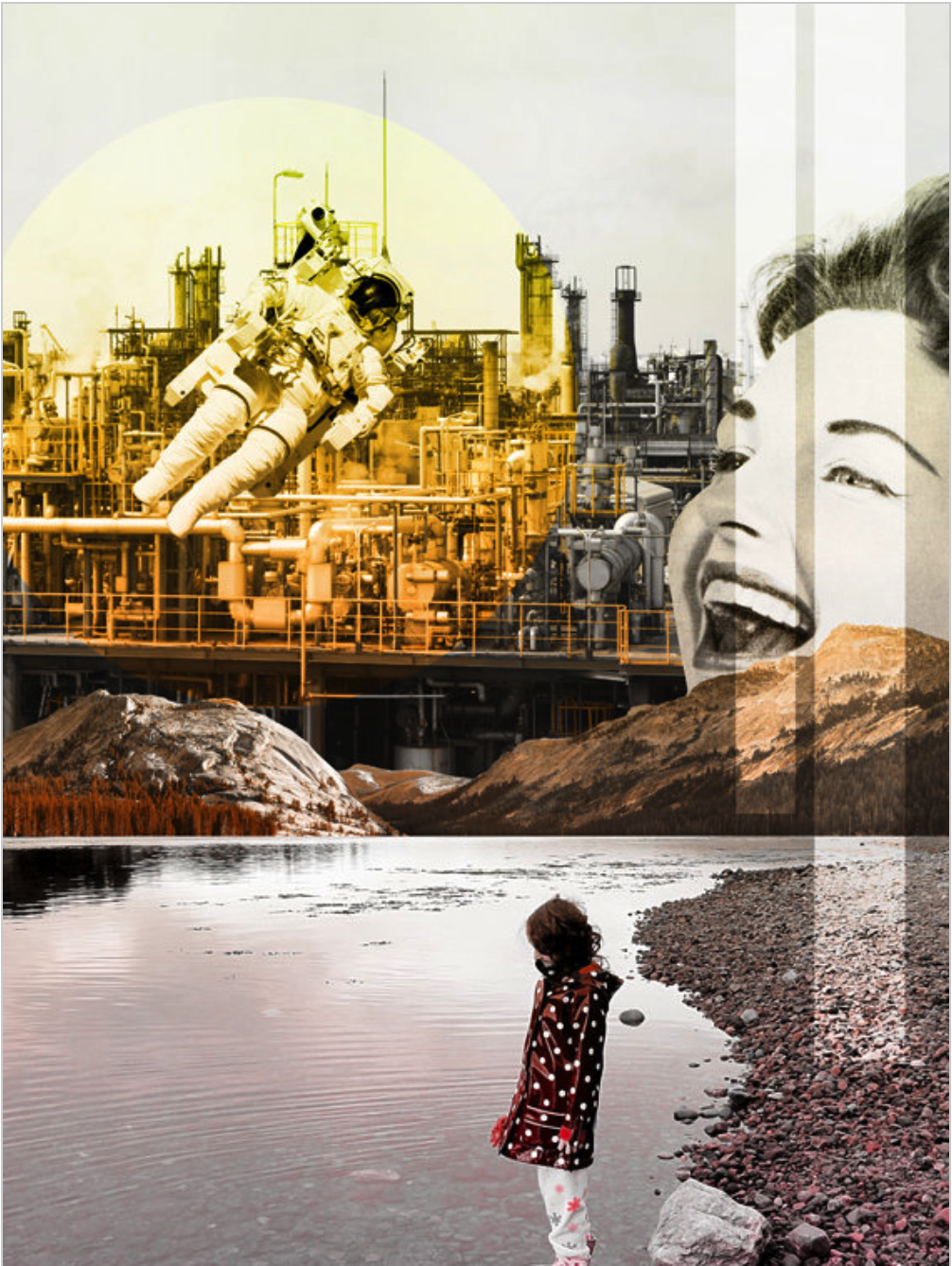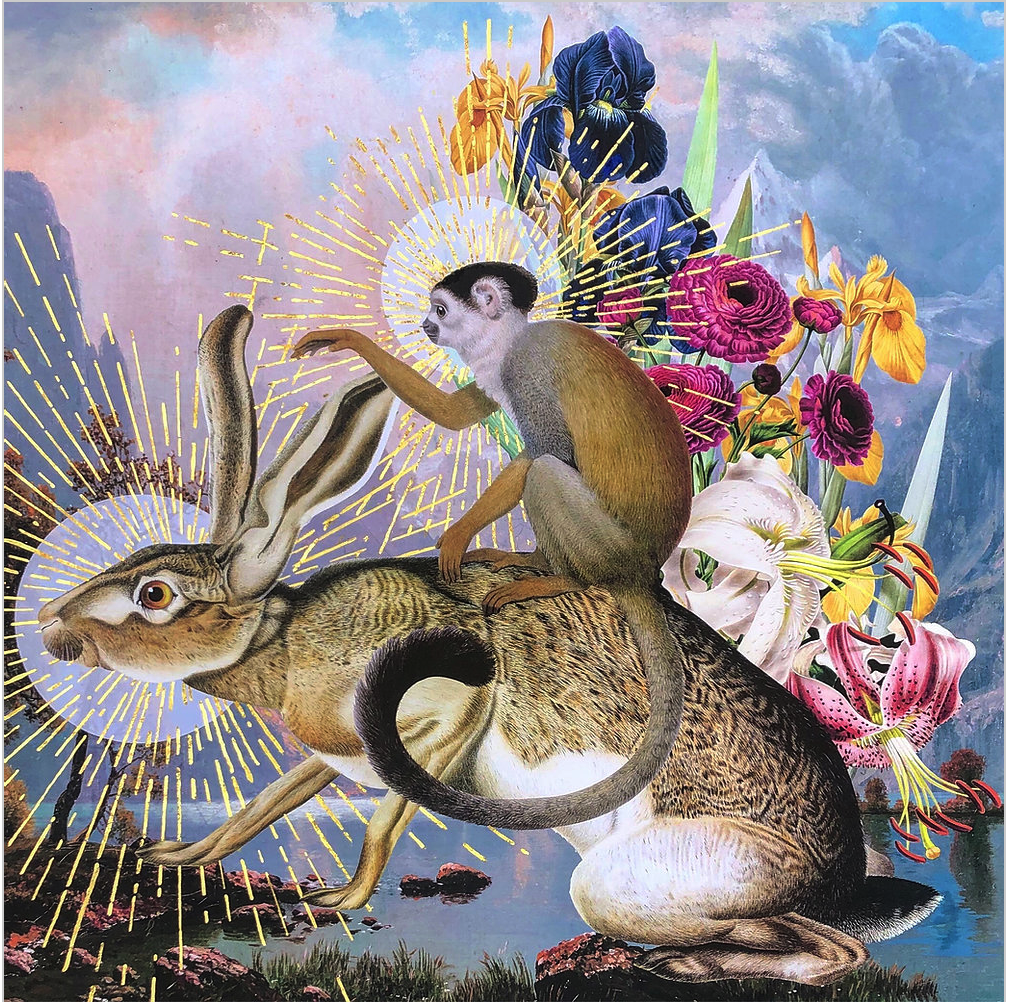 Alexandra dropped out of college and although not degree educated, she showed her work to galleries by approaching them online, and ever since then she has been working as an artist. To paint ethereal artworks is the only thing she ever knew, she explains, describing how she works almost unconsciously as she expresses her narrative in her work. Her works adorn and fill the walls of luxury ships and restaurants, with a paradise of fantastical nature inspired murals, however Alexandra is a multidisciplinary artist working with all forms, digital art as well as collage, painting and print. "You have to look at your art with a critical eye," she tells me, and know what you can throw at it. She smiles when she tells me that most people like what she is most critical of. She paints organically from scratch, and renders more detail, using mediums such as photoshop, designing her ideas with collage on the computer and then paints them up, sometimes leaving the collage and then sometimes a bit of both, she tells me. She is unconstrained using visual elements of tranquility and beauty to all encompass a narrative of transformation.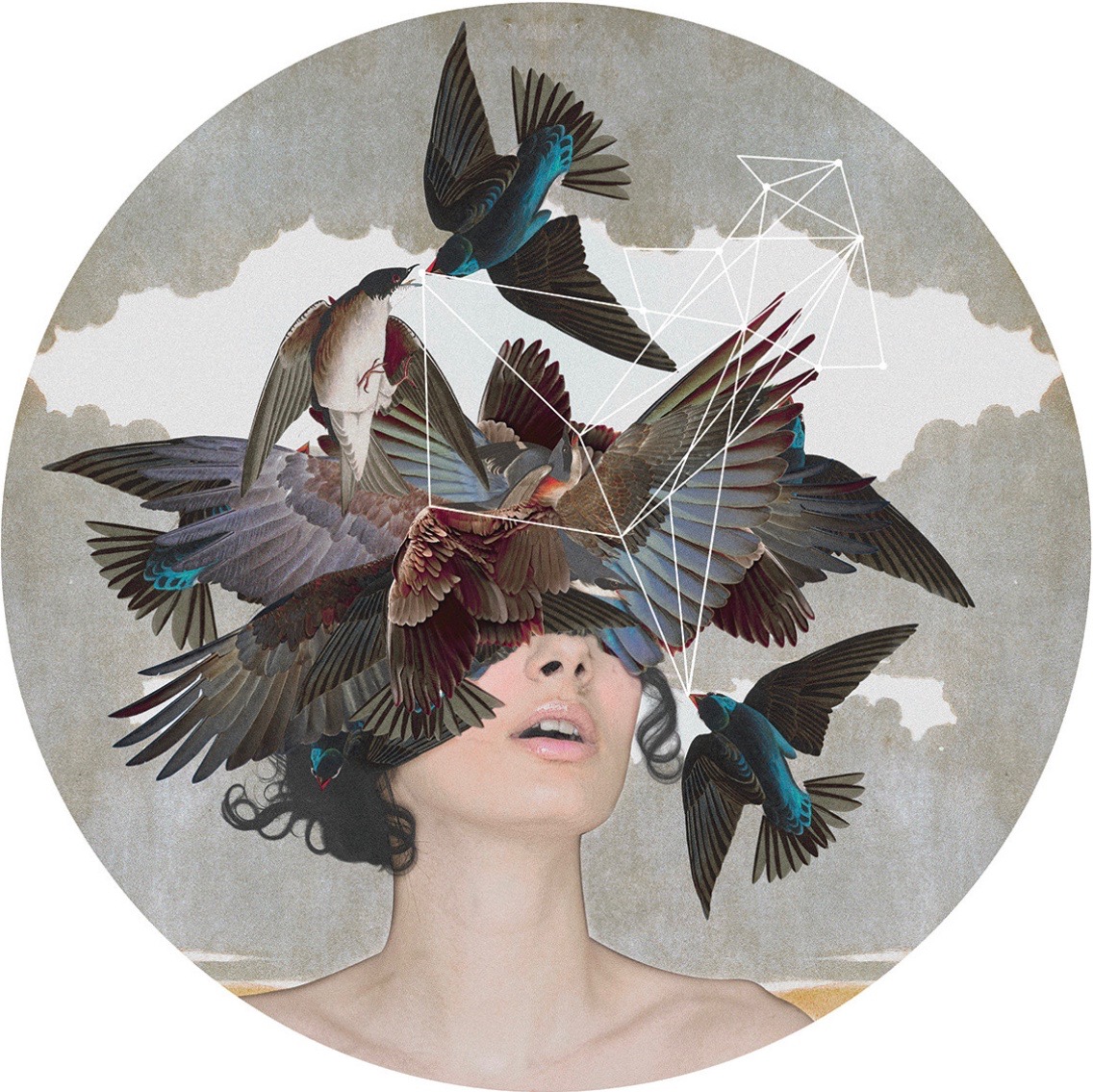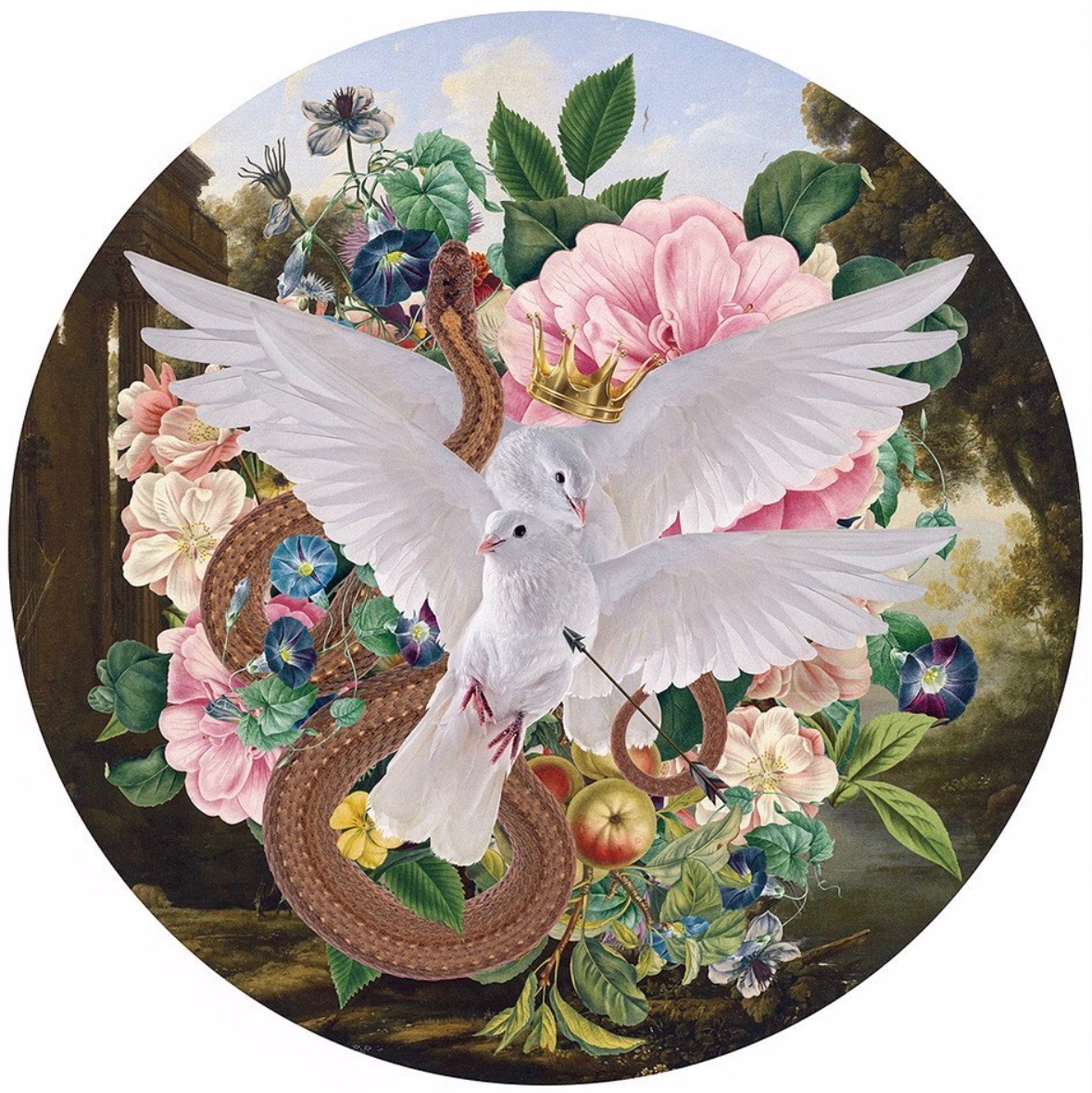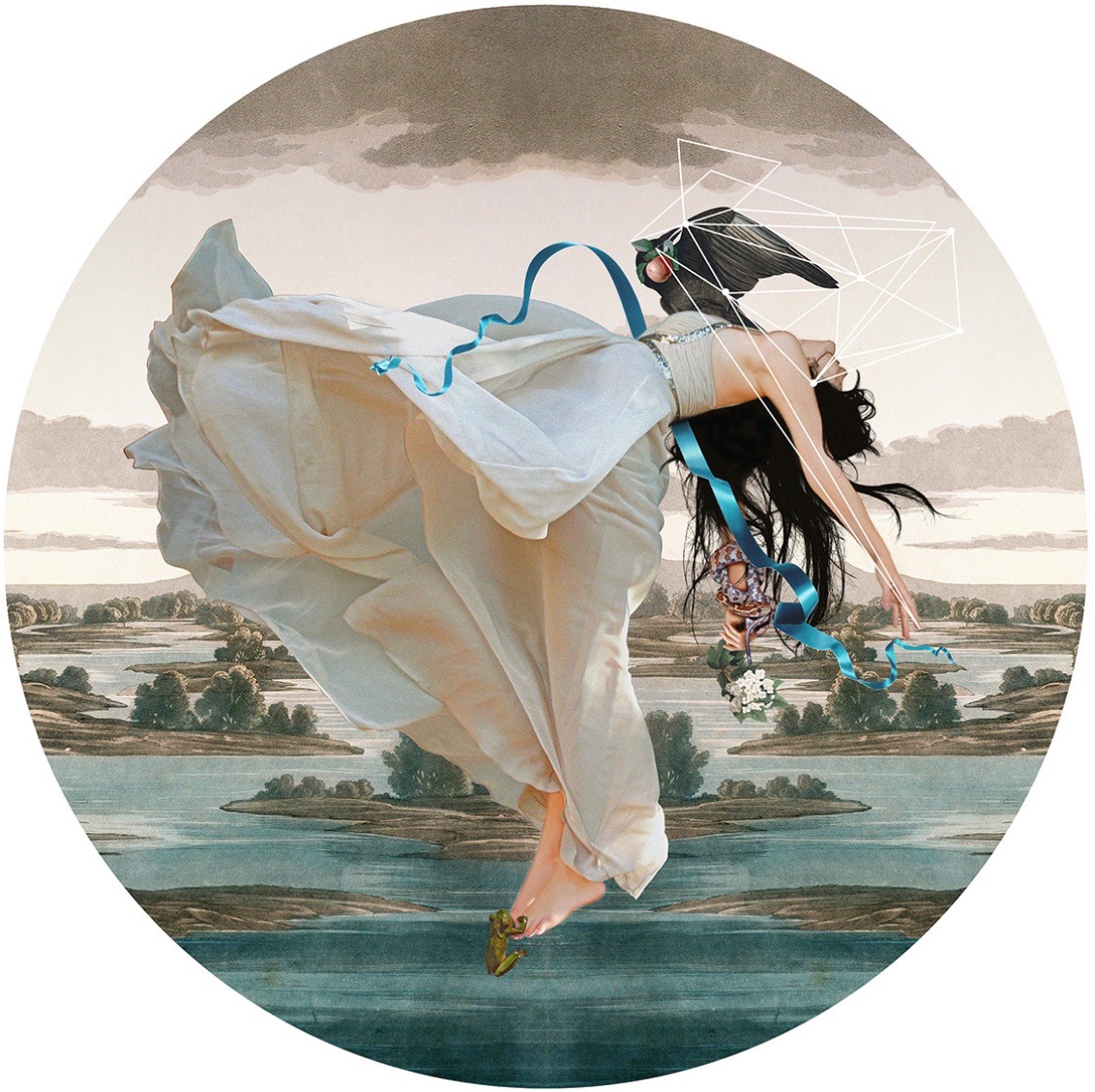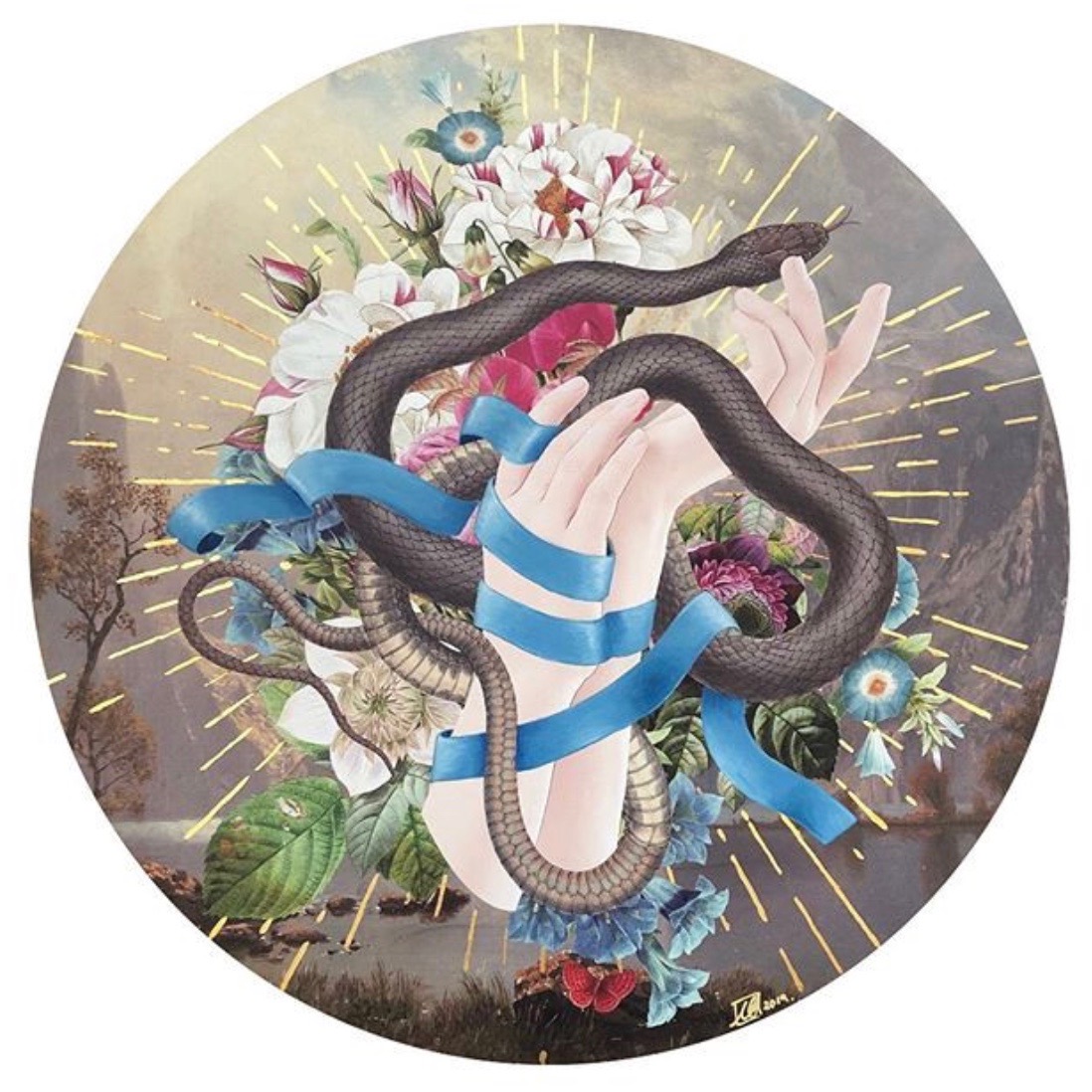 She understands this all too well, having lived through times, where she herself was a victim and turned her life around. She describes her free spirited youth, dropping out of her foundation course at 17 and becoming a mother at 19, returning to Blackburn College at 22. She met her husband at 21 and became a mother to her second daughter at 25. With a toddler in toe, she went back to college for one year. "I am not good at doing the whole academic thing, and keeping to a routine" she explains, describing herself as a bit of a whirlwind. However she has won numerous prestigious awards including London Contemporary Art Award, Saatchi Showdown, Surrealism, Zealous X, Rise Art and Secret Art prize as well as exhibiting at international galleries in the US, Singapore, Ireland and various shows in the UK. It was after the birth of her second daughter, she started painting portraits, and taking photographs of her youngest, describing her as having a haunting look about her, that prompted her to produce collages, describing the loneliness of childhood, full of imagination, stories and pictures, pulling that into her collage. Changing direction to retro landscape and then a friend asked her to paint a magpie and swan and she finally found her way and her style.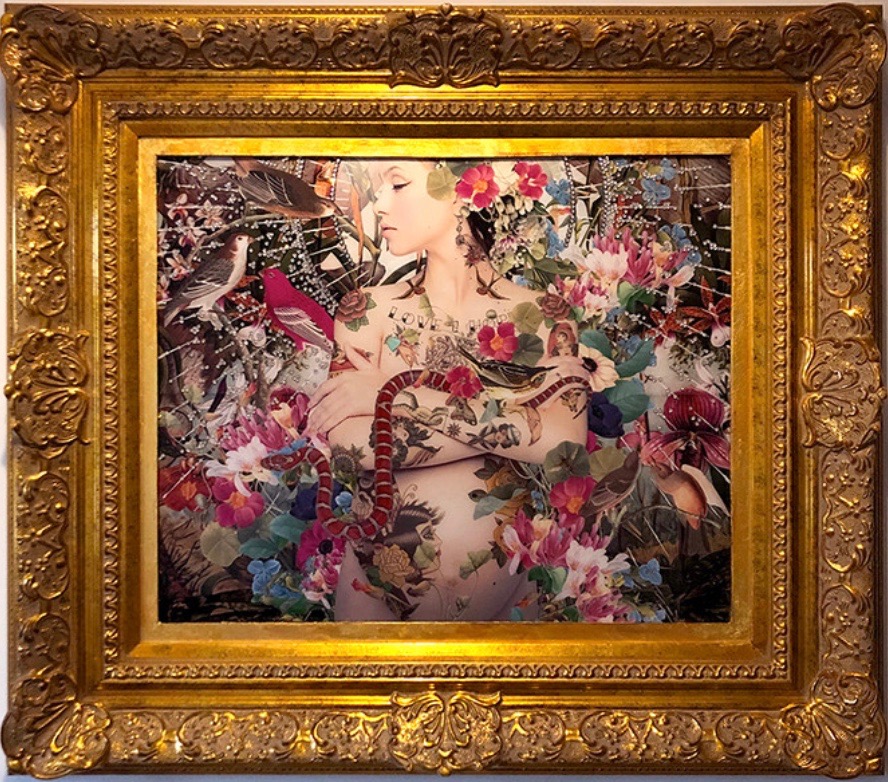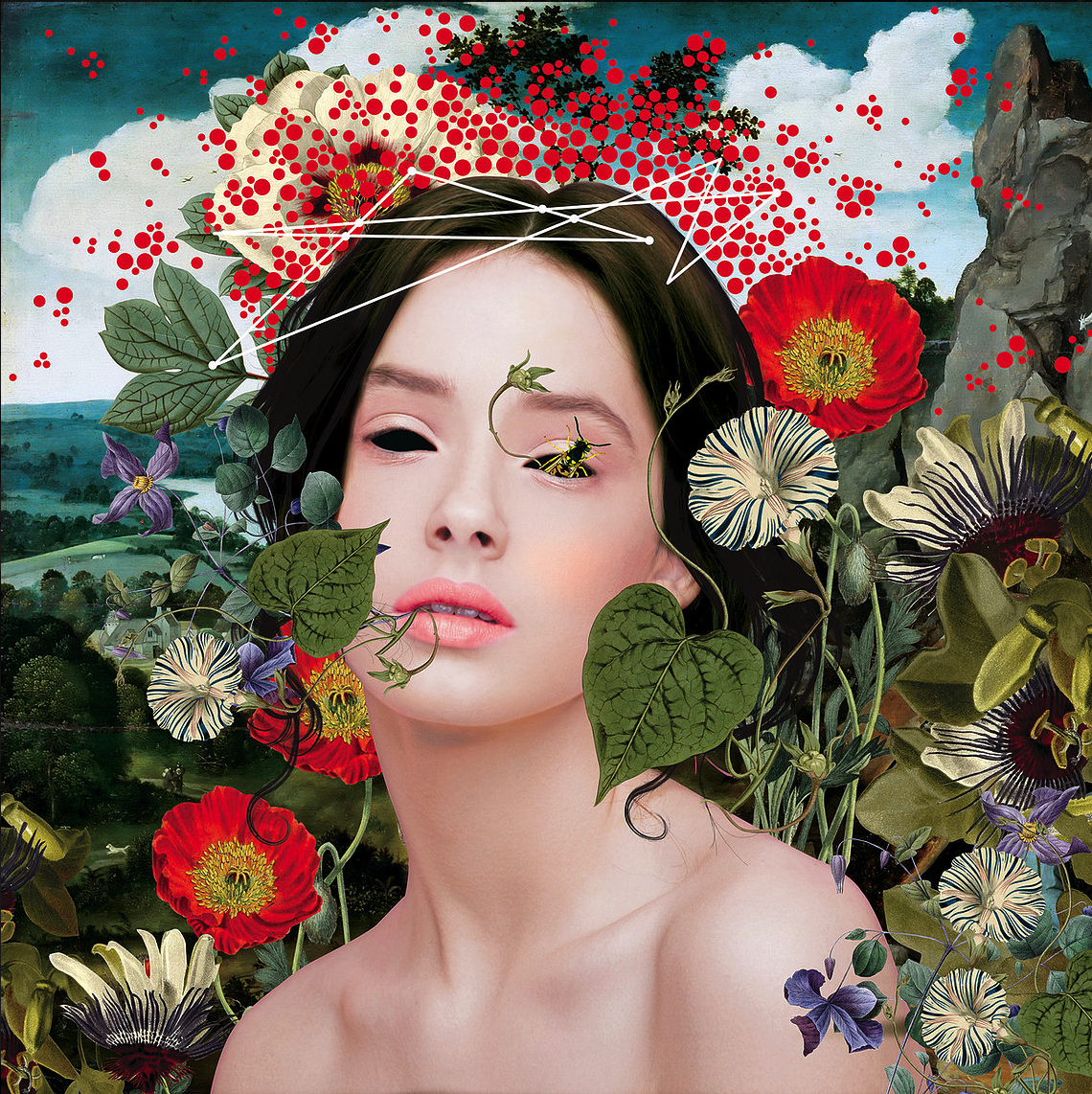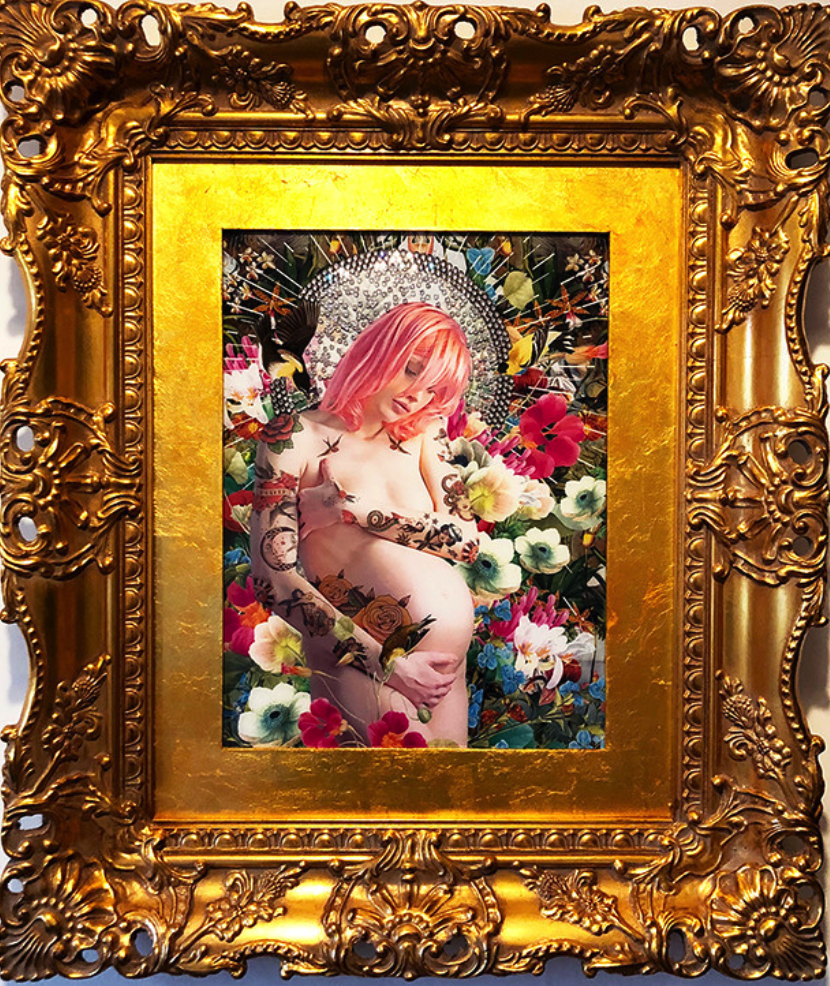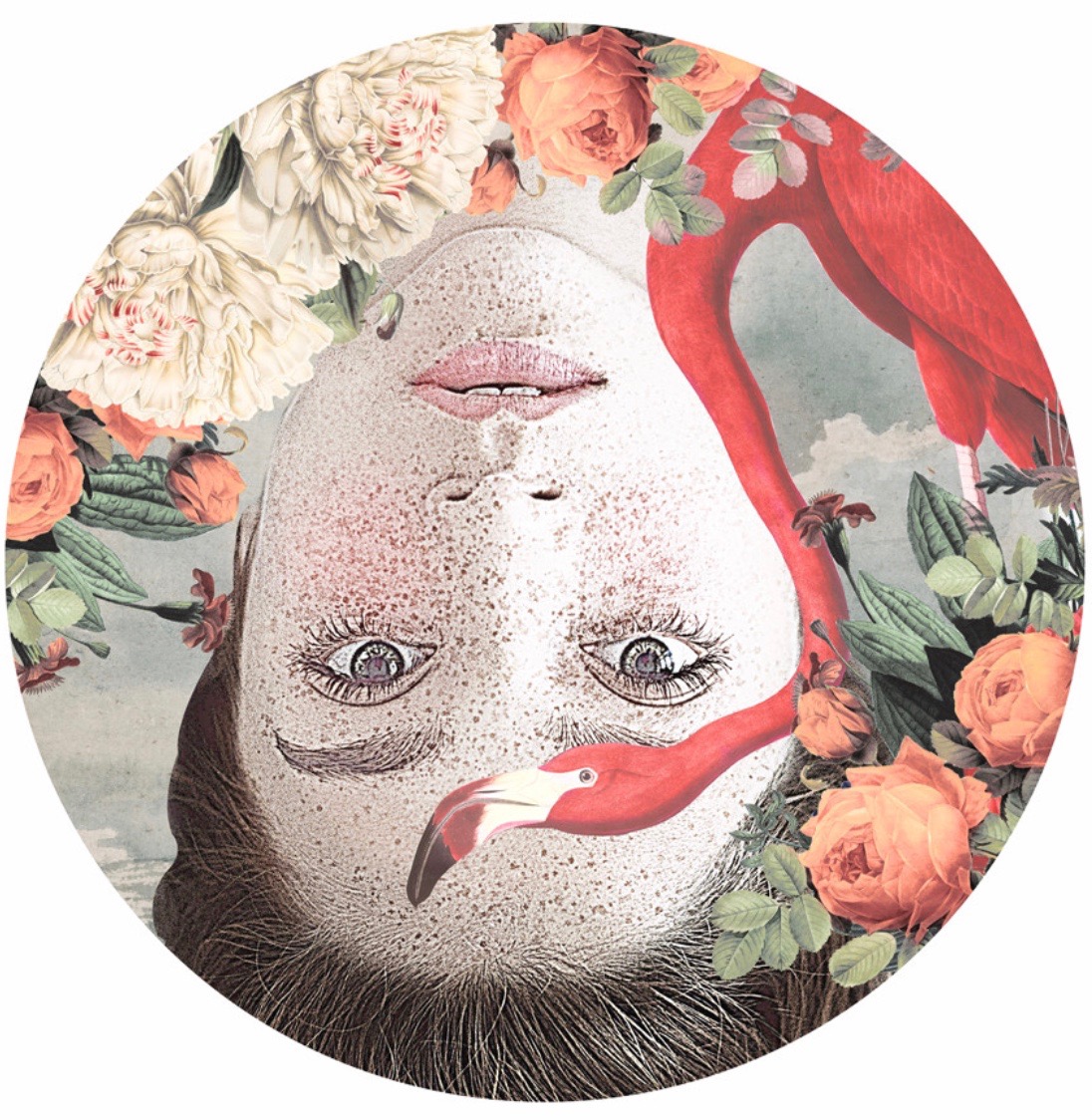 Although Alexandra's art reflects feminism and spirituality, she describes herself as a huge history geek and interested in anything about psychology and politics. It is her observation of western society, using symbolisms in art history in her artworks. She talks about how women are meant to be perfect, innocent and clean, that women are gossiped about more harshly, that we have more harsh and virtuous rules laid upon us. Her paintings are representative of taking back control, how we are spiritually all interconnected and connected with nature. She is philosophical with why people do things and how we each get through things in a different way, "Politics is just politics we should stop being so divided and connect with each other". Describing that it is life's lessons that define us, "You can't do anything about the past, you can however be whatever you want to be, and you can be as happy as you want".
Interview: Antoinette Haselhorst