Benjamin S Lees
Benjamin S Lees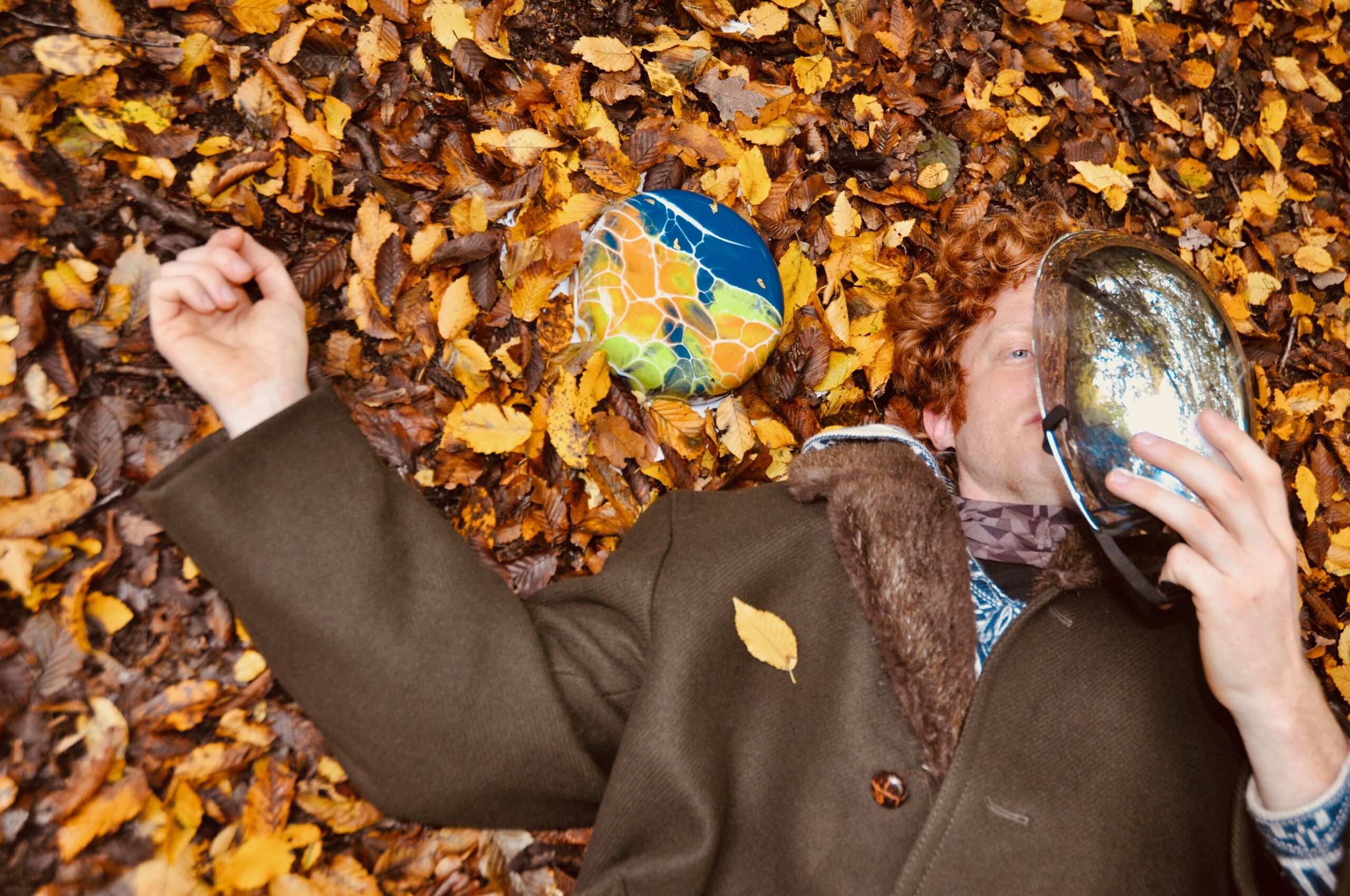 The marriage of Benjamin Lees's organic inspired resin and abstract realism artworks, have a lawlessness to them, he breaks down the concept of matter and explores the mysteries of the universe in a labyrinth of colour and texture. A chaos of meaning as if dissecting the universe, his paintings raise questions, allowing the gaze to enrapture in a narrative of colours, and a fluidity of movement. It inspires the ideas of water, marble, fire and chaos, with a luminosity in texture, the desire to touch and feel and explore. It is the core of his ideas, the meaning of life and the enigma of how everything is interlinked, to be part of this great mass of ad infinitum. Benjamin, explains his curiosity of everything as a boy, staring into ponds and earth in obsessive detail, and what was beyond fascinated him. He searches for truth in his own imaginations, living between scientific discovery and artistry; inspired by the profound sense of beauty in the universe.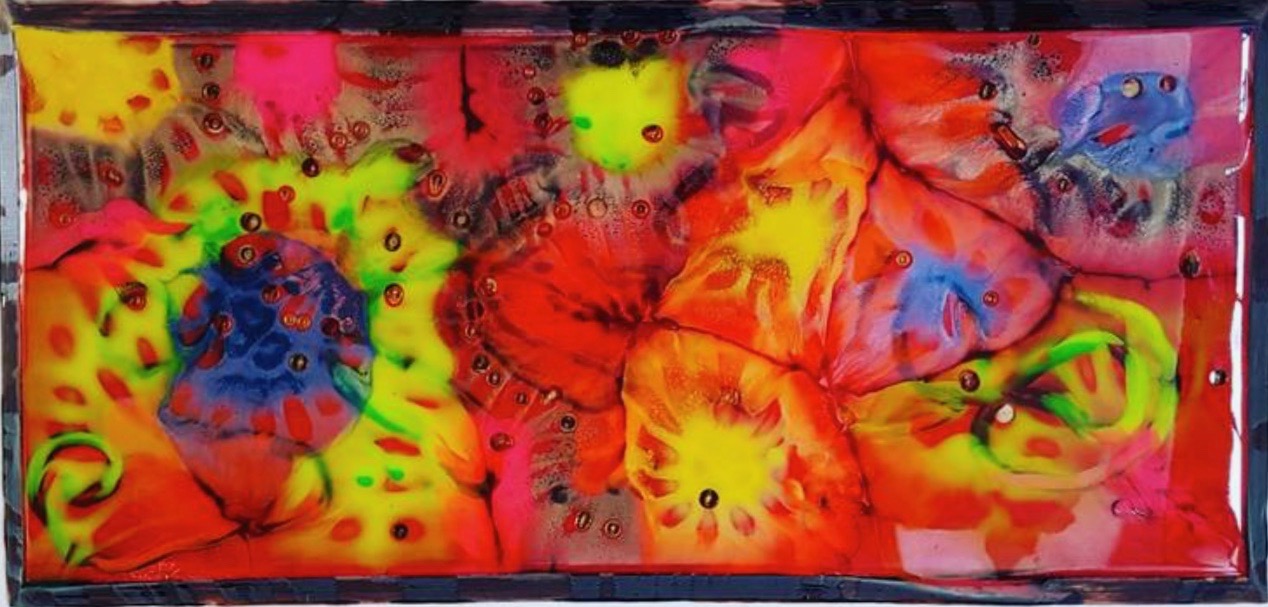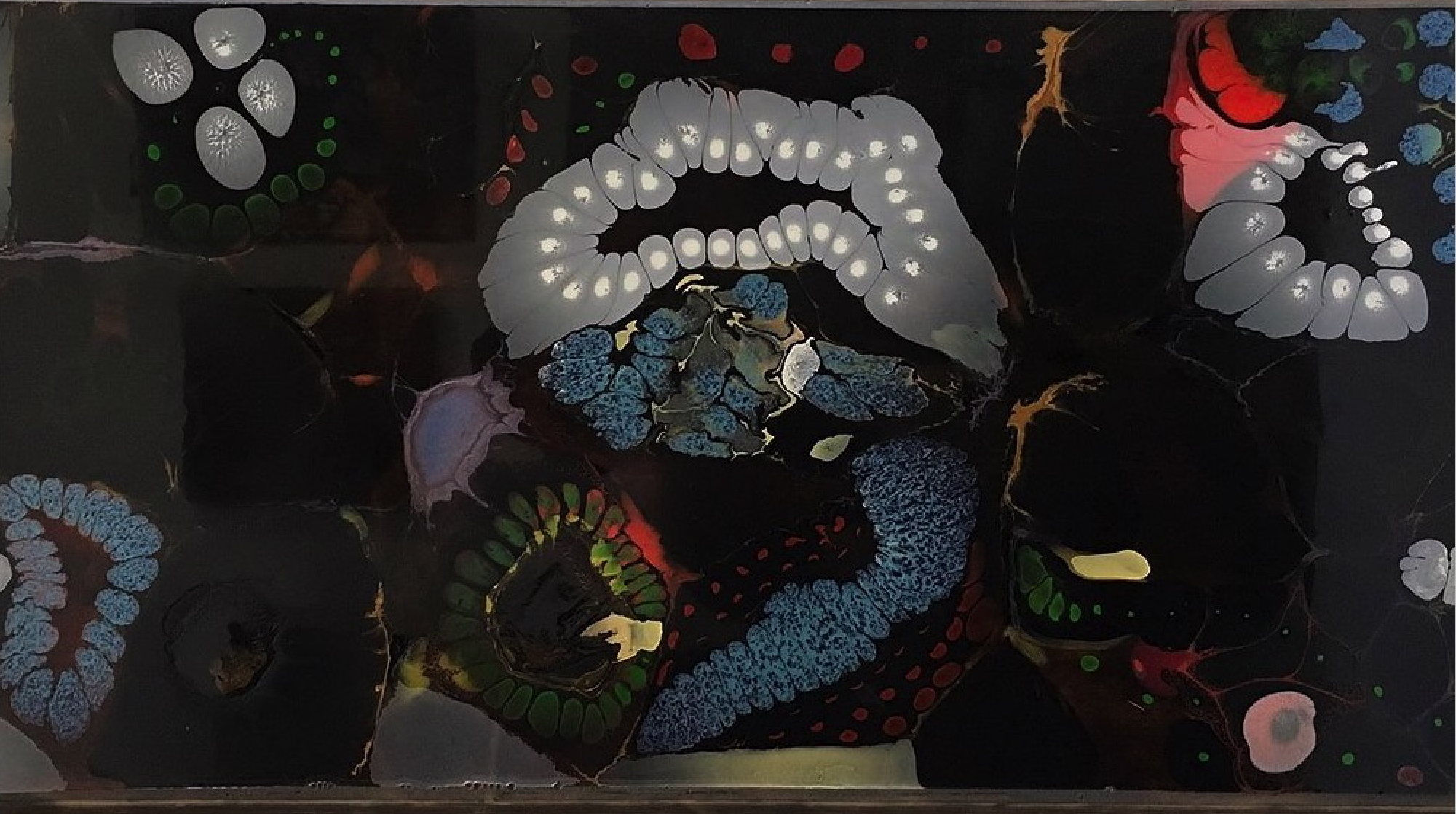 As well as being an artist, he recently started a project space in Hastings, using his own created avatar BakIIBak as the name. We discuss the idea of how BakIIBak evolved and that it is not an avatar where he necessarily hides his identity, rather that it is another being separate from him, mostly to explore the boundaries of self and humanity. Finding its place within its own creation; androgynous and not easy to define, it is part of him but not, a feel of AI and human made he emphasises. He questions what actually is life, and has a deep curiosity with AI intelligence. I ask him if he thinks AI will be a threat to mankind, he smiles before clarifying that he thinks it is possible that it will be. With a complex network of ideas and his views on the modern world and its future this is part of his next focus in his artwork, video and performance art. The birth of all Benjamin's ideas, are all interlinked to the environment, investigating microbes, looking at plant cells, he has loads of images of creatures under electron microscopes, his art creating abstract versions of these.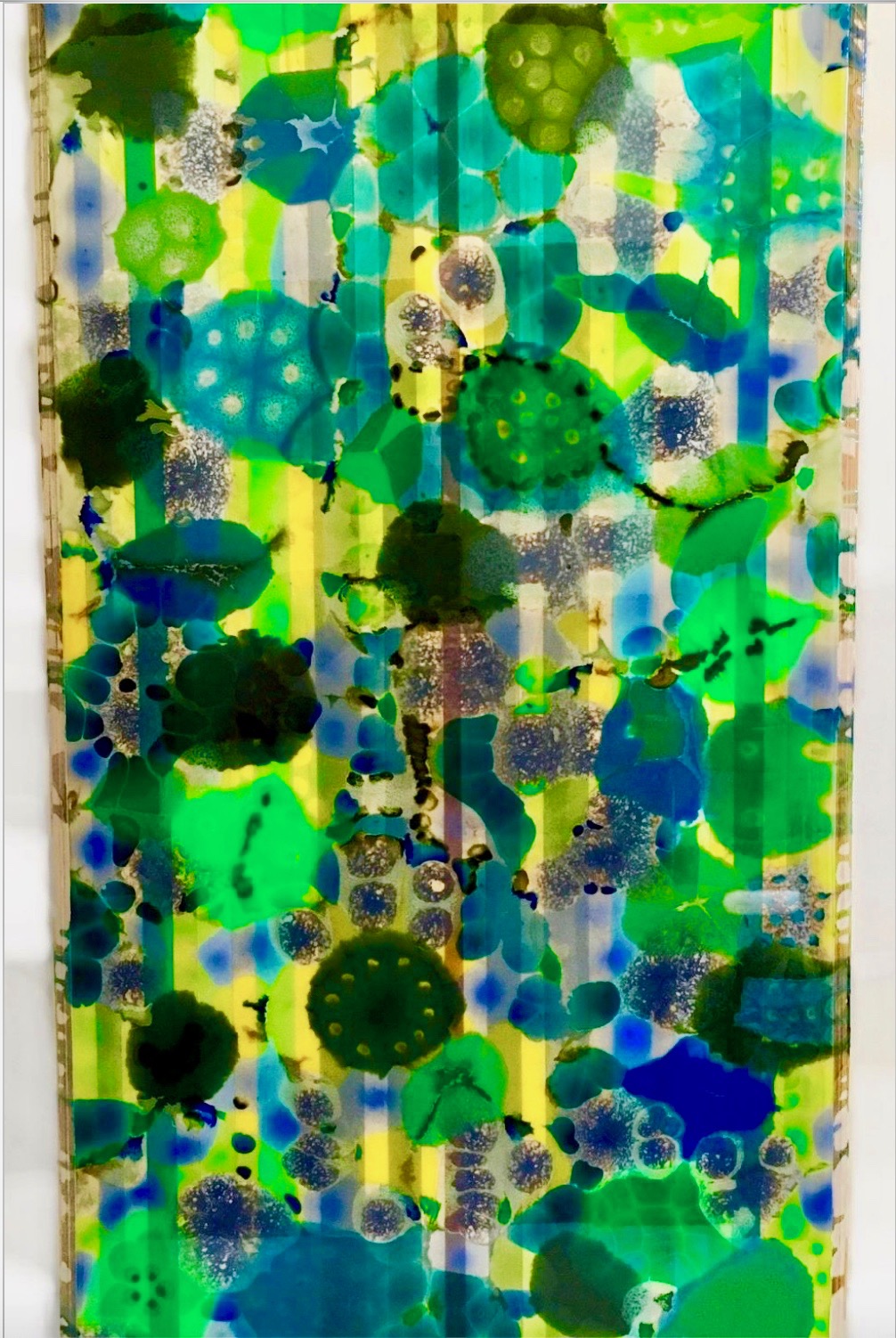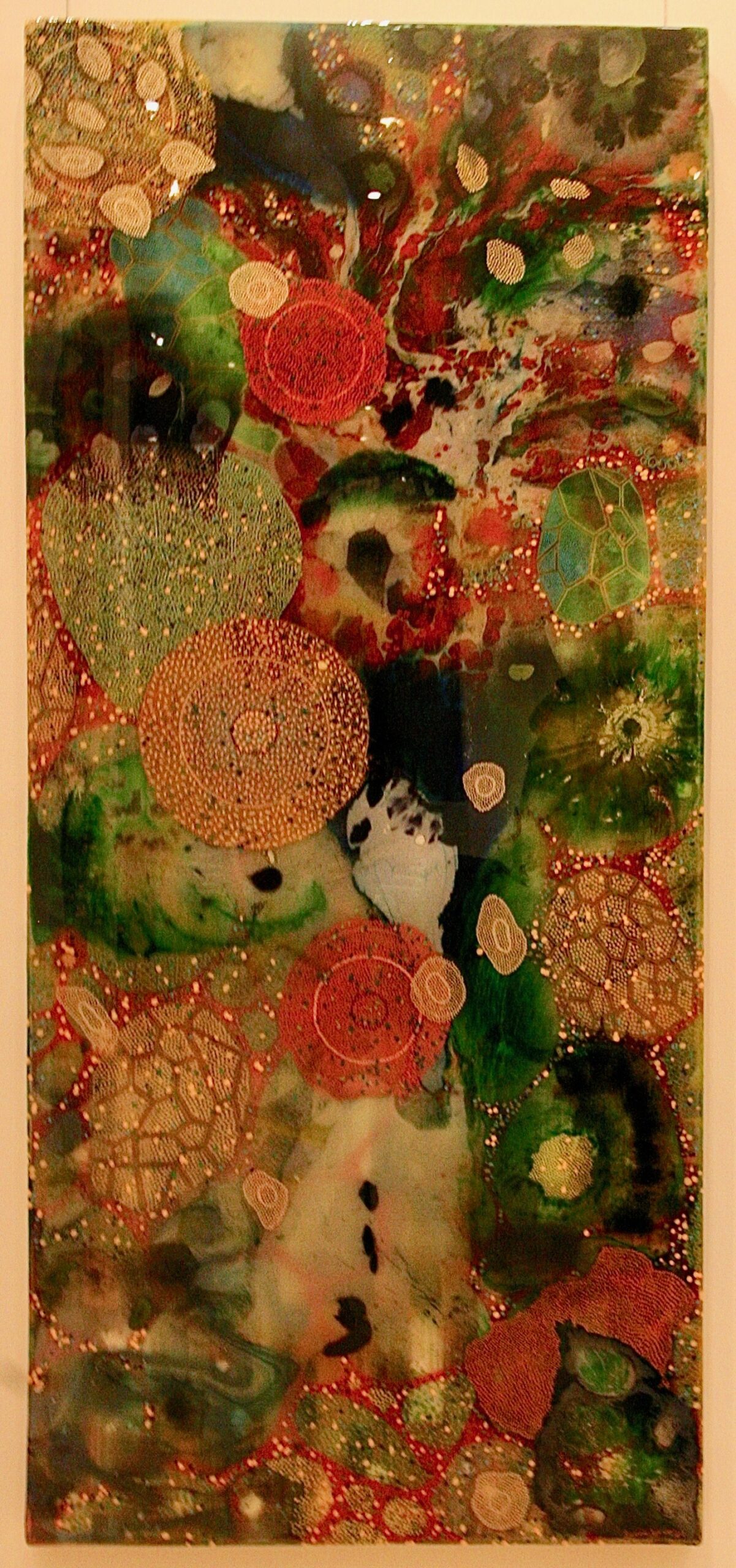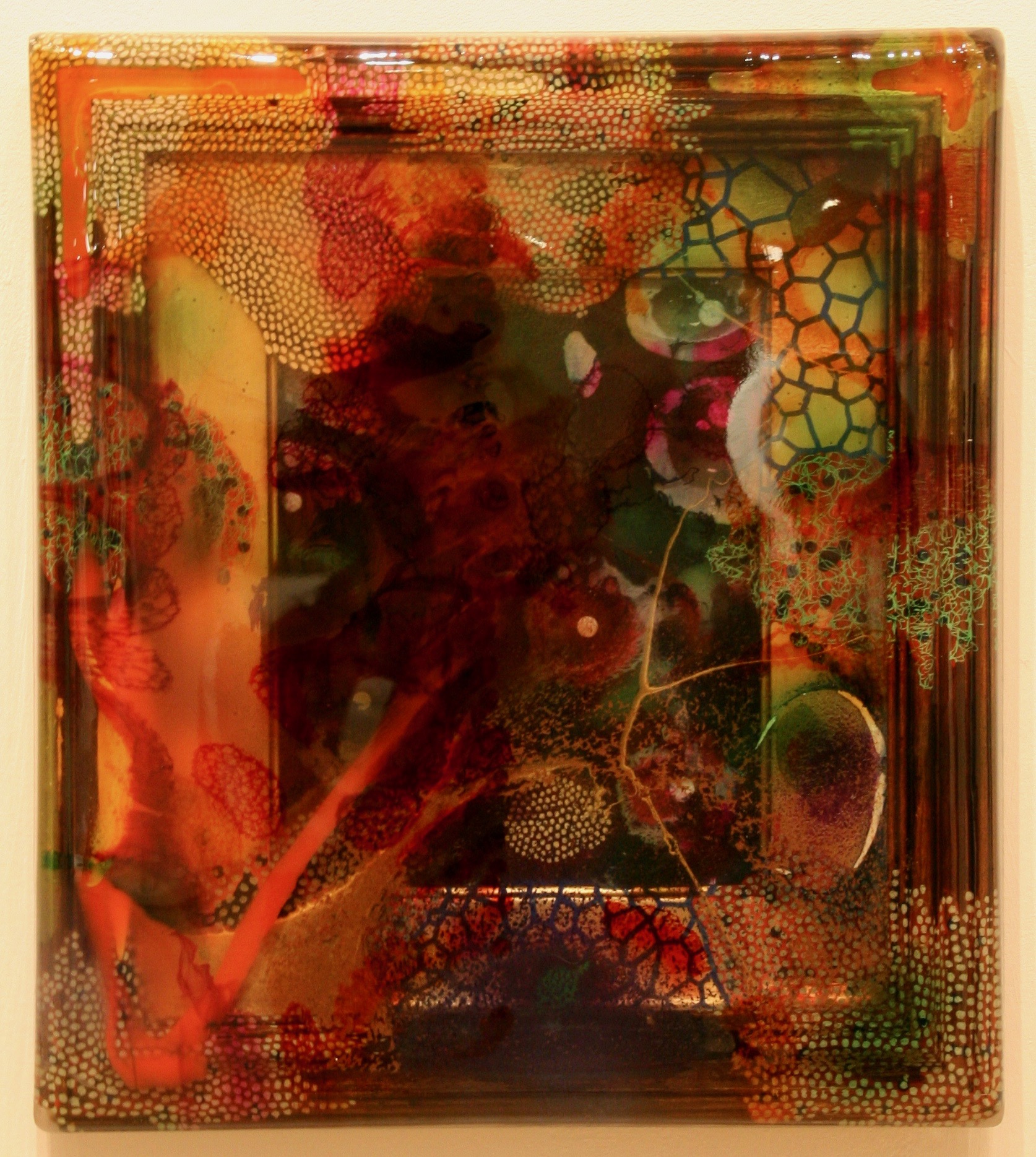 Now he is exploring this further in a new exhibition, he mentions trees, installations, and performance art. I am curious when he tells me he has bought sections of trees from a tree surgeon, analysing the decaying wood, and applying resin. He is additionally working on a large piece, inspired by Water Bears; the charming name is actually a Tardigrade, another cute name for it are moss piglets, however these living microscopic creatures are almost indestructible and survive in outer space. This looking in, and how the tinniest of organisms, are all intertwined with the grand scheme of things, the bigger picture that we are all trying to grasp; as we move into the future, and if that means looking outward. Benjamin has an equal passion and curiosity for aboriginal art, inspired by a link between their aerial landscapes and their dotted patinations to that of the microbial. He refers to the parenting of scientists, sound artists, poetry, music and the written word all coming together to form a new collaborative exhibition. The theme of this installation artworks the tropics, and he looks at how the influences of western ideologies have impacted these places and our fight to right wrongs through environmental research.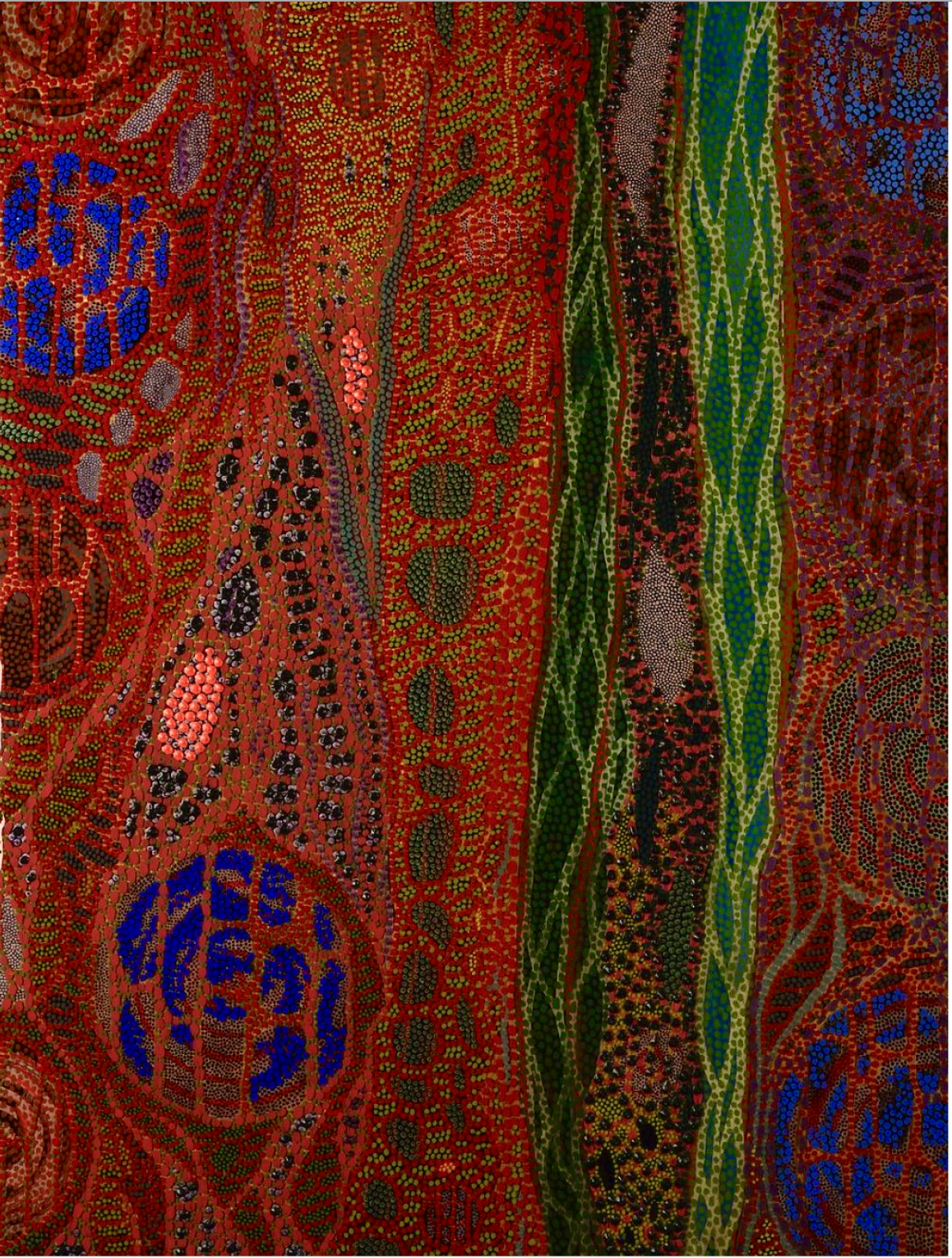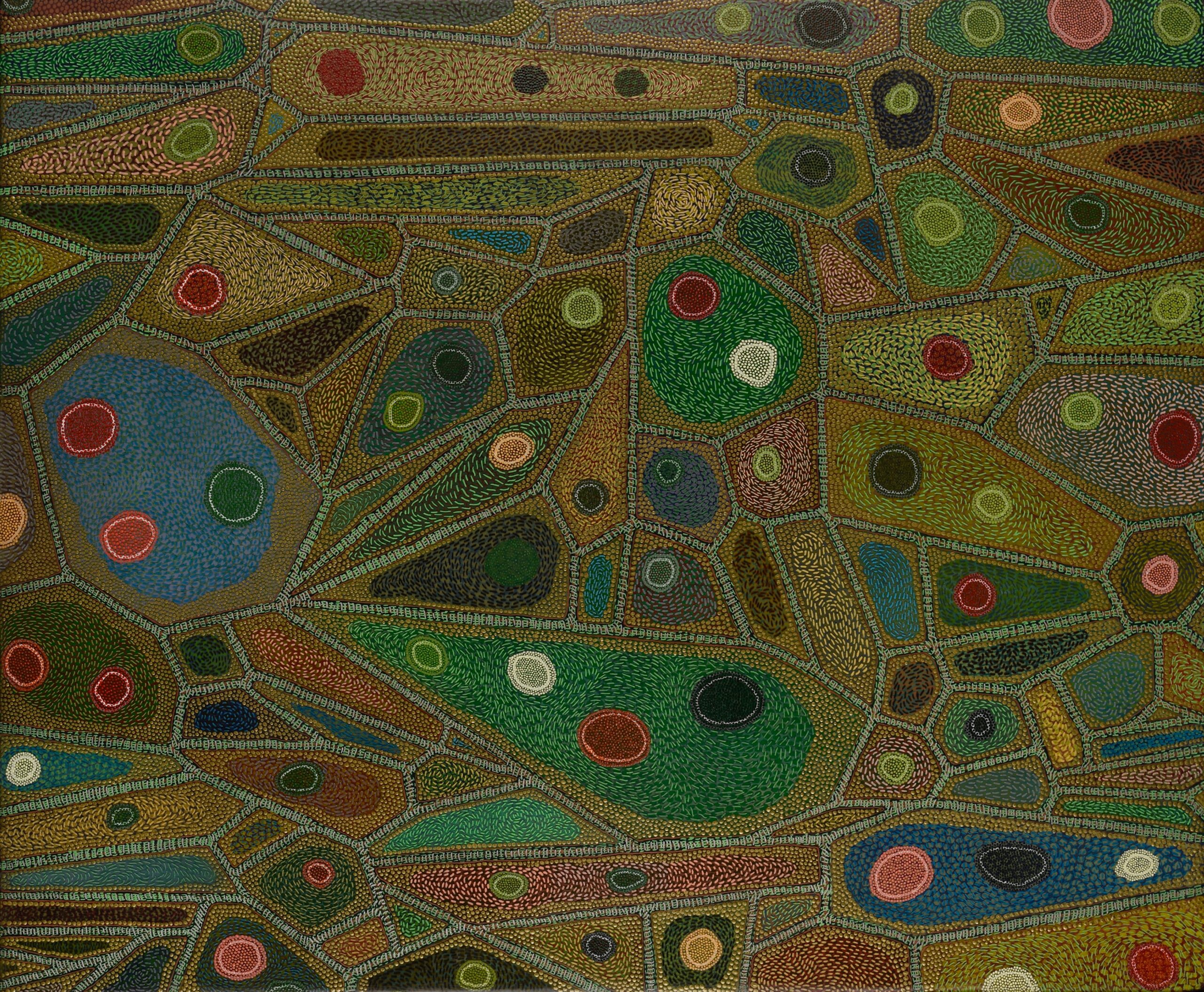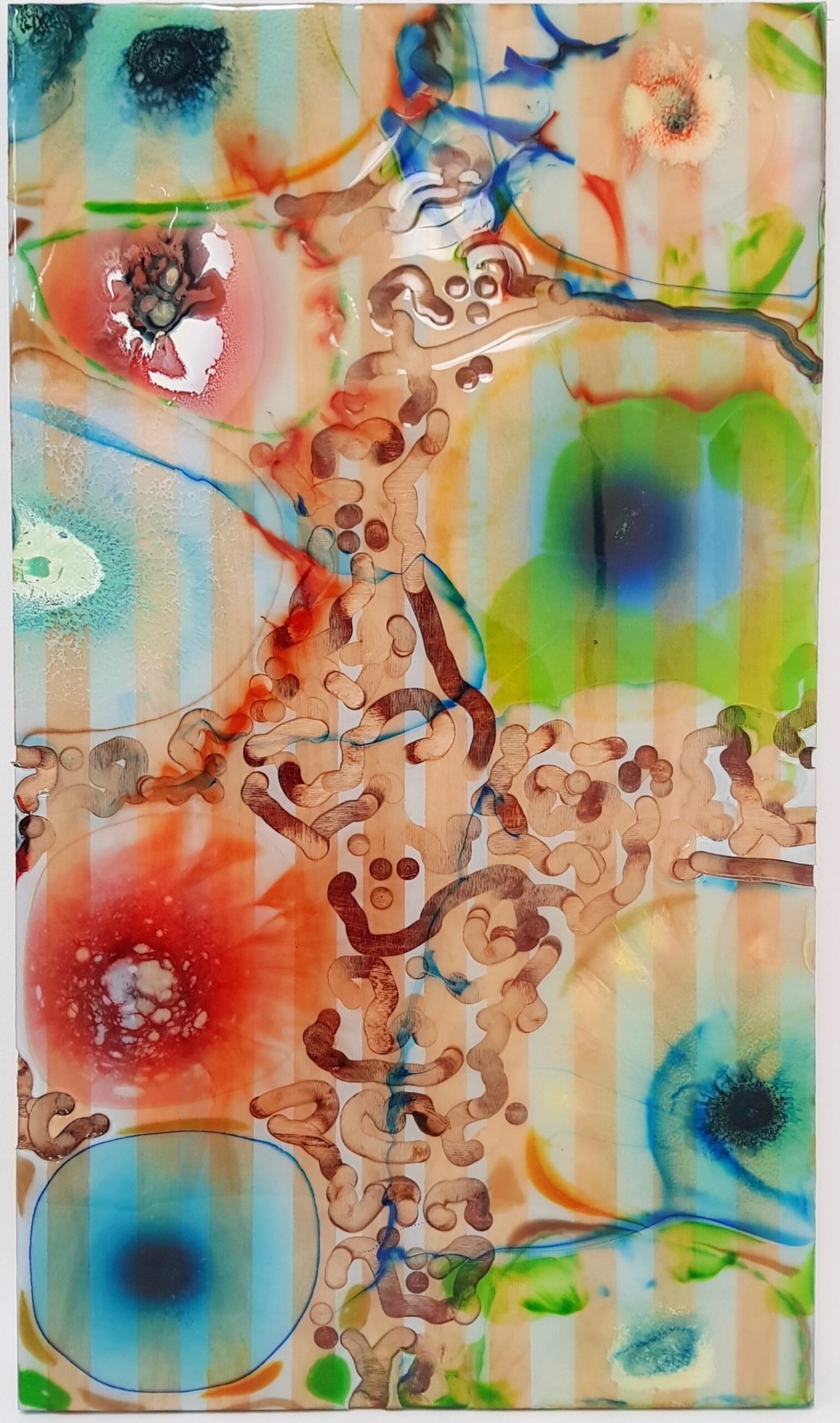 The beginning of Benjamin's career as an artist started with his grandmother, he tells me, an artist herself she inspired him, when he visited her as a boy, in her studio in Rye – on the Southeast coast of England – giving him paper and the liberty to develop his creativity.  This led to A-levels in art, product design and business studies, however he dropped out and instead applied for a foundation in Fine Art at Barnet college, although he was considered too young, he was able to apply, so impressed were they with his portfolio. This was his favourite year he tells me; he studied a lot of mediums and he felt relaxed and had the freedom to put together his ideas into his work. His final piece, explored neutrons and synapses, as they pass electrical signals. The artwork depicted five things his fellow peer group loved and hated; pain and love. He made symbols of them distorting them beyond recognition to look like electrical impulses, complex emotions broken down to simple signals something loose and fluid he explains. He then describes a scene where information gets broken down, and to reorder it you need the key. The viewers are invited to explore the illusive and the tiny mechanical parts of cells.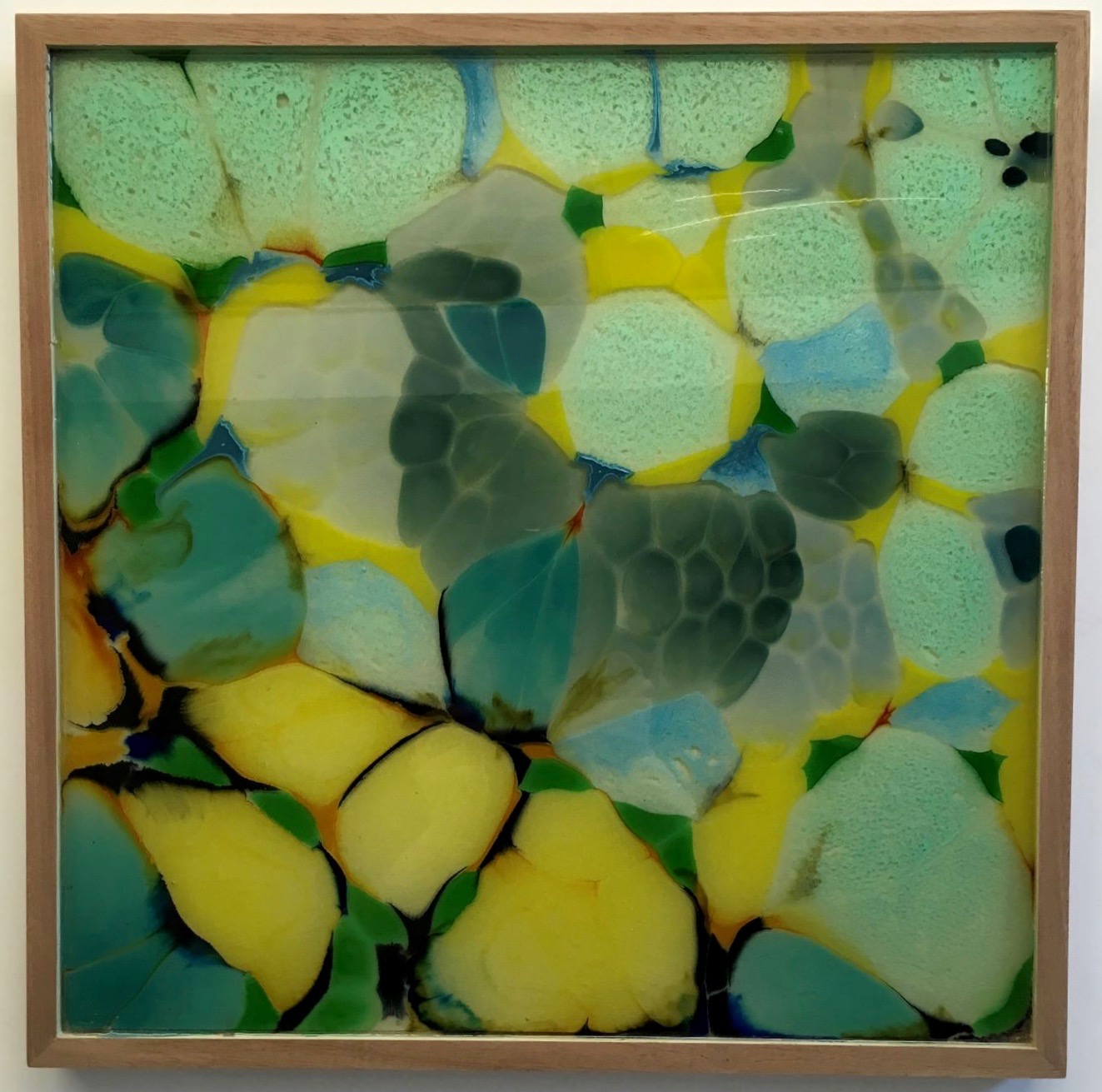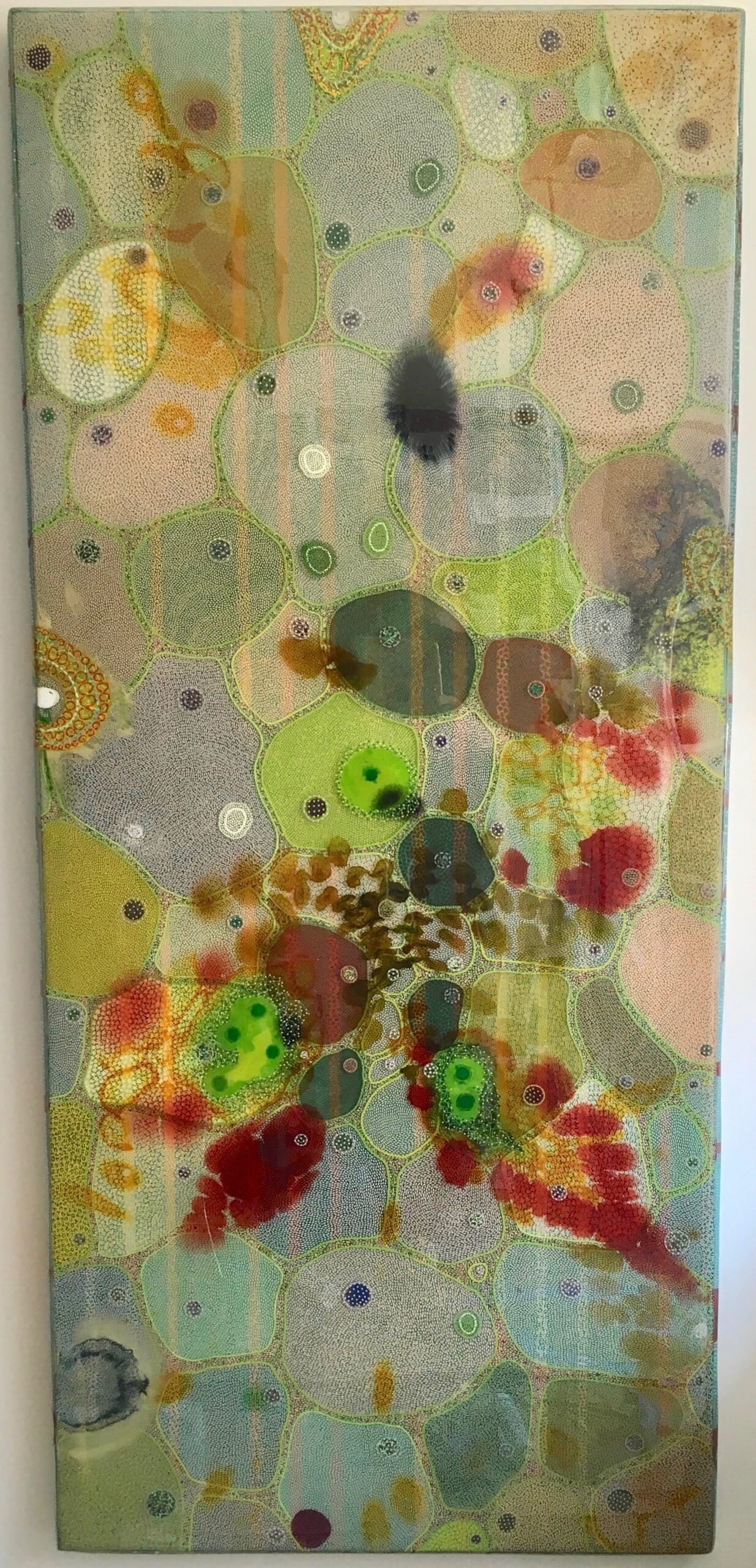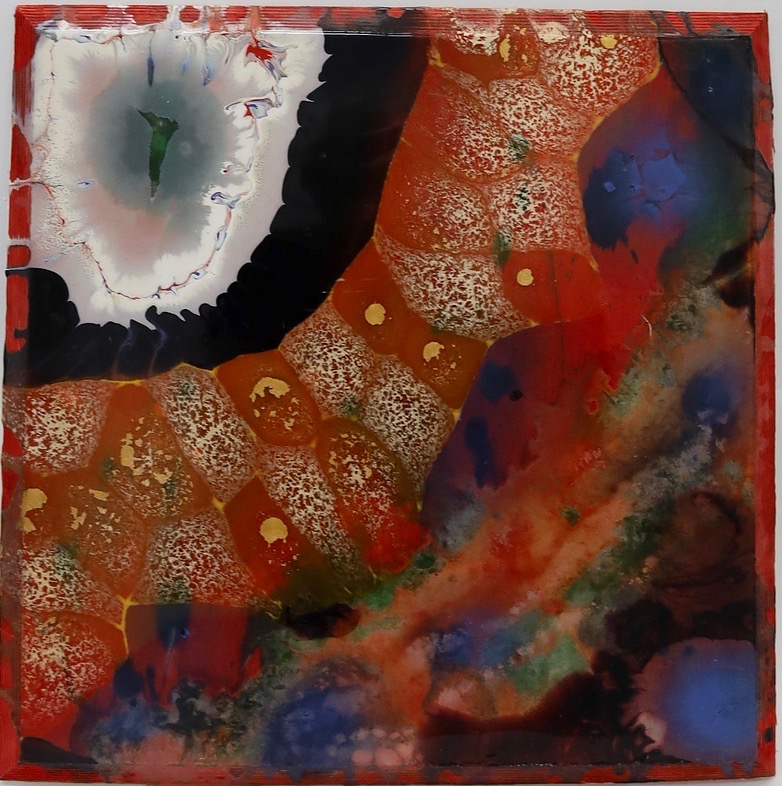 Benjamin went on to spend one year at Chelsea Art and Design, studying graphics and decided graphic design wasn't for him, so he applied for a fine art degree at the London Metropolitan for three years. I ask him about his inspirations, and he gives me an eclectic mix of contemporary artists such as Anselm Kiefer and Bruce Riley, and then mentions classic Italian painter Caravaggio and abstract photographer Levon Bliss, referencing his macro photos of insects. As a young student he had rented a macro lens, taking photos of the tiny organisms in barks of trees and ponds himself, exploring this method, and it is evident in all his work to date. He tells me has wanted to create performance art for a very long time, and he mentions his AI creation BakIIBak a creature with a reflective face, who will live as its own being. Raising questions what it means to be human and what is me and myself. Evolving and becoming its own being each time it shows its face. As any microorganism has evolved and sparked into life, the avatar has become separate from its creator. Much like AI.
Interview Antoinette Haselhorst
Mirror glass cake supplied by https://www.pavscakedesign.co.uk/mousse-cake