Jana Nicole Conway
Jana Nicole Conway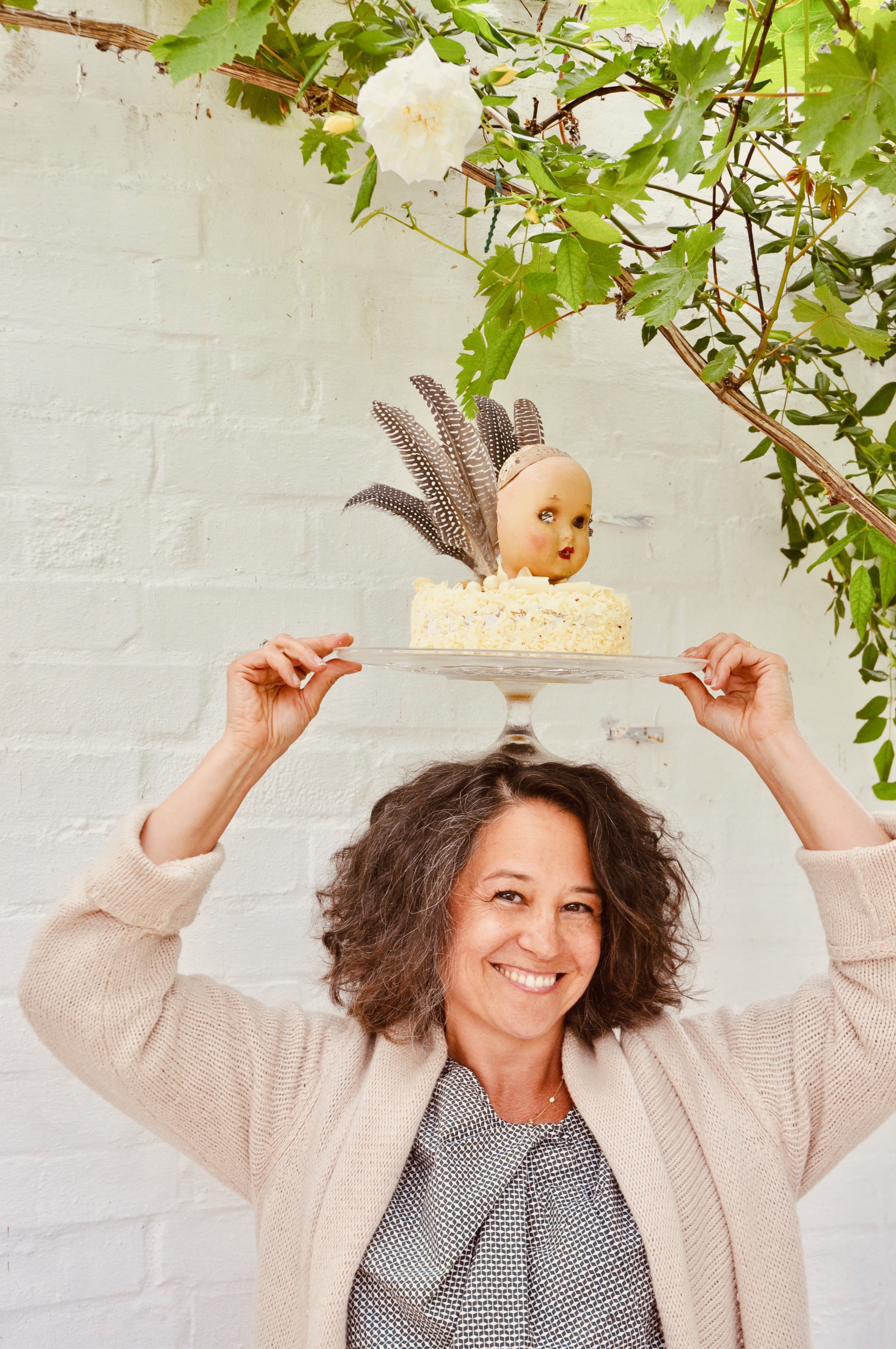 The bright yellows, pinks and blues trick you when you look at Jana Nicole's work, purely for the reason that they resonate an instantaneous feeling of being happy.  Until you look closer, in this illusion lies the complex, because the beautiful is in all its variety.  The femme fatale almost invisible inside the tiger or the temptress lurking within the zebra, she explores the power of womanhood within the gentle realms of innocence.  Don't be fooled by the birds of paradise, the colourful butterflies and flowers.  Jana Nicole tours the role of femininity, the narrative is powerful, and tender, for as well as being a warrior, it is about surviving and nurturing.  As a lioness hunts for her kill with all the ruthless stealth she can muster, she returns to feed and lovingly nurture her young.  Jana Nicole explores the conversation of war, survival, grief and family in her unique mixed media artworks.  I read a quote recently that said, 'To Live is Art.'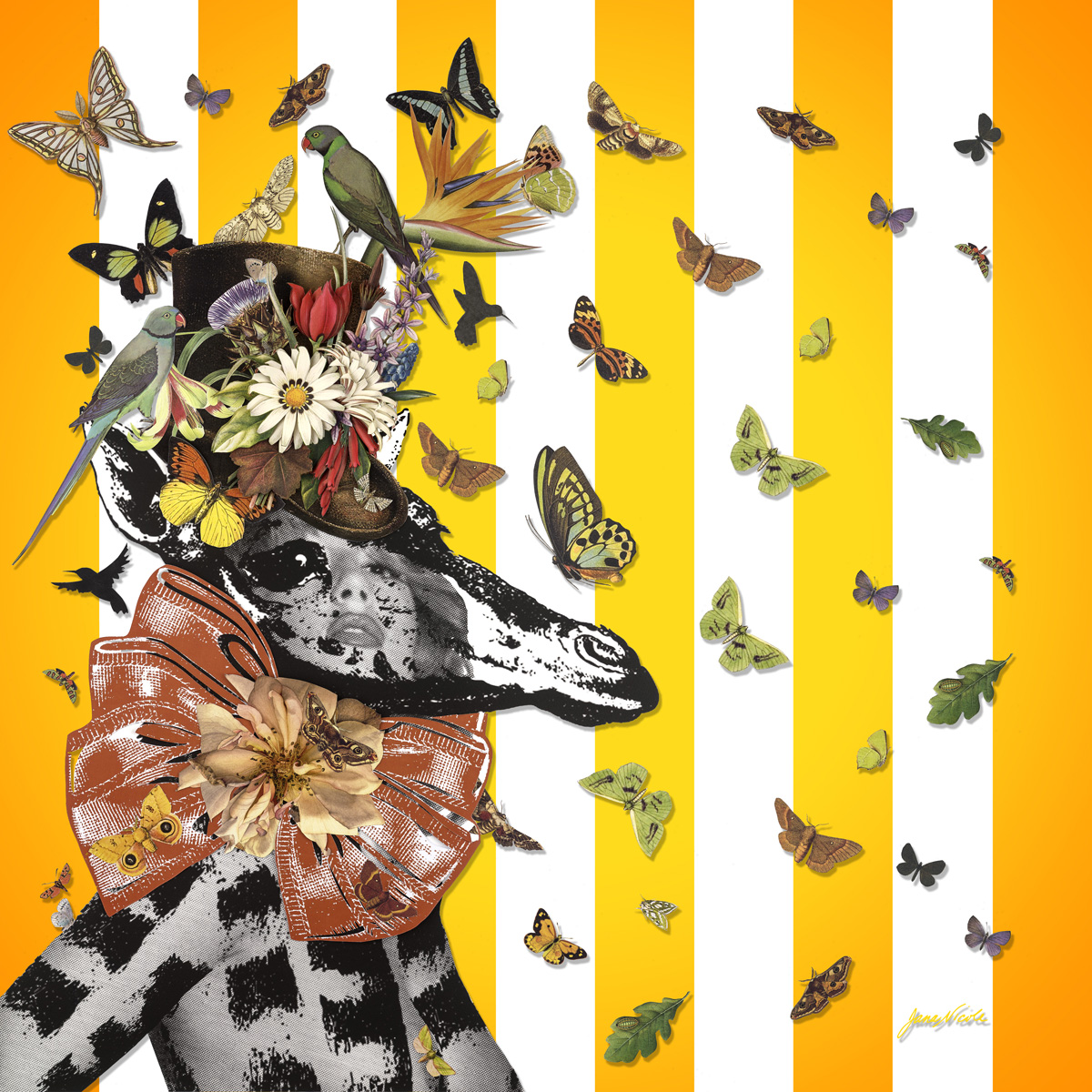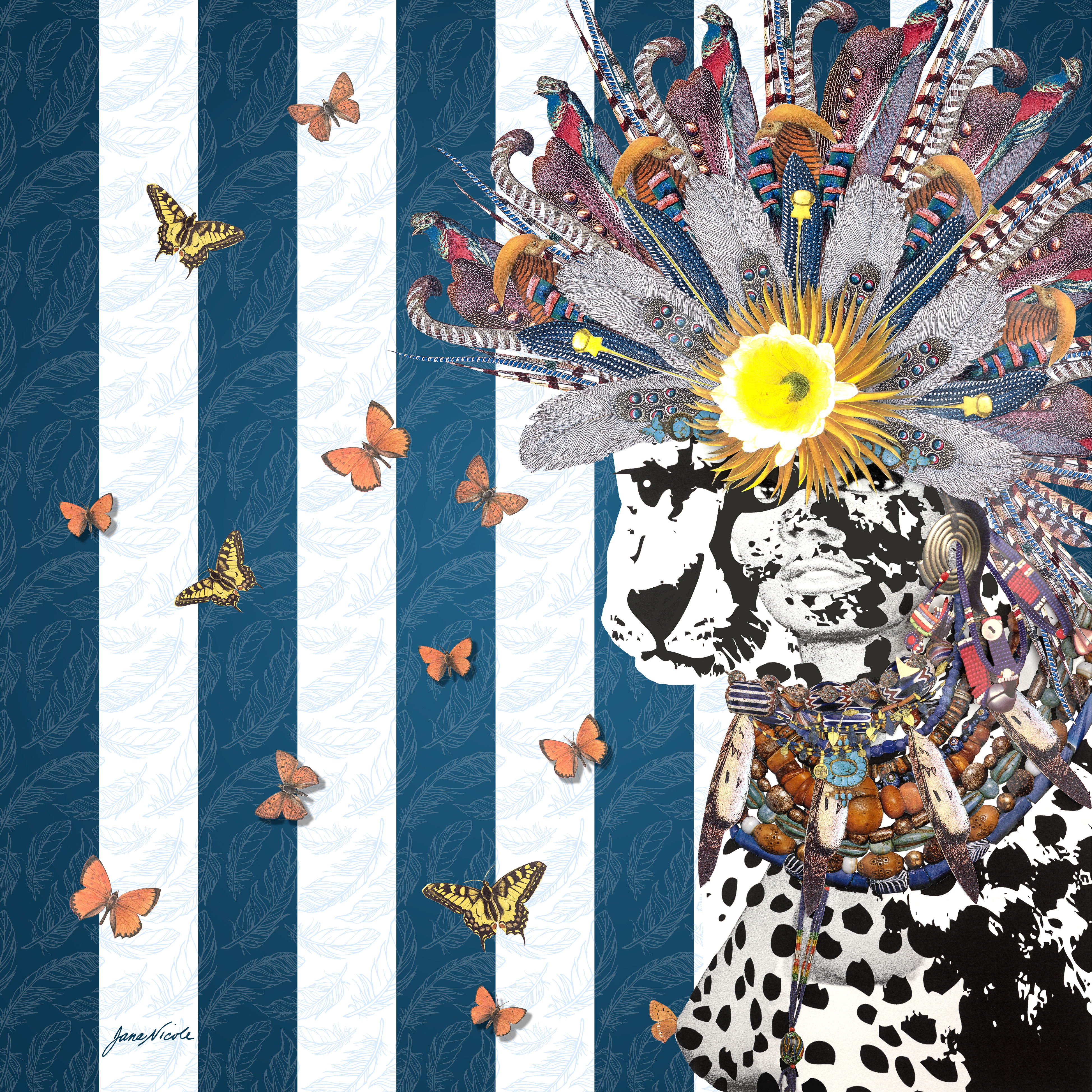 Originally from Chicago, then moving to Ohio, Palm Springs in California, then a boarding school in Arizona, riding her horse in the Verde Valley amongst the Indian burial grounds and red rocks of the American country.  The quintessential rebel American hippy cowgirl.  Her work reflects the heartstrings of her home country with the international spirit of the modern woman.  Jana Nicole is familiar with a world of being raised by her mother after her parents parted, spending holidays with her father, where she was sent to art college with 18 year old students whilst she was 12, to keep her busy.  The women in my family were very creative women, she explains.  Having a close relationship with her mother who ran a business as an interior designer, she says; "Who was there to guide not lecture".  Jana Nicole's time in boarding school was geared to what you wanted to do, classes in art and ceramics .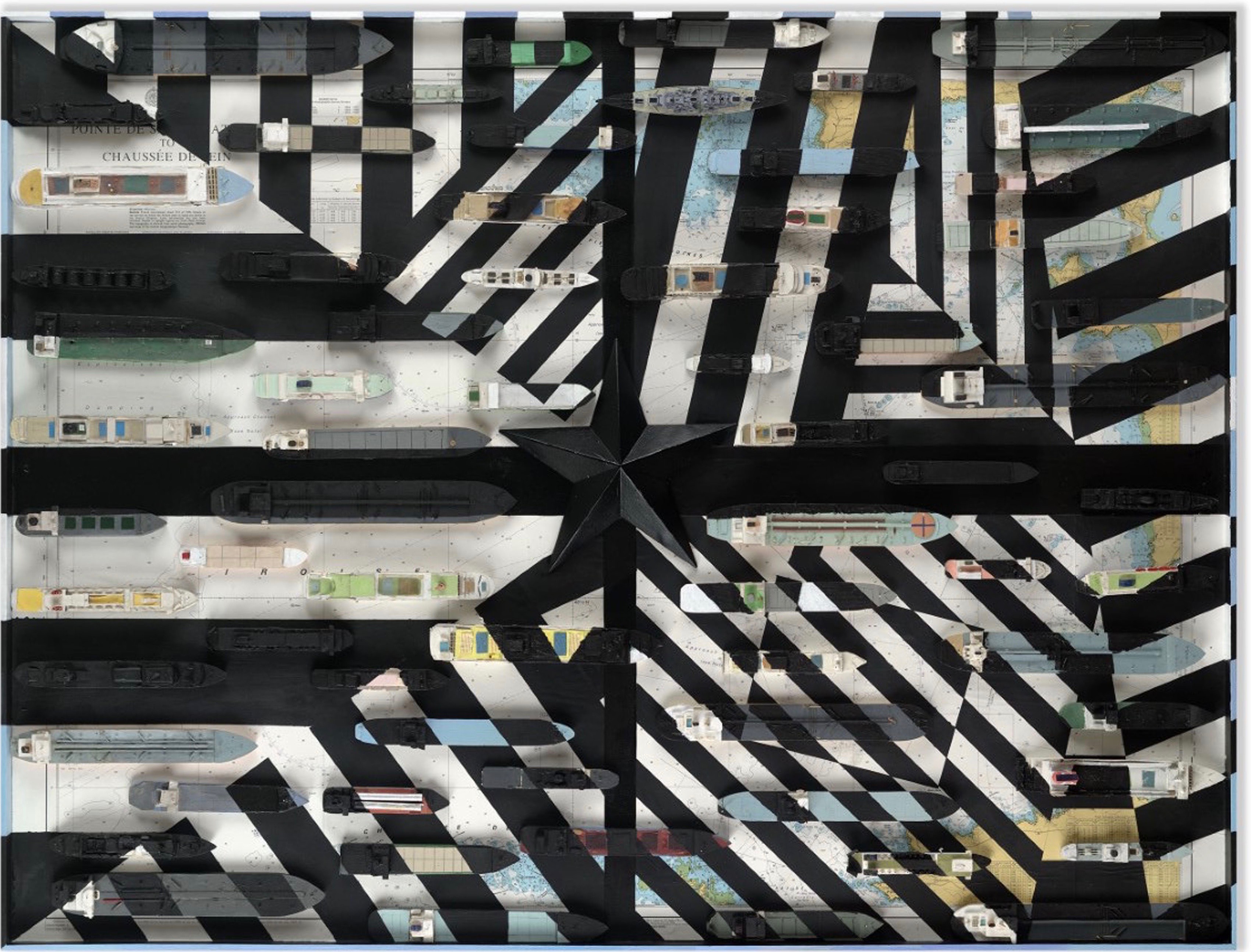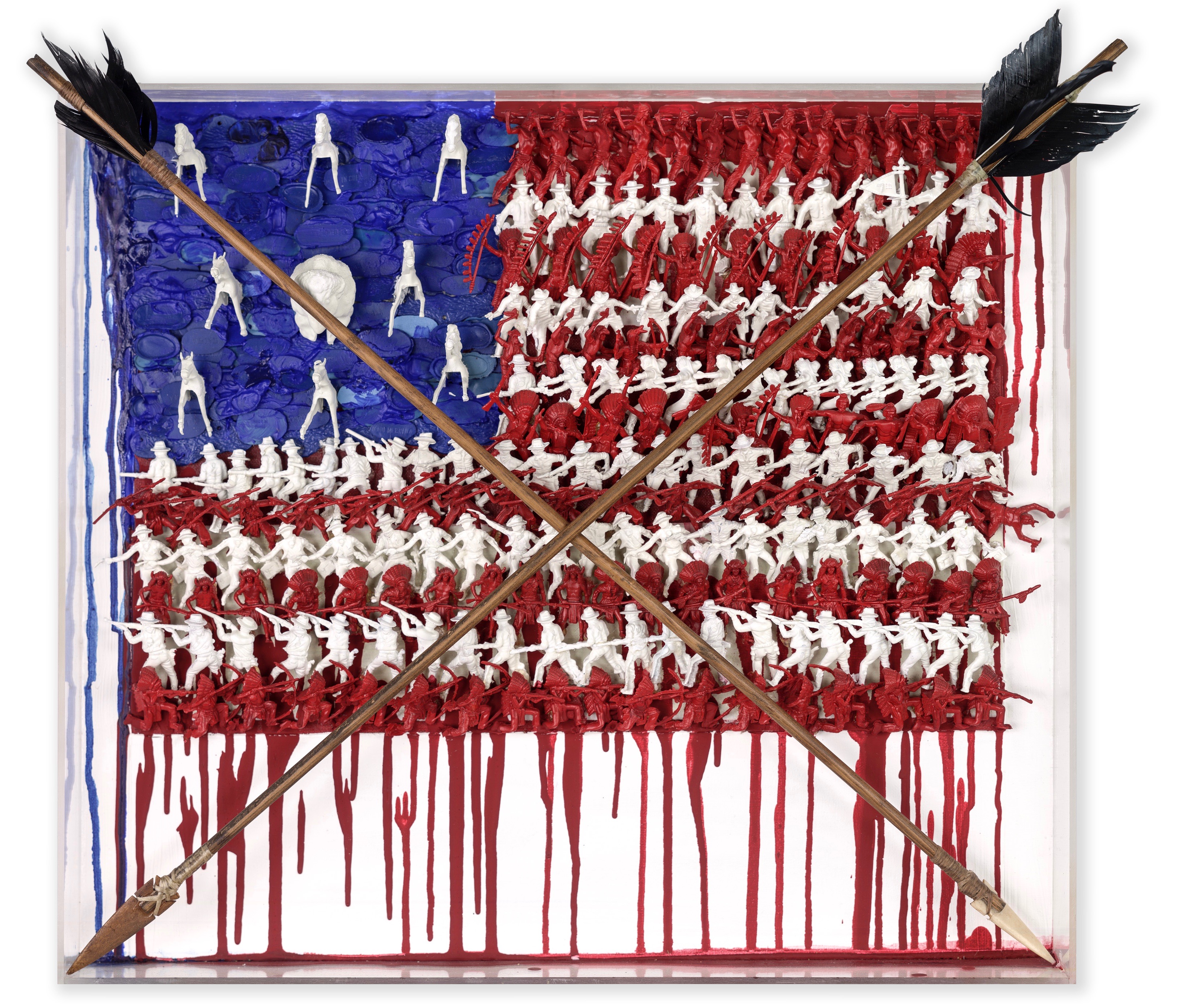 At 16 she moved back to Ohio, as she describes, a young punk to live with her father and stepmother.  The independent child suddenly amongst the preppy community of Cincinnati, Jana Nicole struggled within the strong house rules and conservative community.  She developed a close relationship with her Art teacher, and made contact with old friends she had known during her reception years at school.  Jana Nicole then followed her passion and went to University in Los Angeles to the American college to study art.  This University also took her to London as part of her degree.  When she returned to Los Angeles, she moved in with friends, James Hickox whose mother is legendary Oscar winner Anne V Coates, in the film industry; "Living with the Brit Brat Pack" Jana Nicole explains.  She started her career path working in wardrobe for Horror Films, as well as painting and making sculptures in her spare time. Making money creating costumes for low budget films, including 'Return of the Living Dead 3' which won an award for wardrobe.  She met her husband, film producer Richard Conway, during this time.  We were friends and flatmates at the time, she clarifies.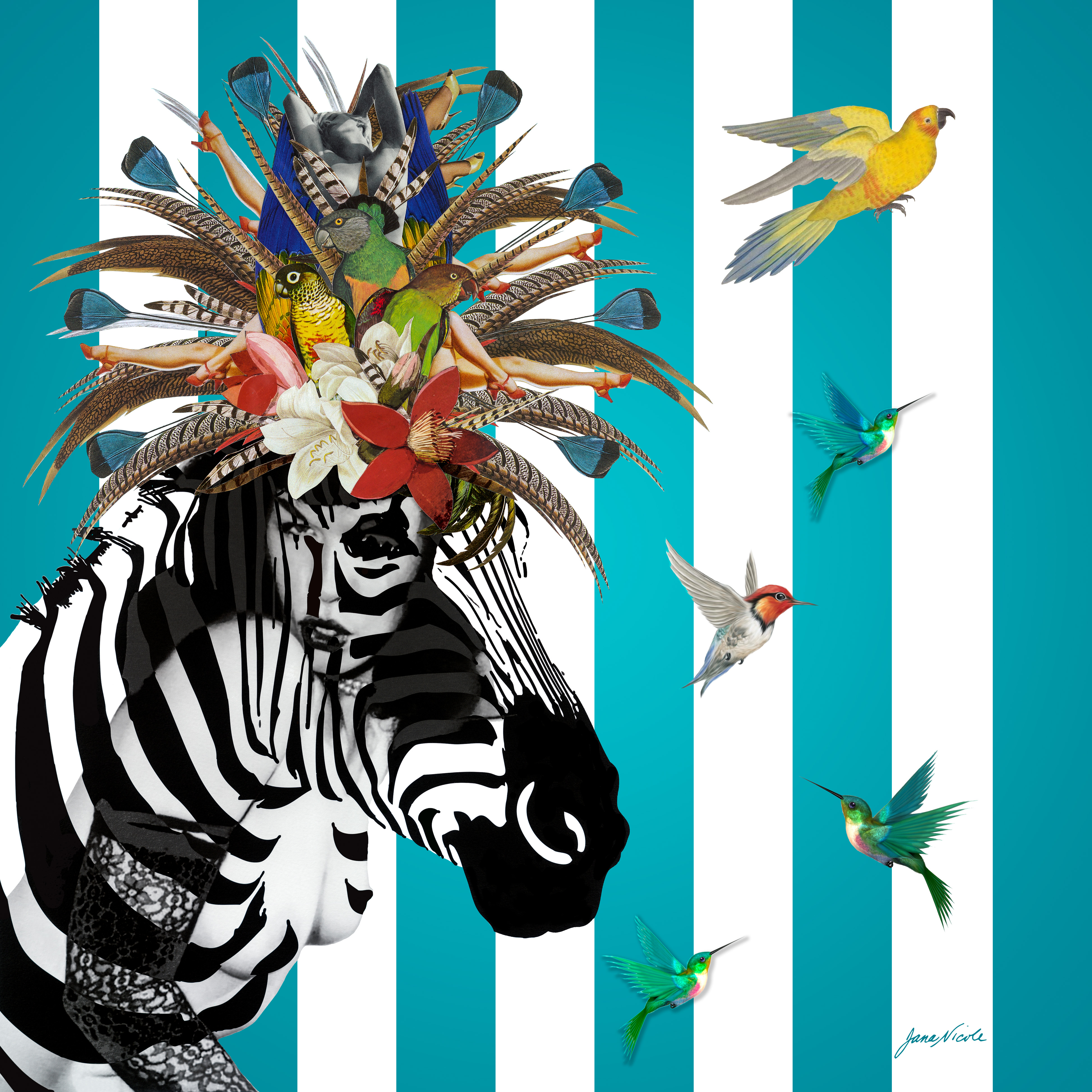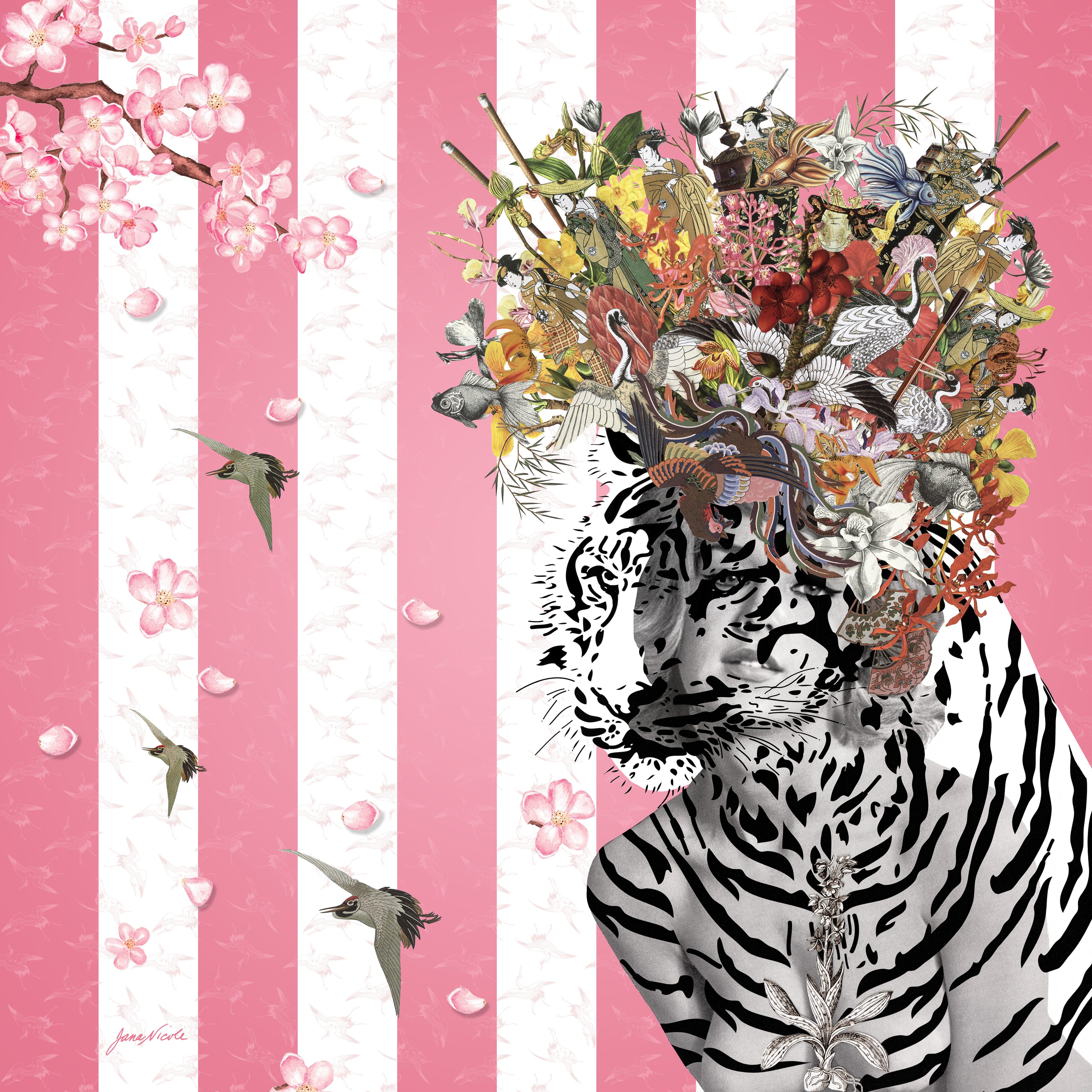 A career in wardrobe no longer seemed financially economical, so Jana Nicole became a personal assistant to Madonna, working for Freddy DeMann, she smiles as she tells me that her primary job was sorting through fan mail.  Some of it completely crazy she explains, a lot of the mail went to Gavin de Becker, all part of security.  All this time whilst her finger was on the pulse, Jana Nicole kept on painting and sculpting.  Already ahead of her time, she went onto become a gaming designer for computer games for Fox media.  Working at the time with computer programmers whilst she worked on the creative side, for games such as Mr Jeeters, Junkyard Dog and the Power Rangers.  She was fortunate to be able to move to London because of this job.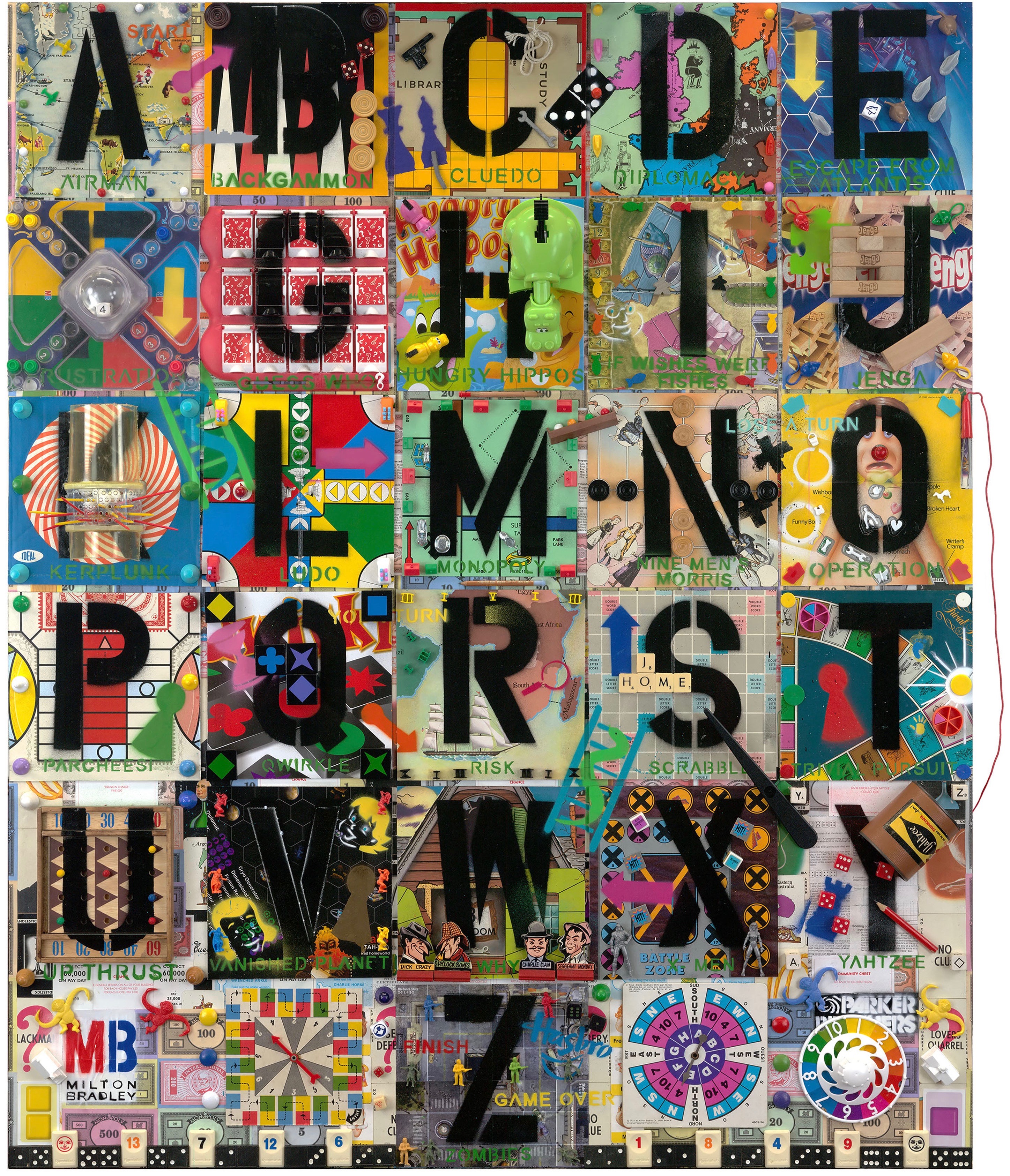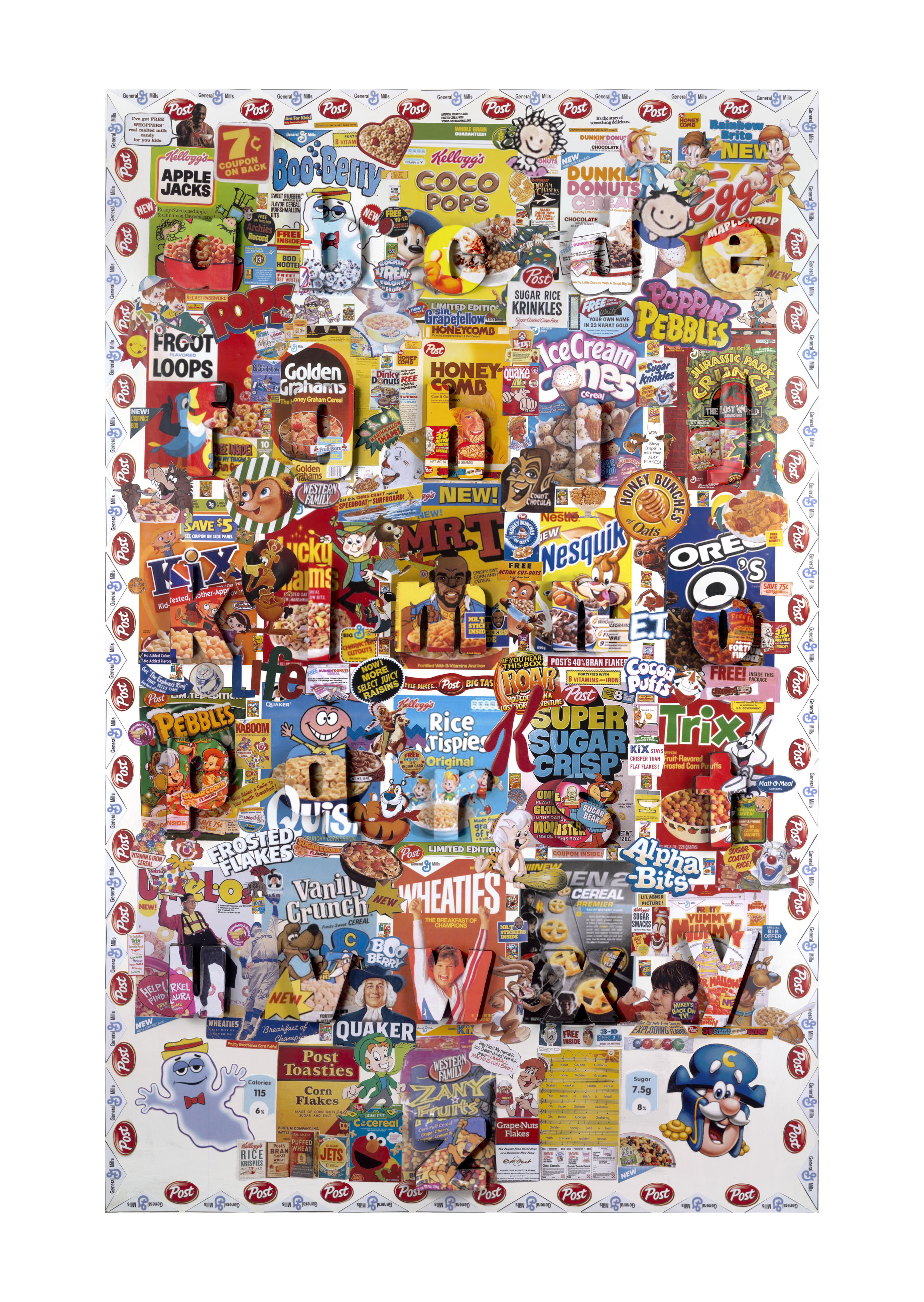 In 2000 Jana Nicole married her husband Richard.  However, when she became pregnant, she was made redundant.  The industry had changed, Jana Nicole explains, designers were now computer programmers as well creatives. Her time during Motherhood, also became an opportunity for her to concentrate on her own art.  Exhibiting in Palm Springs, Los Angeles, Brighton, Lewes, Soho London, as well as the Art Fairs.  Raising their three children, the family eventually moved out of London, and settled in the countryside in the South Downs of England.  Jana Nicole found the perfect location for both her and her husband to work and raise a family.  It's all about space.  They live in an eclectic home that itself has a creative history in literature and politics. The home once owned by Admiral John Godfrey, has had very interesting visitors.  Ian Fleming who resided in the house to write his James Bond novels.  Winston Churchill visited as Operation Mincemeat was being orchestrated by the secret service during World War II.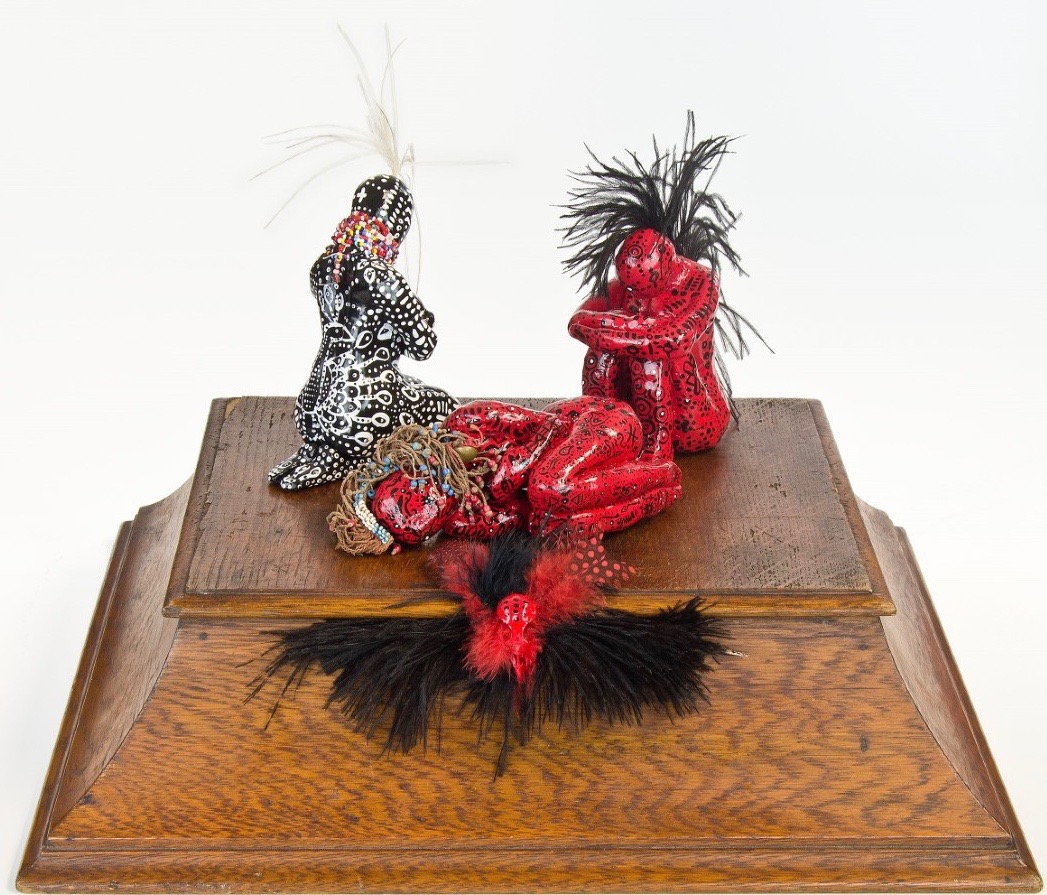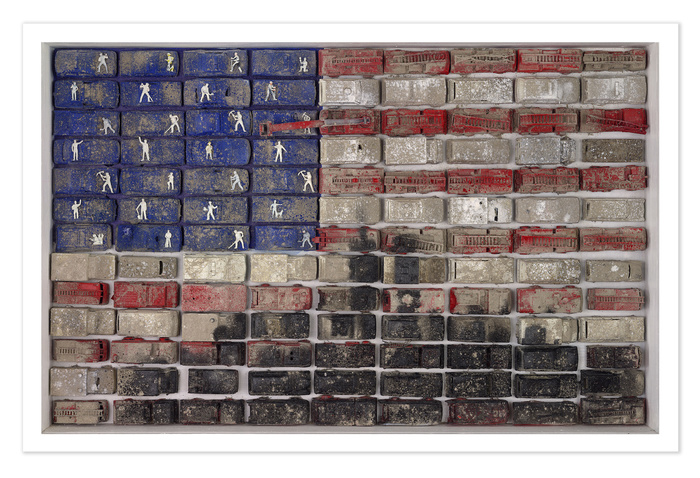 It all ties up when you peruse Jana Nicole's work, every detail, from her 9/11 artwork which is covered in human ash to her Cereals, the mystique of her work is tied up in the playful.  The toy soldiers, the games, the colourful packets, the elements that fool us to believe all is bright in this world and that it is just a game that we earthlings are playing, and yet the price can sometimes be somewhat earth shattering.  Then we pick up the pieces and start all over again. 
Interview: Antoinette Haselhorst