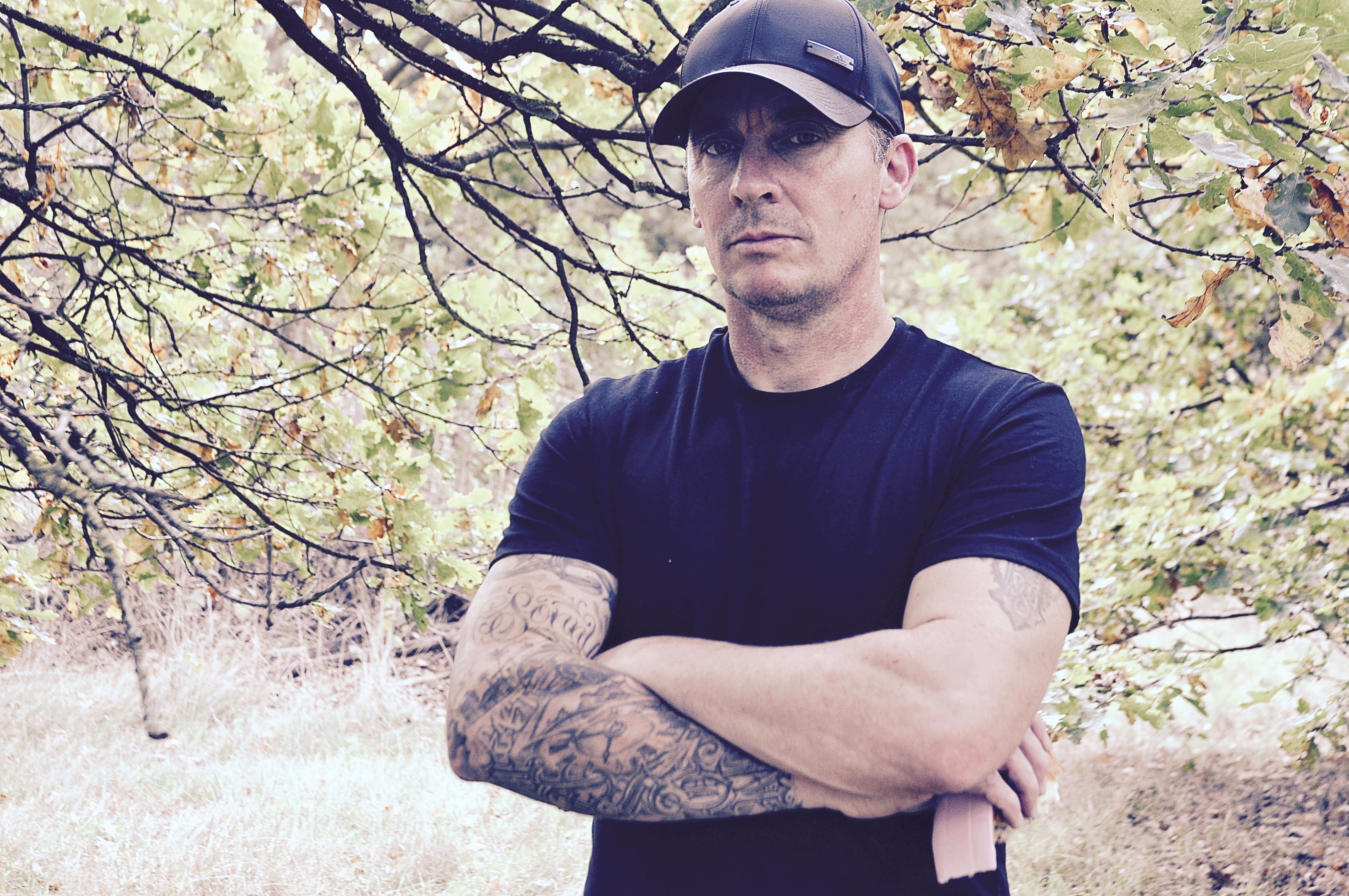 When I first laid eyes on Onyx's work I would describe it as experiencing the Gothic Notre Dame Cathedral with its abundance of Gargoyles and decorations, combined with Toy-story's animation and the mind of Alice in Wonderland.  His large sculptures, that take months to complete, are a journey of storytelling.  Onyx's artwork, not his real name by the way, is about Onyx, who became what he is today after being in a coma for a month.  The sculptures are something so surreal, that you feel as if you have woken up in the middle of Pan's Labyrinth.  A film about the unconscious and the surreal and the dream-like state that we humans all experience to protect us from trauma.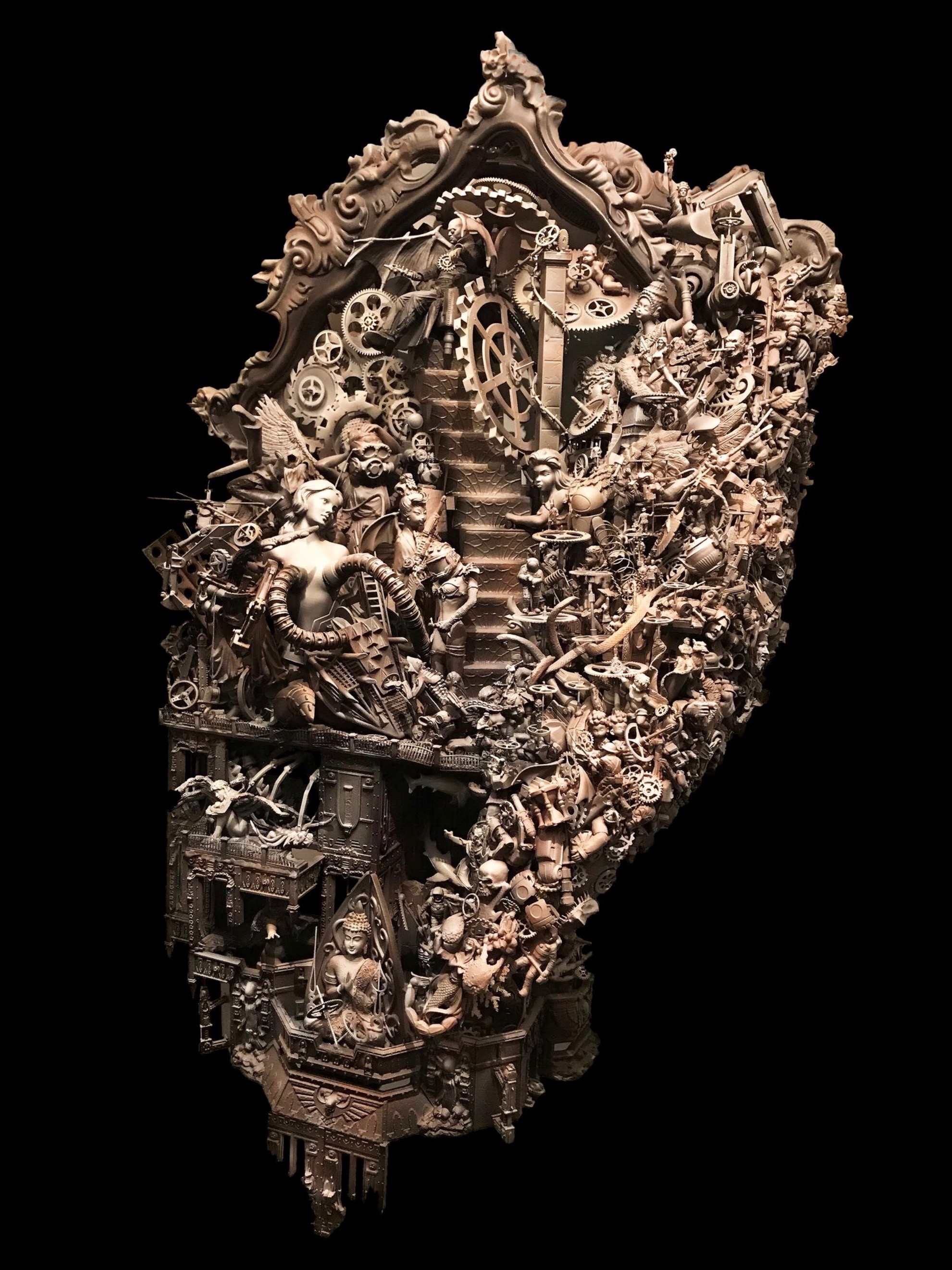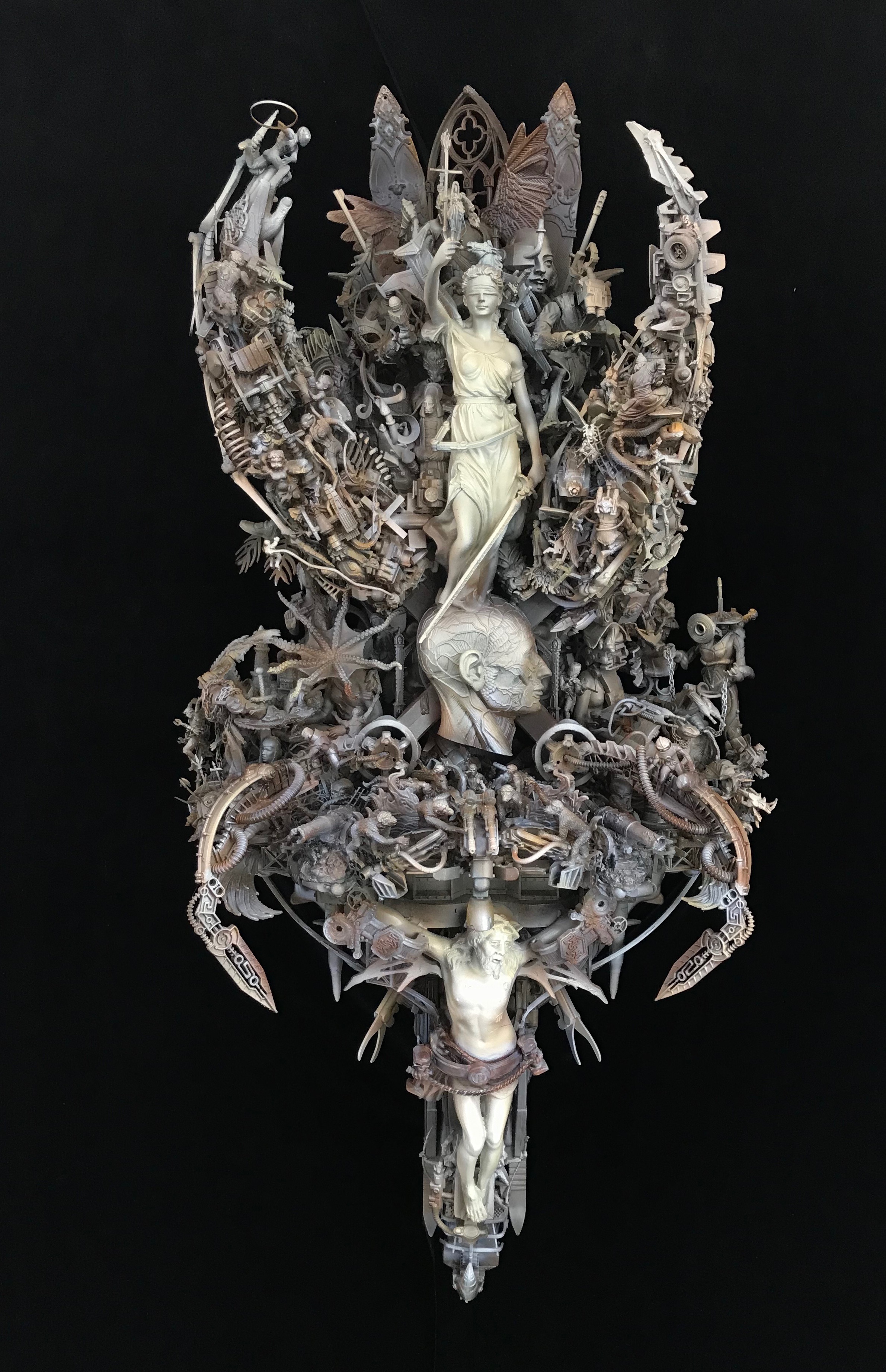 Onyx, or Jim, a nickname he is known as, is an artist you don't come across often.  His works are creations of the fantasy and reality of heaven and hell, universe and aliens, women, birth and love.  A story telling in sculptures made of artefacts collected at early dawn raids from all sorts of quaint places, antique fairs, toy shops, car boot sales, charity shops, weekend ventures scavenging through worn and broken toys, lost artefacts rejected and unloved and Onyx recreates each little piece however small and fragile, to tell a whole new narrative.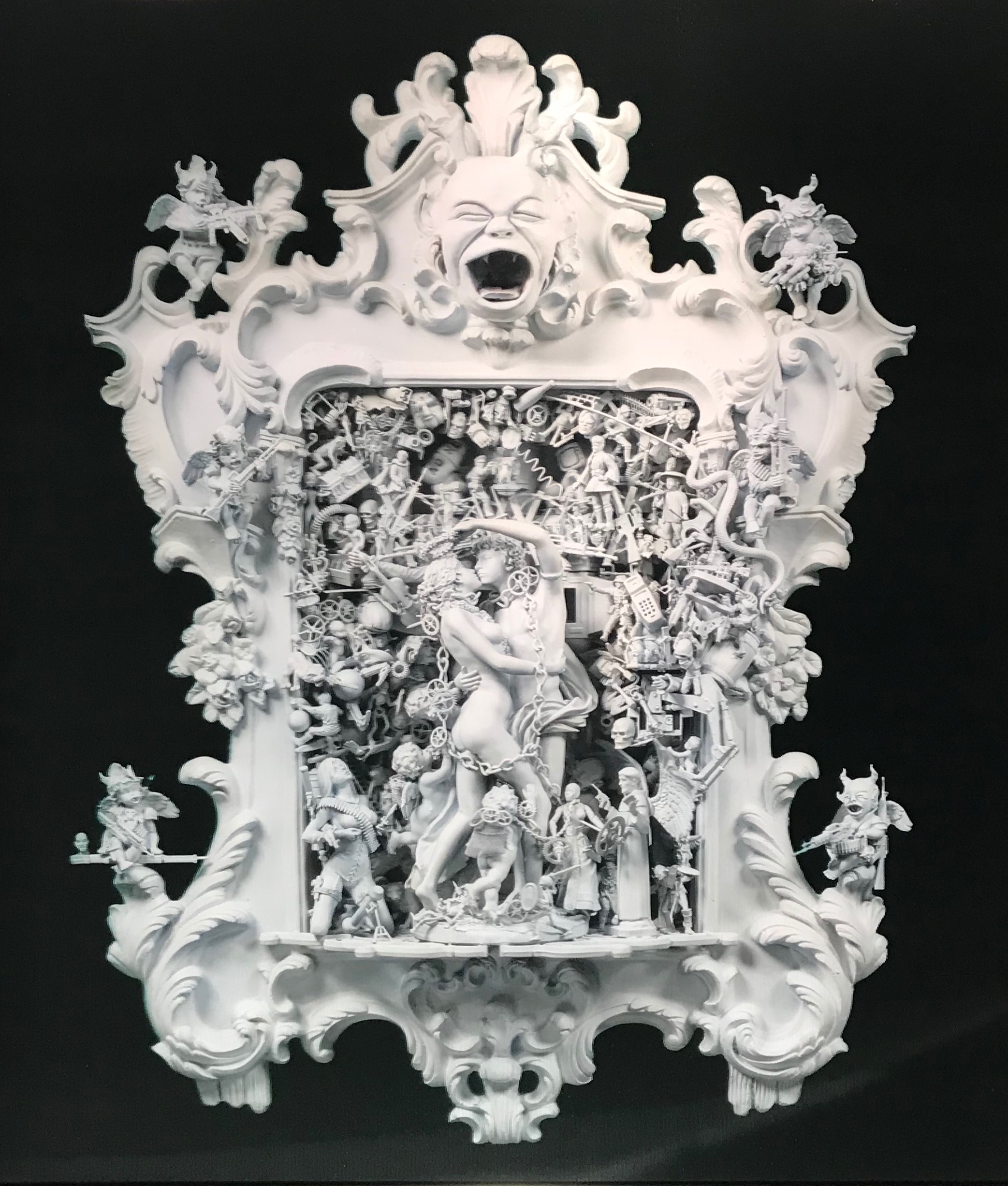 The account of how a builder, who stabbed his leg accidentally with a very sharp stanley knife, whilst finishing off a refurbishment job, fell into a coma and woke up to create these phenomenal artworks, is for enquiring minds!  I am one of them.  He explains whilst unconscious, hallucinations of being in hell, seeing the future and how like in the Matrix he traveled through a maze of nightmares with apparitions tormenting him and preventing him to find his way out.  How every level of truth, bad and good brought him closer to home and consciousness.  However, after every fail he would return to the start of hell and repeat the experience, until the final journey, where he was able to confront his demons and came back to life in the conscious world.
Onyx is married to Michelle who he has been with for 22 years, they have three sons, Sonny and Mason; Michelle gave birth to Lucas two weeks ago, and I am able to cradle this beautiful infant in my arms as he sleeps and I listen to Onyx explain his journey as an artist.
His first artworks, his paintings,  stencilling and airbrush techniques, started in recovery,  inspired by Star Wars, with the dry arid humour of a Londoner, The Star Wars and The Empire Strikes back about the Cold War hang in his gallery with his sculptures encased in glass.  Onyx currently has five main pieces: Beethoven's Destructive Symphony, The Birth of Destructions, You're Wasting my Time, The Dream Catcher and The Falsed Resurrection.  Each piece has a central figure, then two lives moving from darkness to light, all telling their own anecdote.  Some about the centre of great minds, alien life, the universe and the humility to be human.  Some about who is wasting who's time, with time cogs on cherubs.  All Sculptures start with one core character and build up layer, road, journey and weave bending and evolving to become one giant piece of three dimensional storytelling.  It's magical, frightening, curious, very beautiful and bewitching.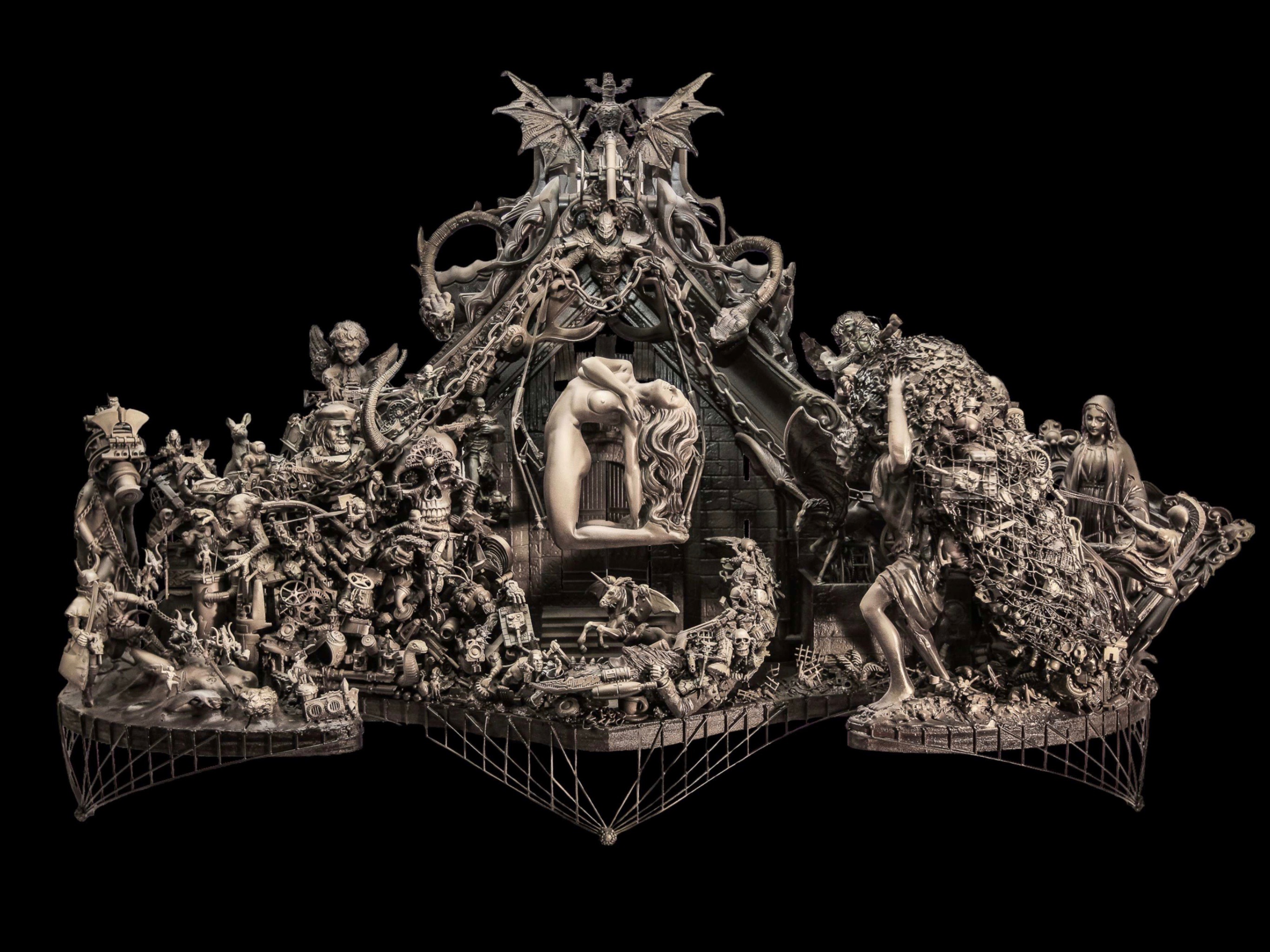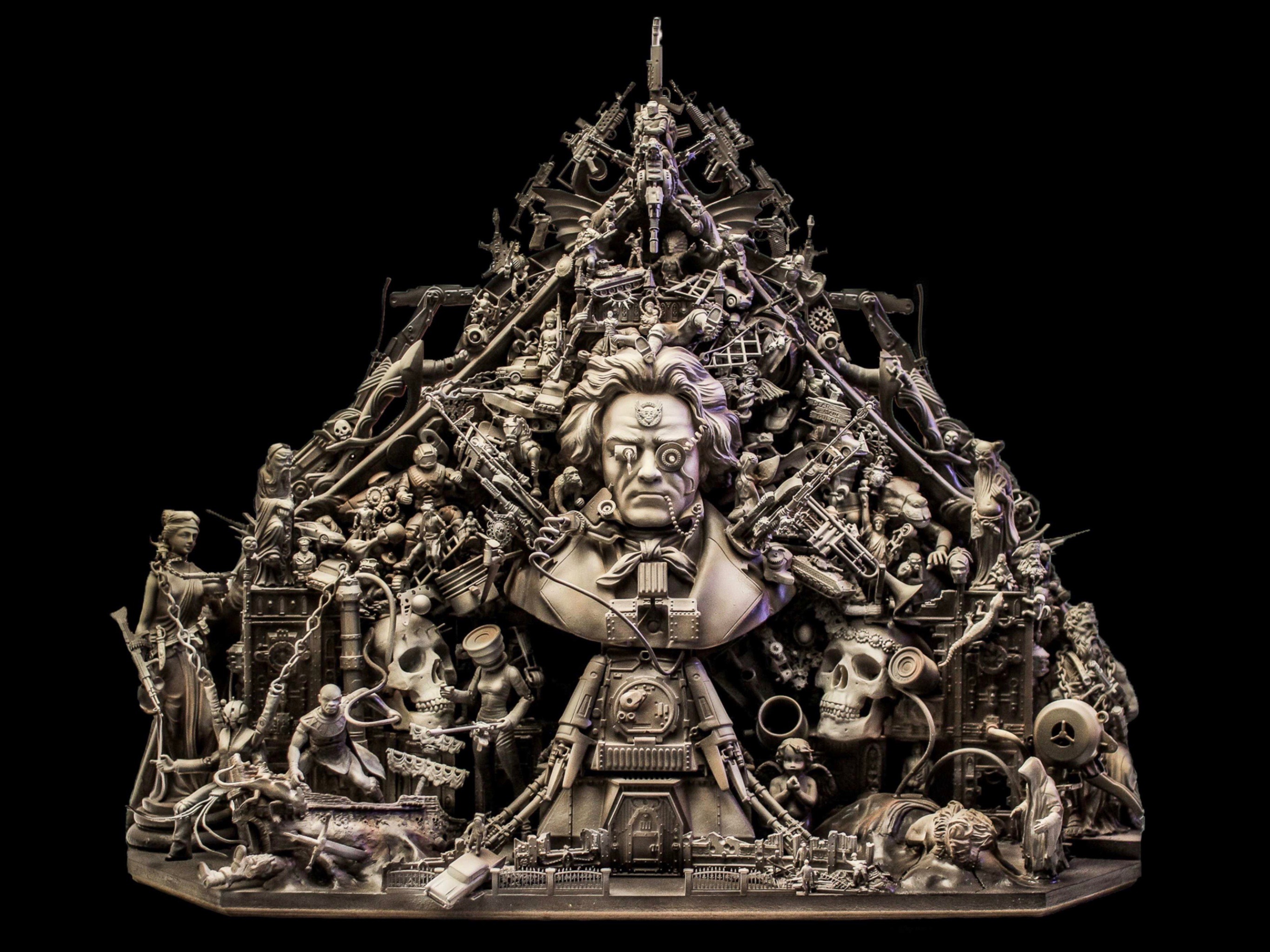 His inspirations came whilst researching designs for a tattoo that he was designing after surviving a major skin graft,  it was discovered that his injury that was undetectable, because the cut was so sharp,  the poison had entered the system and he ended up having Necrotizing fasciitis NF, and Onyx warned me to not look at the images on google as I check the spelling.  I didn't look at the photos!  As a victory to his recovery the tattoo was a symbol of his survival and this is when he came across the artist Kris Kuksi.  Onyx subsequently decided he would make his own sculptures.  Spending months on each artwork, he made them for himself primarily, as part of his recovery.  When someone first encountered the artworks,  Onyx was advised to show the works, and he decided to have Lenticular made of each piece so he would have something to keep when his sculptures were sold.  Now however the Lenticular are popular themselves; each artwork is photographed 30 times on a track and the images interlaced to create a 3D image, all done on computer. The results are just out of this world.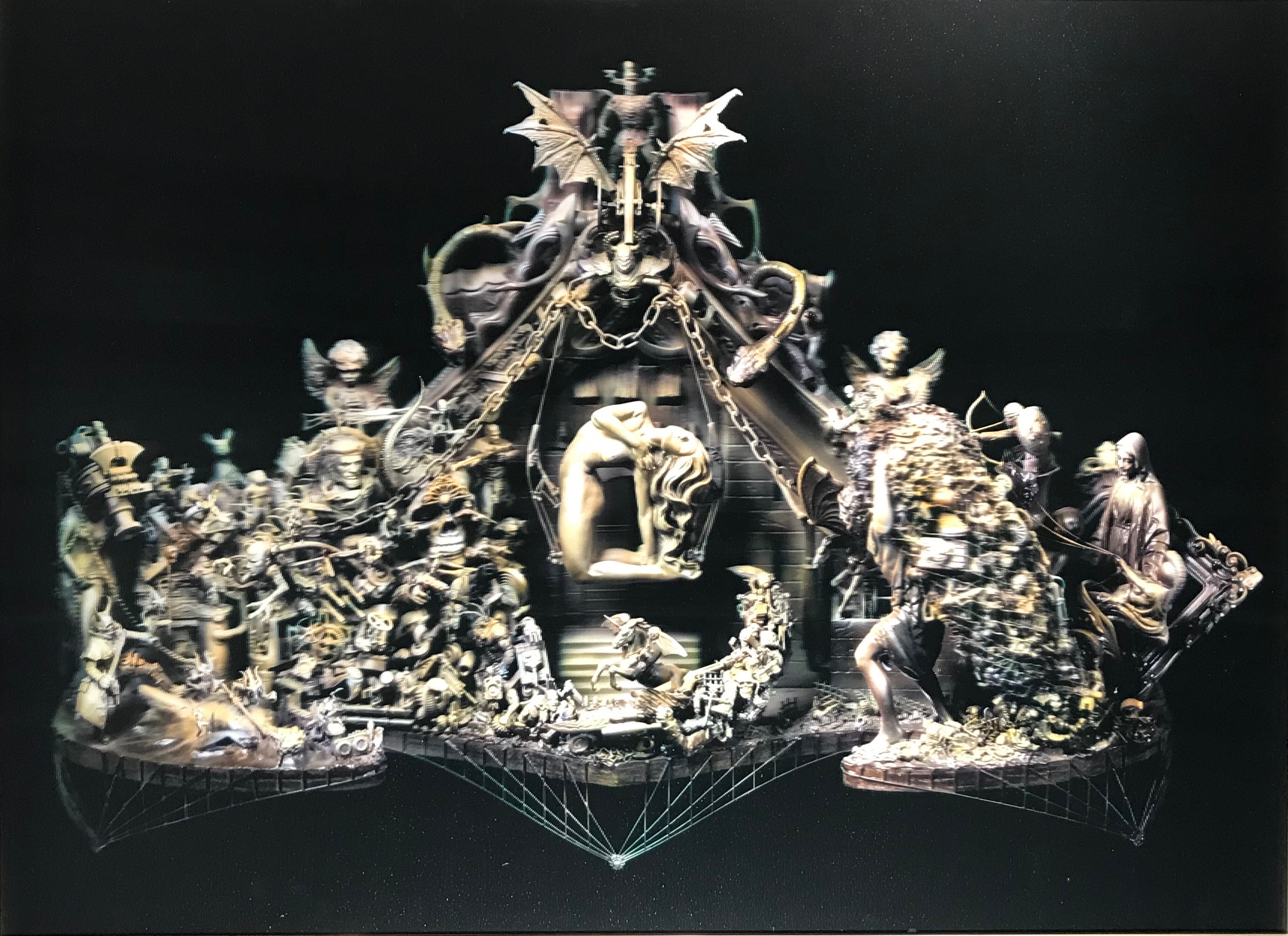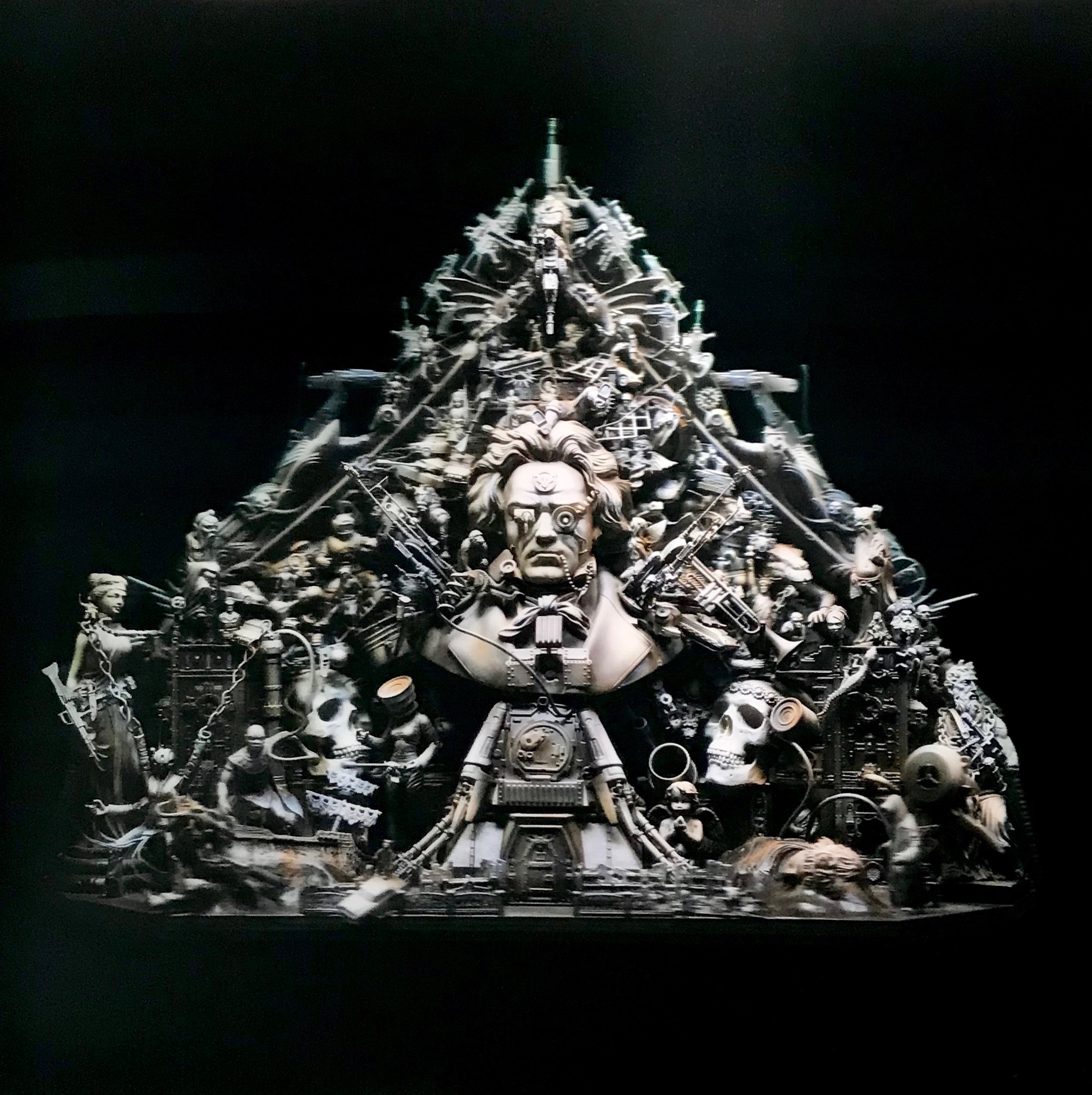 Onyx is a Hackney boy, who grew up with humble hard working parents, and he had his share of troubles during his childhood.  His father devoted his time to his son's recovery which healed old wounds of anger, his family surrounding him with love, as well as support with his recent venture as an artist.  May I point out that Onyx's early career started out as a photographer in still life, working his way up in a studio until he himself was taking the photos of High end contracts, Tiffany jewellery, Wimbledon trophies and older Crown Jewels, where he learnt about lighting and composition.  The year was 1990, when he explains the pay was terrible, money dragged him away and he went into the building industry which paid well. There has always been the artist at the core and as with a diamond it starts out rough, it's chipped, shaped and moulded until it shines brighter.
Interview: Antoinette Haselhorst