Olivier Leger
Olivier Leger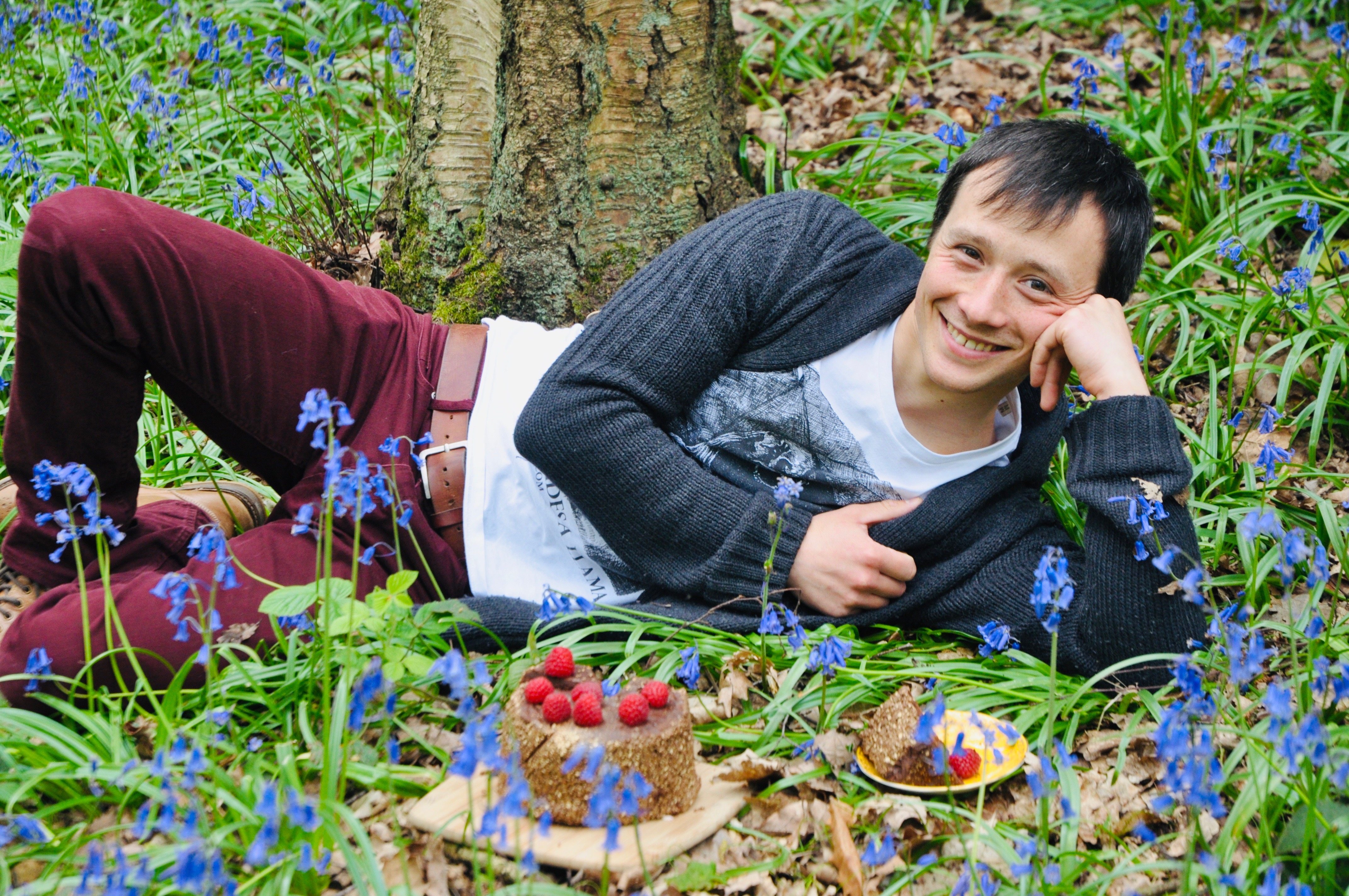 When you think of landscape and nature you will undoubtedly think of our present situation and preservation of our environment, planet earth and the way forward to protect it.  The connection between everything living from our solar systems, as planets orbit around the sun, rain cloud formations, water droplets falling into flowing rivers as they journey out to oceans full of life. Tides lick the shores of land, abundant with all that inhabit it.  Olivier's work is an exploration of all this, encapsulated in his intricate and explorative artworks.
These illustrations are intimate and complex from the tiniest details, to be all part of the bigger picture, and I mean literally.  These huge dynamic drawings are hours with a small tipped pen and ink, a maze of mystery and detail that you can stare at them for hours forever finding something.  Whether intended to be there like the deep sea diver finding treasure, Jupiter cosmically appearing amongst the shoals of marine life or your own imaginings amongst the swirls and shapes of an illustrative cosmos; his works have you lost.  The whale with its own Ecosystem, a community of interacting organisms, floating like a planet through white space.  His imaginations take you on a journey, his concepts, the details of his artworks are breath taking.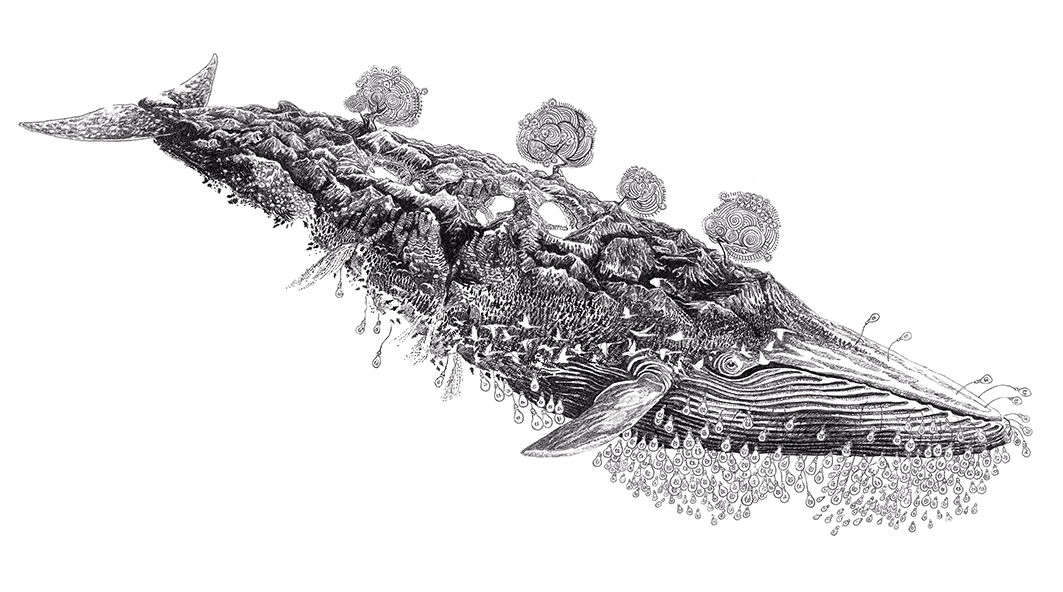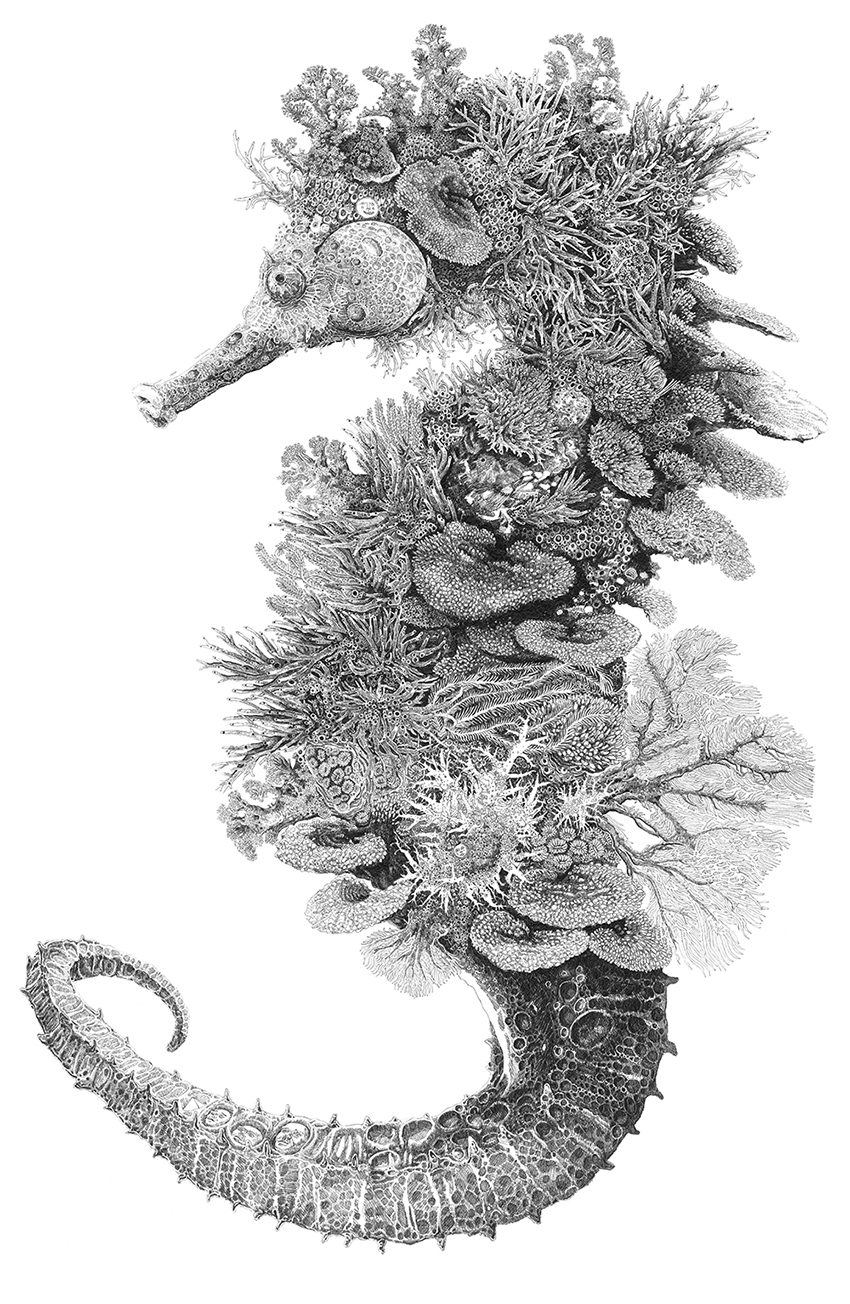 Olivier's interest in marine life, animals and ecosystems has turned his passion into a maze of intricate worlds all built into a solar system of detail.  His doodles could have remained a child-like fantasy of escape, however this young man didn't just doodle in his school books, as A Levels in Chemistry, Biology and Art and then moving on to a fine art degree will testify.  His doodles and ideas in his head, started with him putting the illustrations on Facebook and getting such a good response from his friends that he eventually started to create these giant detailed artworks.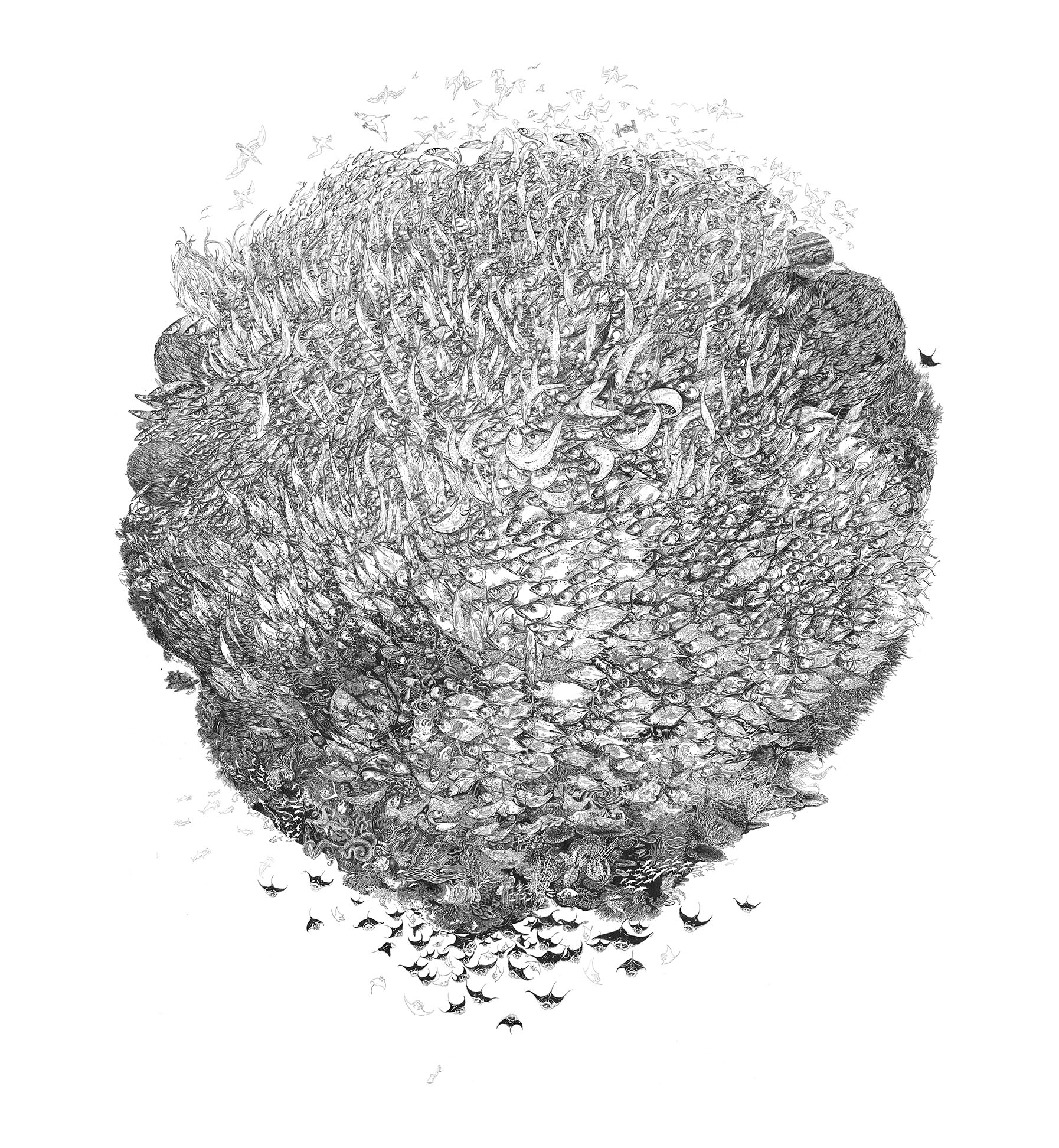 The time spent on them sometimes taking up to six months of intricate illustration and penmanship. He is a natural draftsman, sketching his concept confidently with swift movements in pencil and then creating the whole finely tuned picture.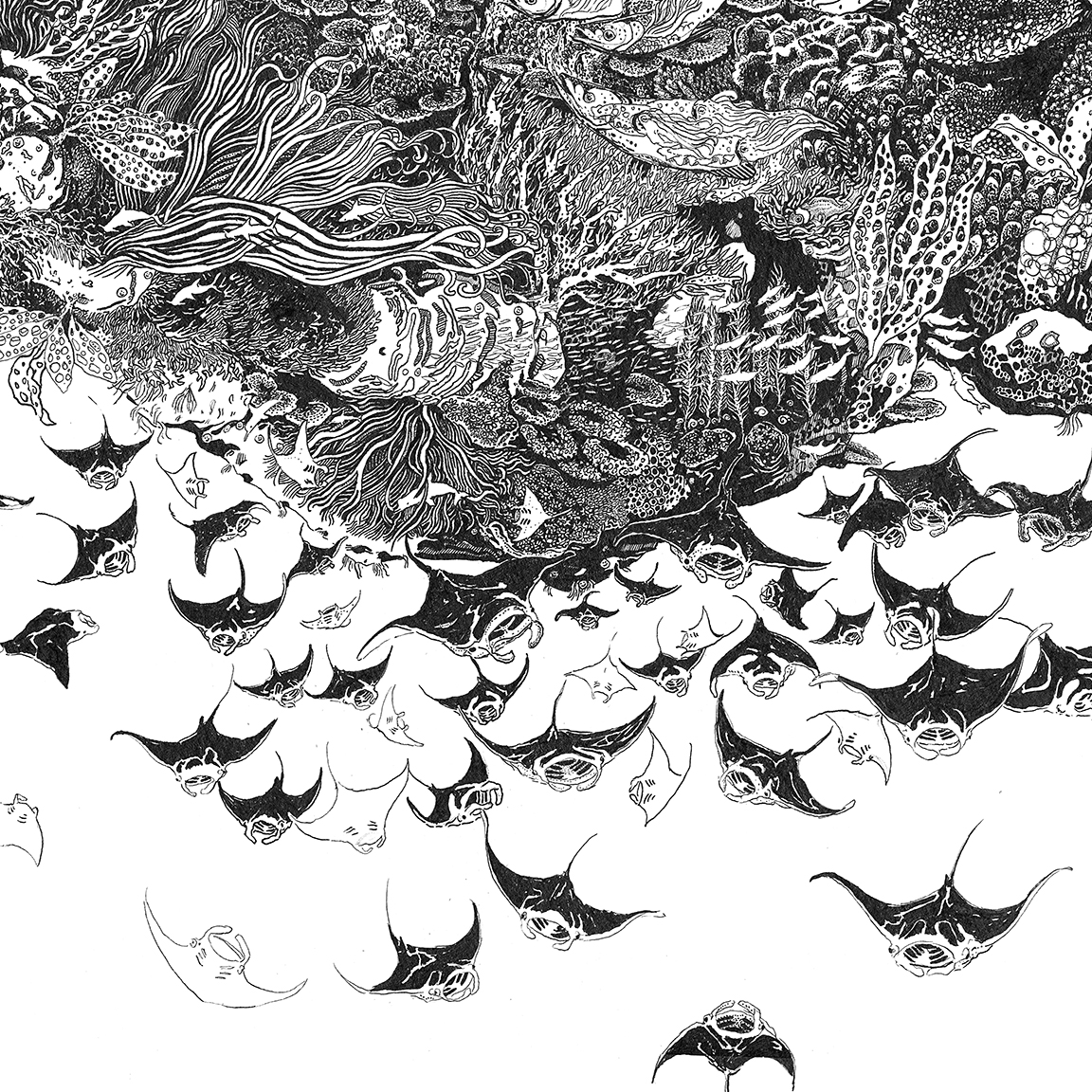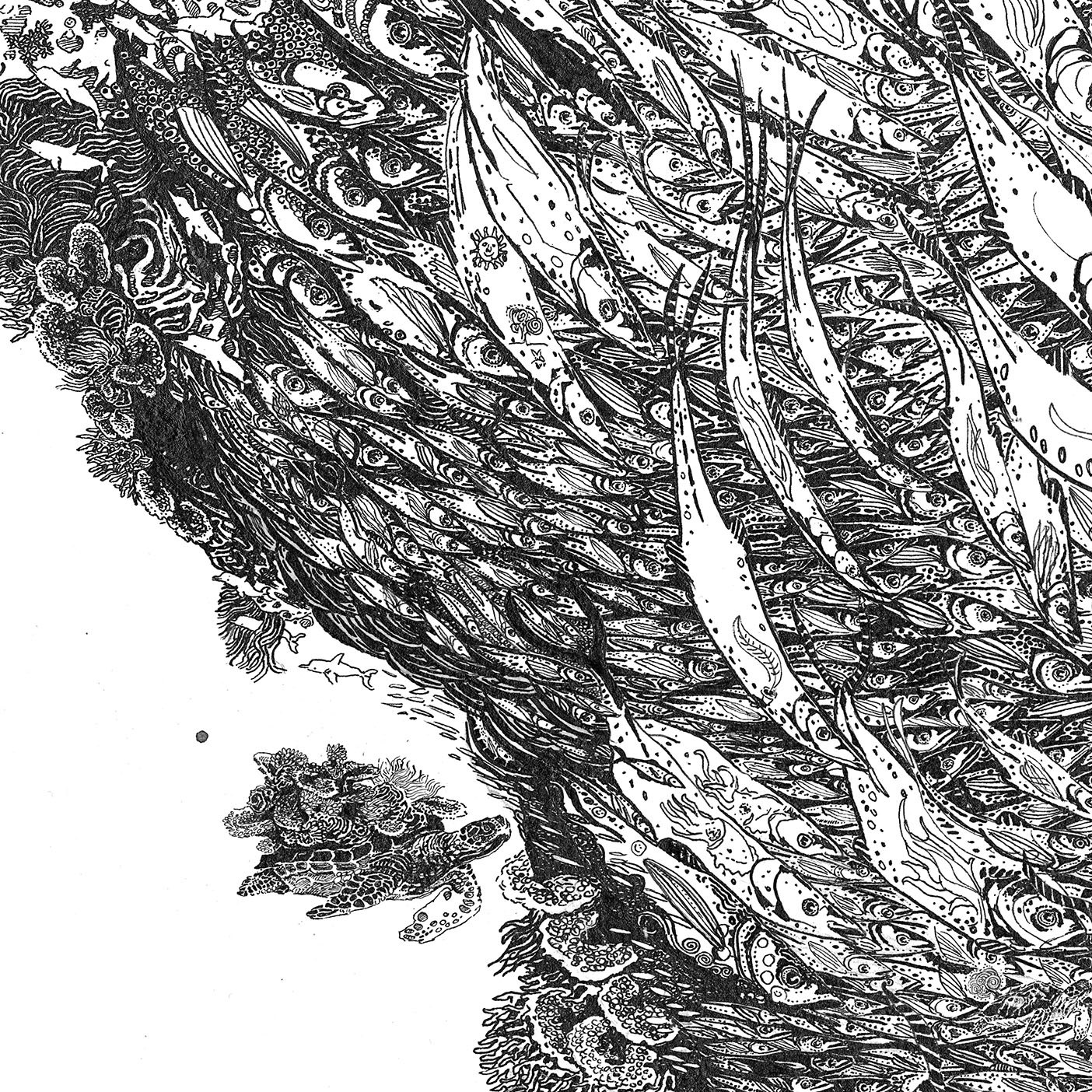 Olivier was born in London Ontario, Canada, and moved to the UK when still a toddler. His mother is French and he speaks French, his father a retired university lecturer, a childhood in the beautiful Leicestershire countryside, where he still lives. What surprises me about Olivier is his gentle mannerism and eloquent command of the elegant English language, he has a humble demeanour, but don't be deceived. This man has the self confidence to sell his own work and turn his artworks into a business. His first job after graduating at University was working in a shop selling video and computer games, an experience which he credits with teaching him how to sell.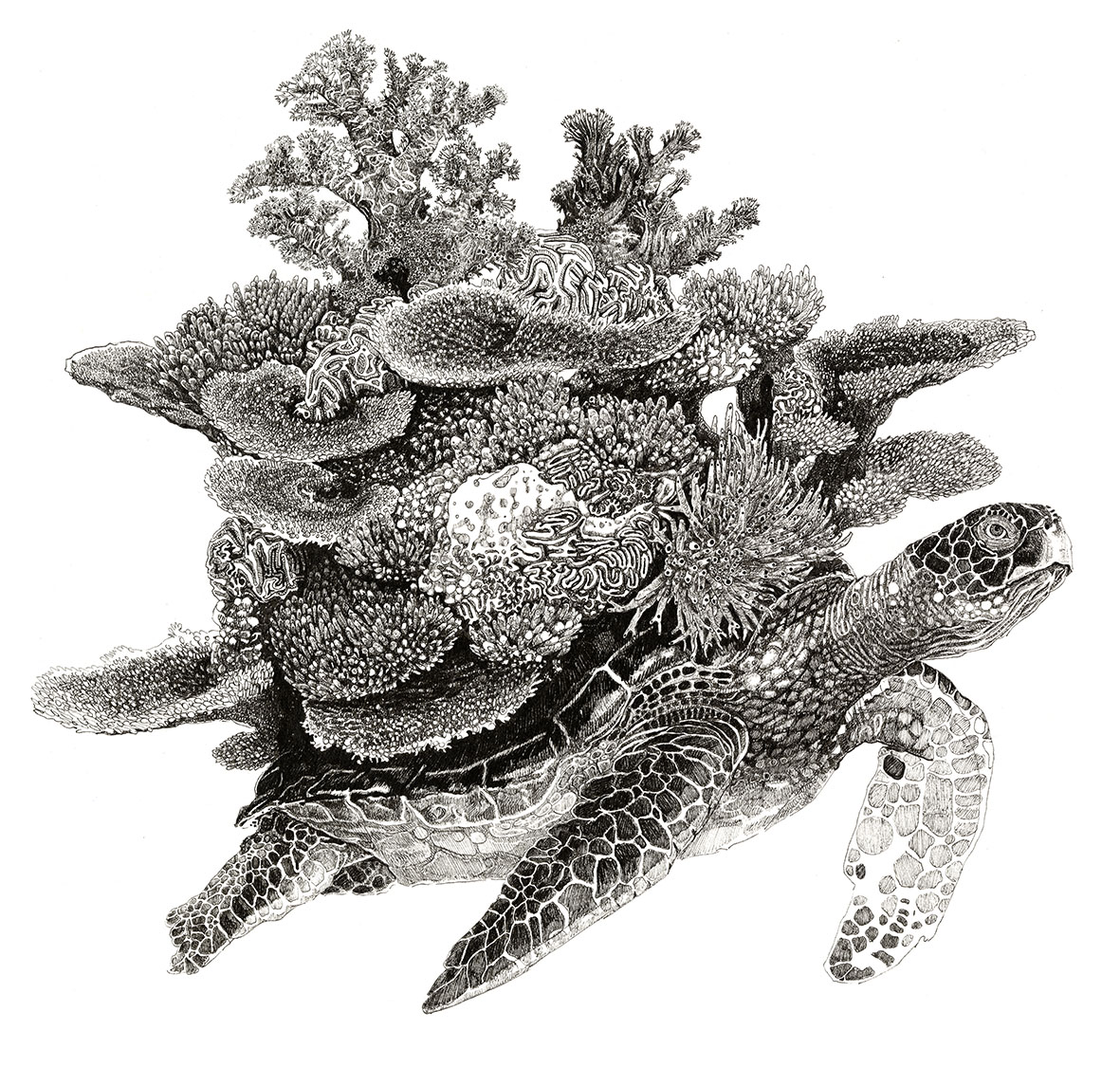 He now sells both original works and prints that he produces himself, and I am talking top of the range digital printing, his studio has state of the art scanners and computers. Olivier is mindful of the impact his business makes on the environment, for example trying to reduce the use of plastic where possible. "The way you live your life has an impact on the natural world around you" he tells me. "Remembering that helps me continually revaluate the choices I make, to try and live more sustainably".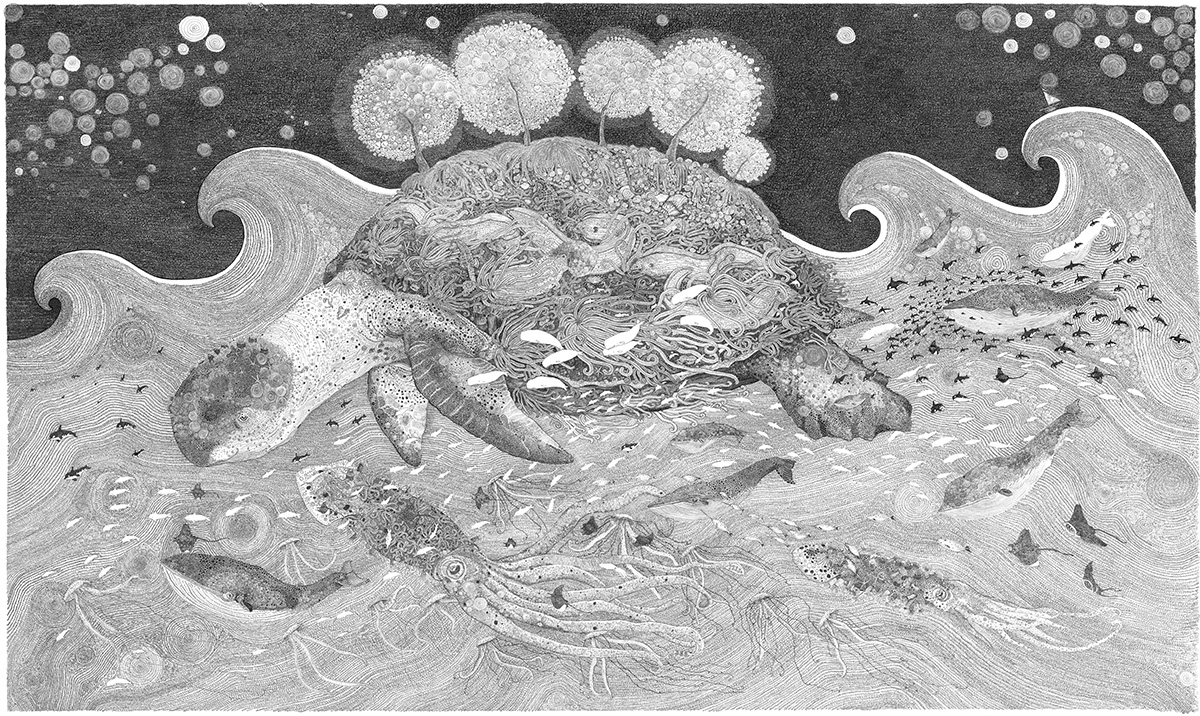 How it all started in 2013, when he completed his 1.5 metre artwork, the Eco-planet whale, 'Sacre Bleu Baleine', which he sold immediately.  Since then he has exhibited at art fairs around the country, with his awe-inspiring collection. Leger's respect for nature is all too apparent, as an artist he expresses this, however his knowledge of science and biology and the amazement he has for nature. "Did you know a sperm whale dives two kilometres underwater, that is a lot of pressure" and then he calculates the atmospheric pressure in his head. He tells me about the power of adaptation, evolutionary trajectory, and the way an octopus feels, hunts and tastes things with its arms, or how the mantis shrimp punches its prey. Olivier questions it all, how the creatures come to be, it fascinates him, that's why all his animals are planets, because the planet is so alive.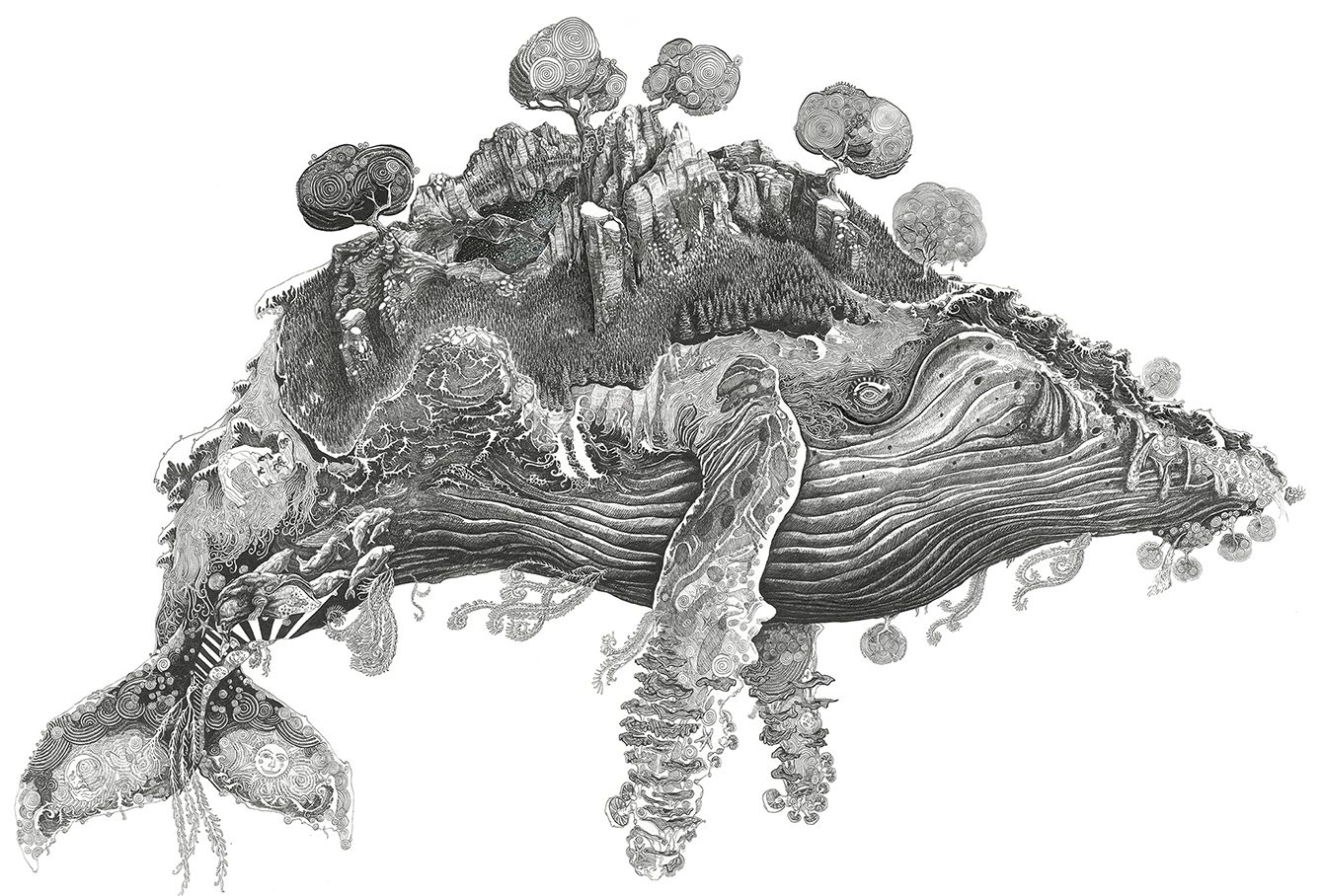 A self-confessed geek and sci-fi fan, we end our chat as we talk about his hero Elon Musk, and how he works a 100 hour week. Then he tells me has a lion drawing to start on, that he is hoping will help raise money for wildlife charity the Born Free Foundation.
Interview: Antoinette Haselhorst