Simon Casson
Simon Casson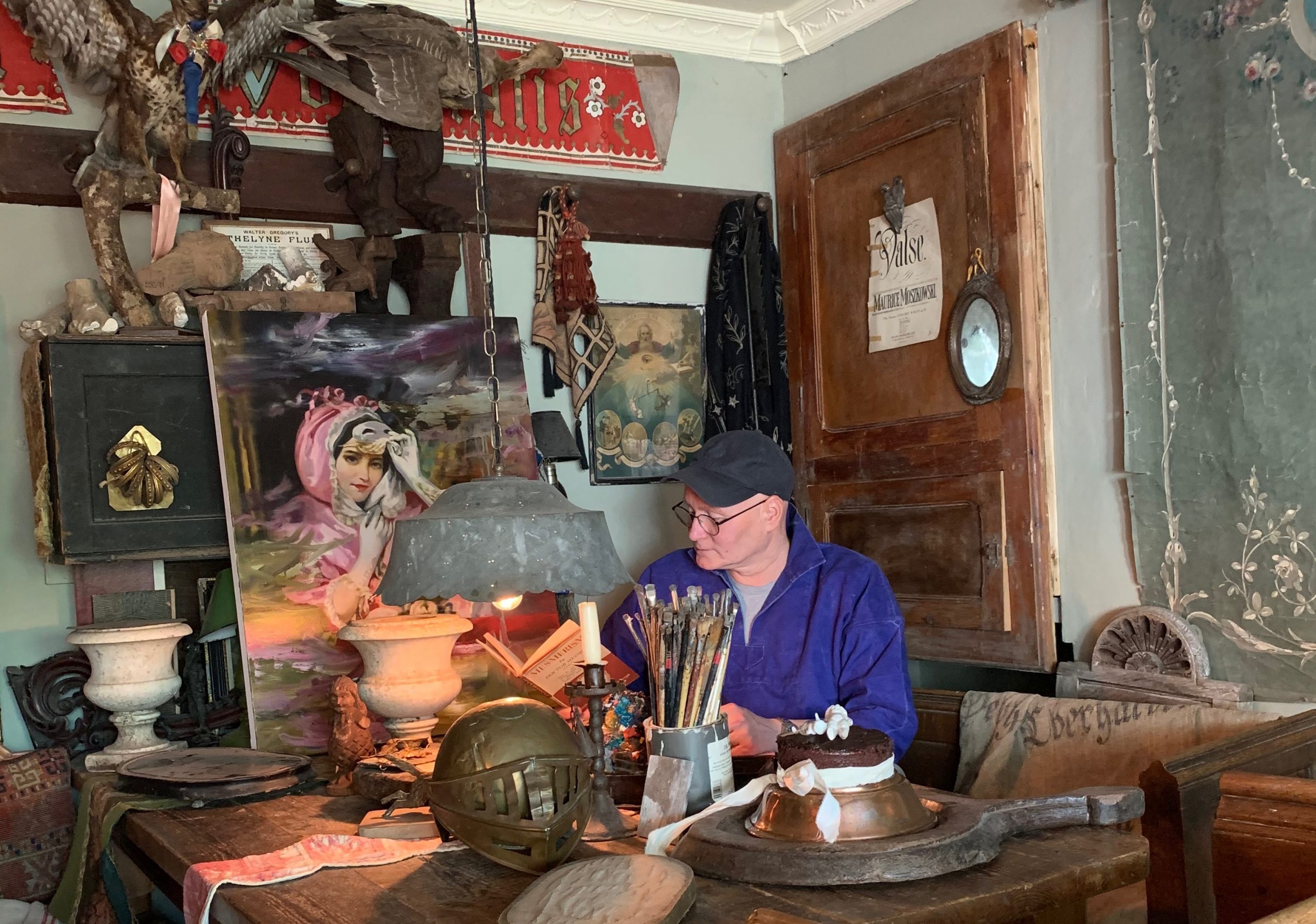 Have you ever stood and gazed at a painting that you have been so captivated by, the narrative taking hold of every emotion in you, the landscape resonating all sorts of memories and desires? Wherever you have had this experience, it resonates a profound sense of awe that will most likely stay with you forever. The landscape of Simon's work is a multifaceted layering of this experience, his paintings, a stroll through museums from anywhere you can imagine, wandering through the old halls of an eclectic mix of Titian, Rubens, Gainsborough, Le Brun, Diego Velazquez or Orazio Gentileschi. However, there is one catch, Simon's skill with the paintbrush almost fooling you, one could be convinced that his works are extracts from the originals of those classics; creating a montage or collage effect. These artworks are all original Casson paintings; assembled to create a landscape of poetic narrative.  It doesn't stop there, he then combines a contemporary medium of blurring, cutting away elements with hard angles and blunt edges. His paintings appear layered up; the whole is a complete modern art form, with all the romance, colour, nostalgia and emotion of a baroque painting, capturing the same textures of silk dresses and garments and the opulence of floristry and romance.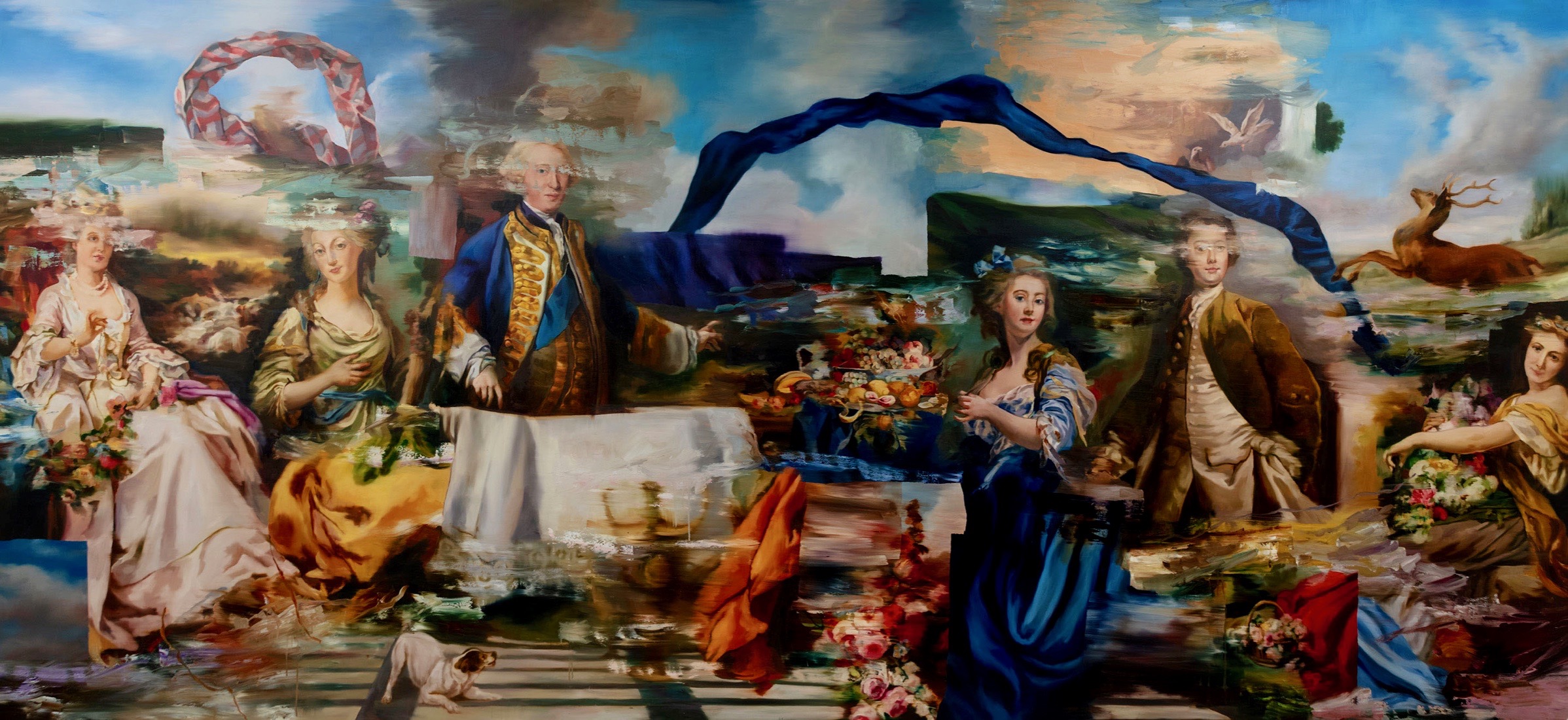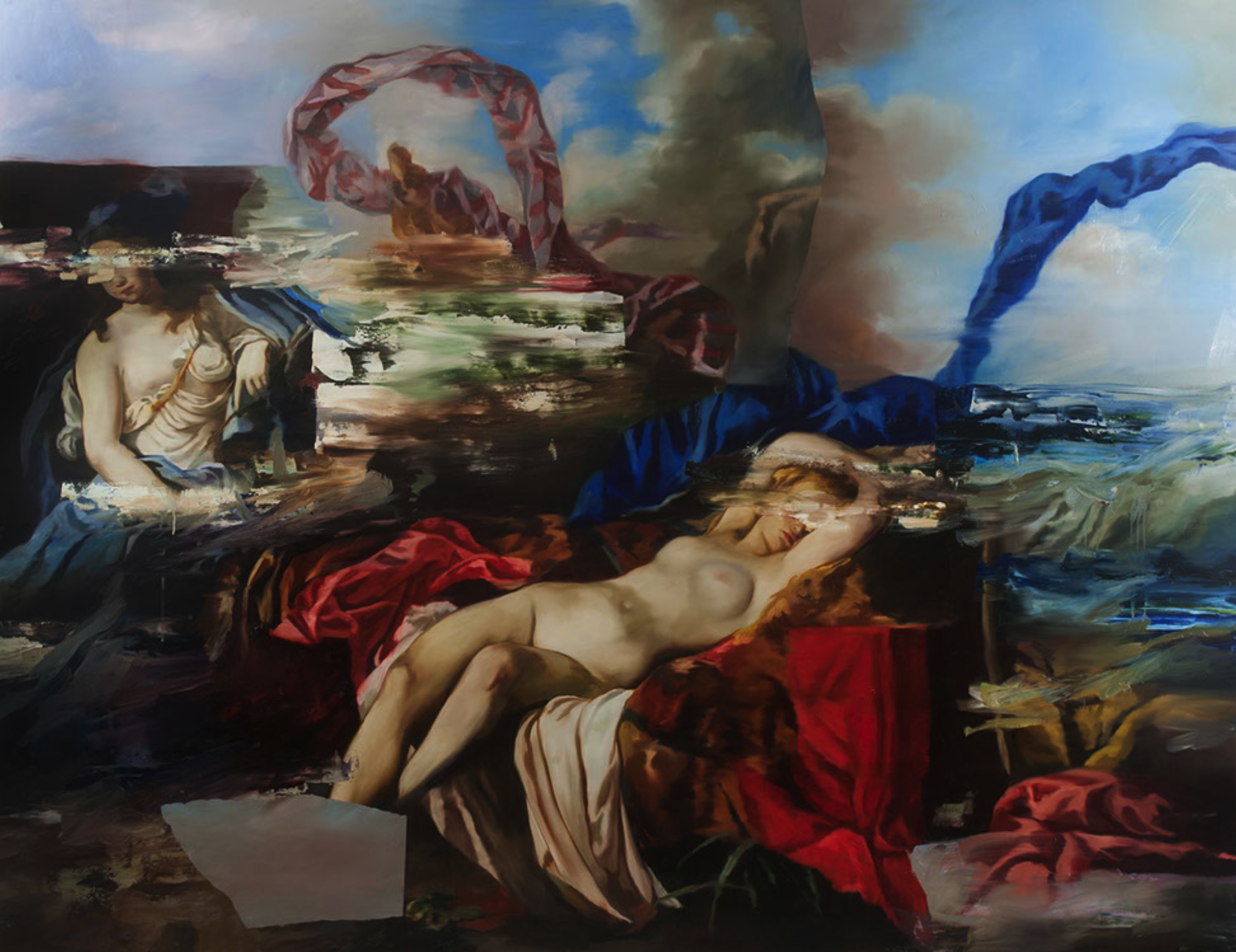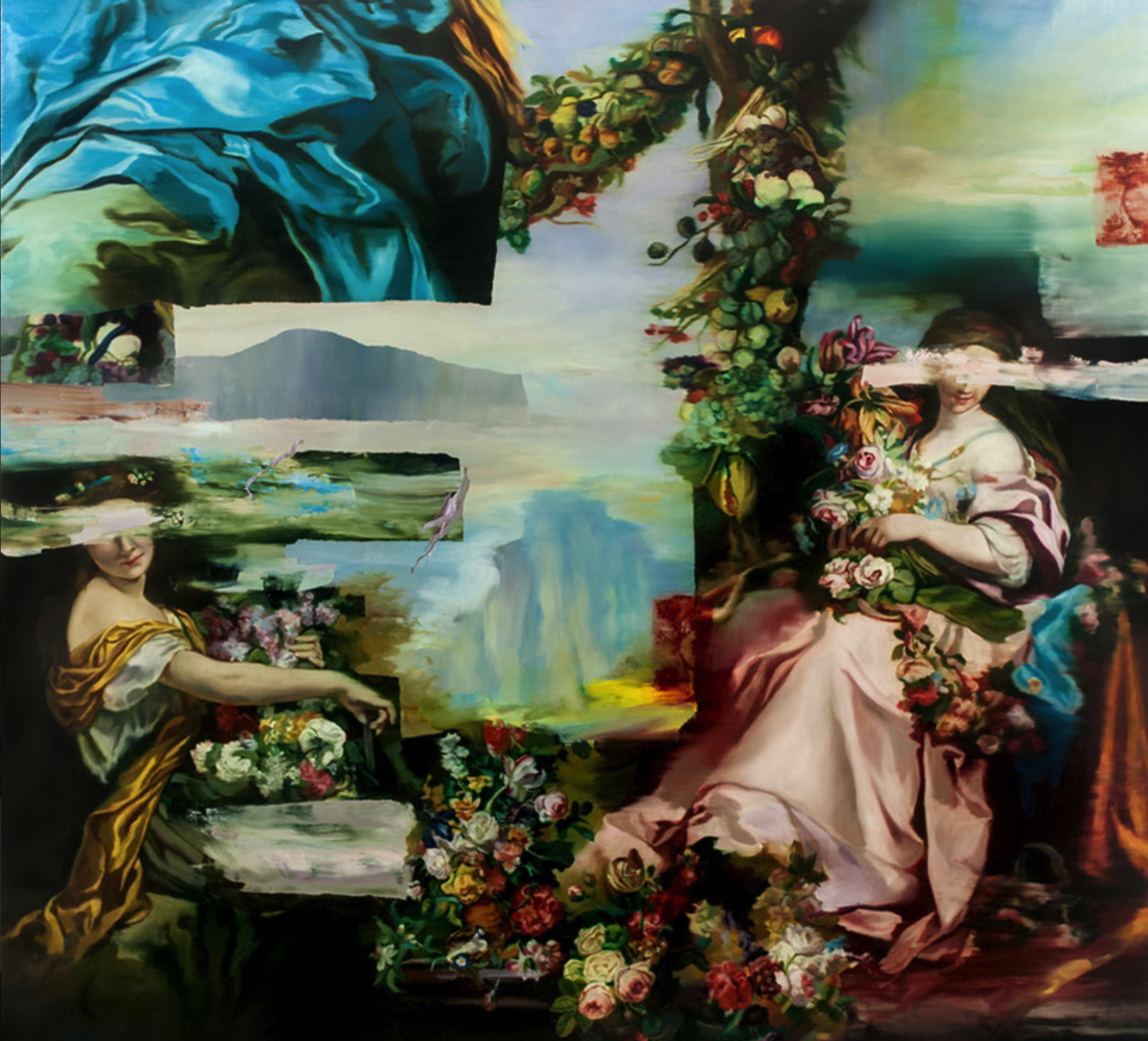 Born in the UK Simon spent a big chunk of his childhood in Zambia. When I ask him if the country influenced his work at all he concretely says "no" although he does emphasise the vast landscapes and "a profound sense of green". I ask him if he knew he would be an artist when he was young, again he says no, he was not aware of his talent as a boy, although he does recall being top in the class at drawing and that he loved drawing trees.  He then mentions making cars out of wire; which if you have been to Africa you will have seen plenty of wire artworks.  He wanted to be a Game Guard and protect animals from poachers in Africa. However it was a visit to the National Gallery in London and the painting of Bacchus and Adriane by Titian that really had a profound impact on the young 10 year old Casson. By now he was back in the UK attending a boarding school in Cumbria, over the next few years his interest in art developed.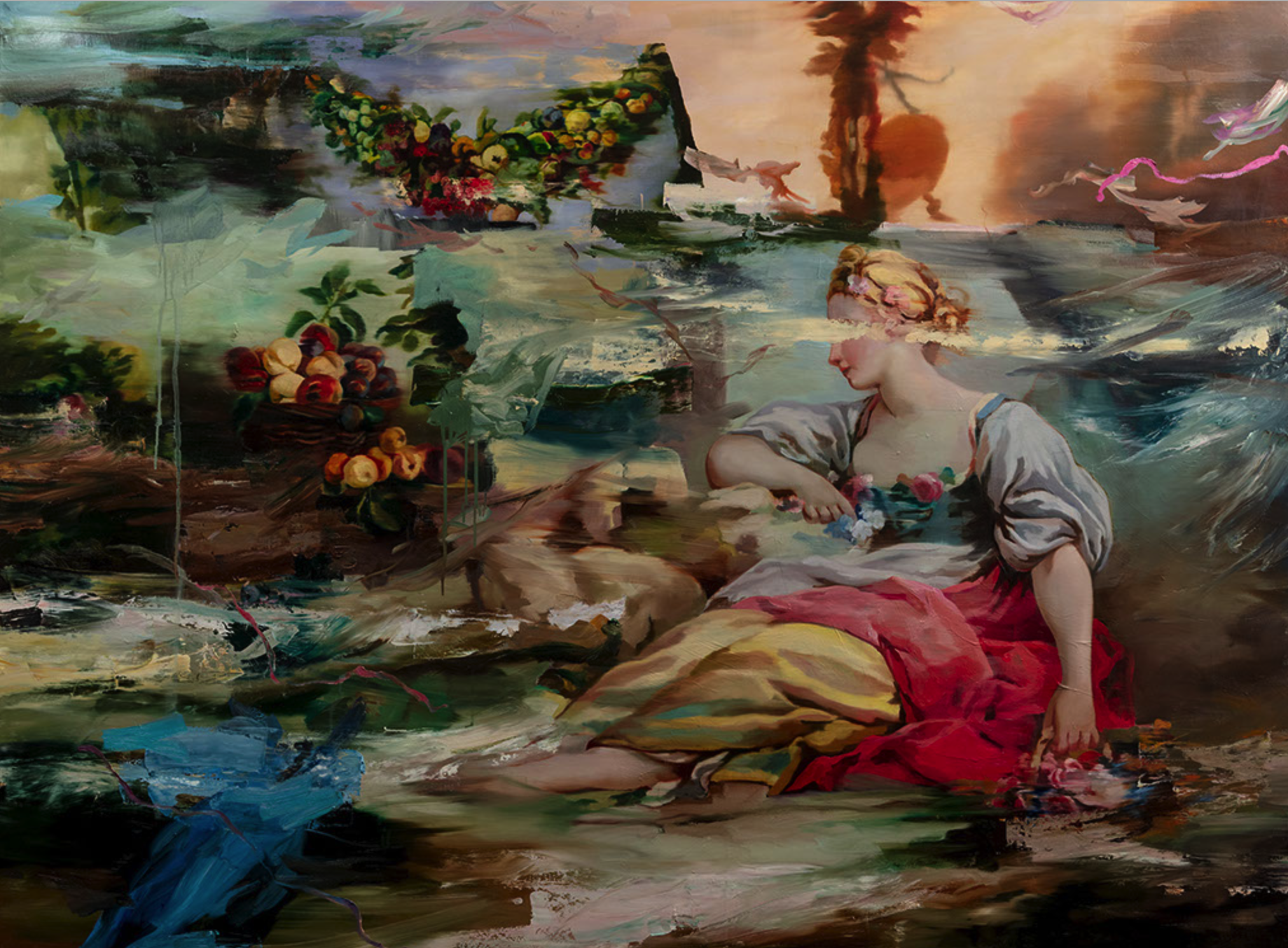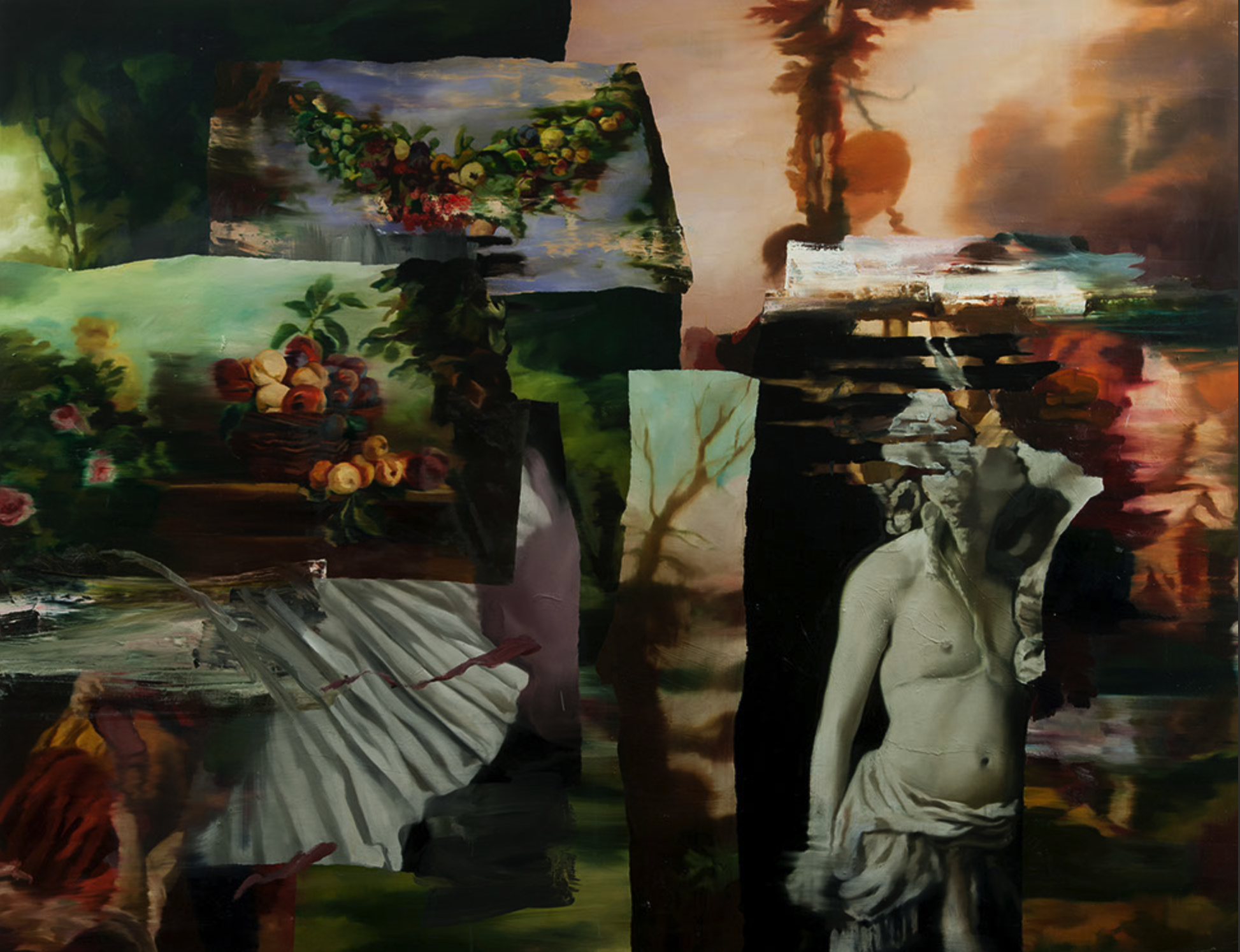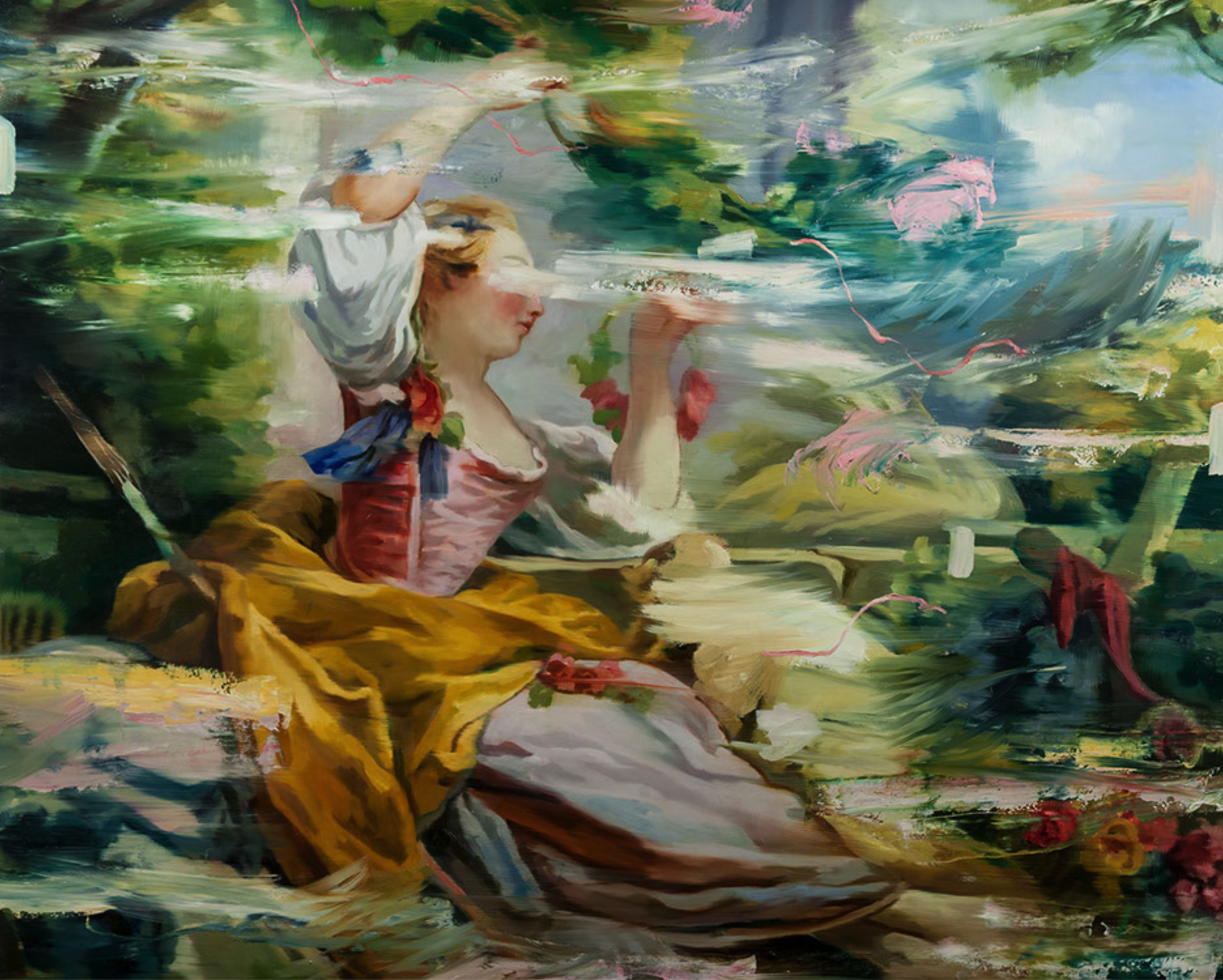 By the time he was 16, he decided he wanted to attend art college. He began with a foundation at Barnsley College of Art and Design; followed by the Rotterdam Acadamie van Beelden Kunsten, an undergraduate Scholarship in the Netherlands.  Returning to the United Kingdom, he attended the Exeter College of Art and Design. He then completed a BA with First Class Honours in Fine Art at Central St Martins College of Art and Design. Followed by The London Institute, Central School of Printmaking he completed a Postgraduate Diploma and then the Royal Academy Schools, the Royal Academy of Arts with an MA in Painting.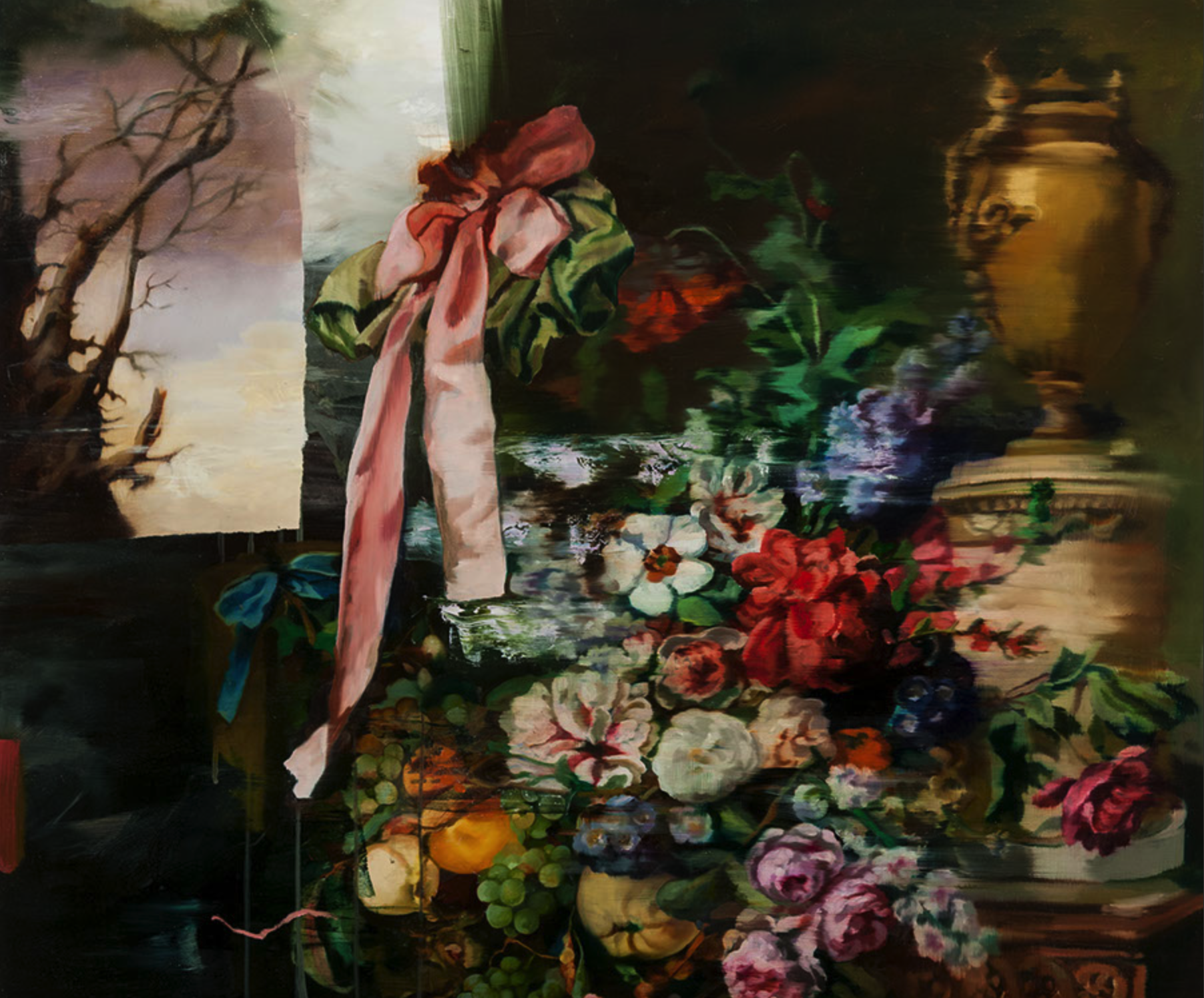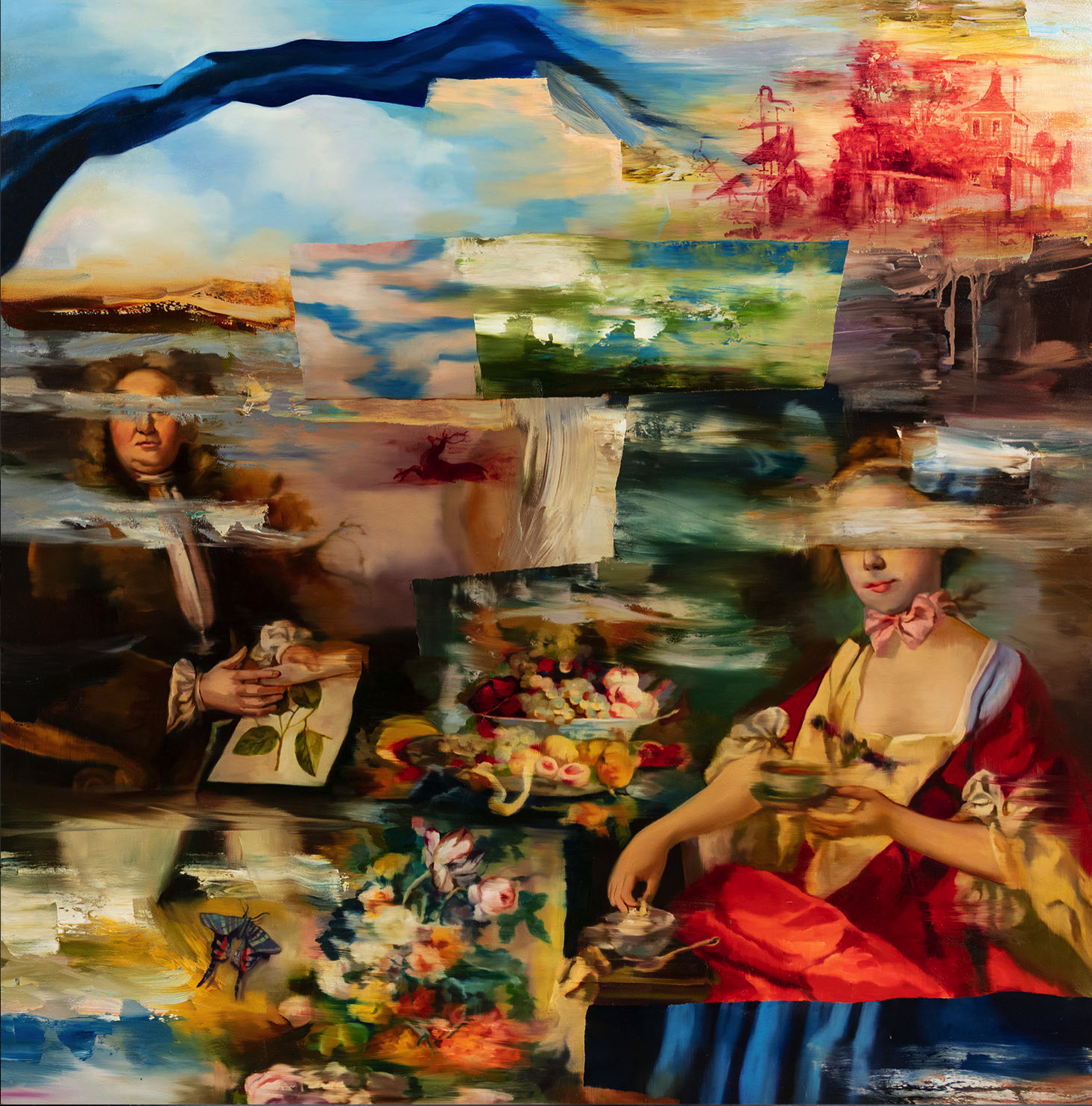 Simon began teaching Fine Art when he left Art college. He additionally became involved in prints, finding big sheets of steel from building sites, creating etchings by hand to make a print, along with zinc plates from builder's scrap yards, exhibiting the artworks at the Royal Academy. Now he paints primarily with oil on canvas, his style significant and recognisable. He defines it beautifully "It's like looking in the mirror, you recognise yourself and know who you are" his works are sold all over the world including the future king of England, H.R.H The Prince of Wales who owns two of Casson's paintings, as well as commissions for the legendary Cadogan and Savoy Hotels.  His work has been auctioned at Sotheby's in New York, 17 awards including the Royal Academy medal for painting. I first encountered his work at the Long and Ryle Gallery in central London in Pimlico.  He has had plenty of other solo exhibitions around the world, most recently the USA and filling one of the largest art galleries in Canada with his work.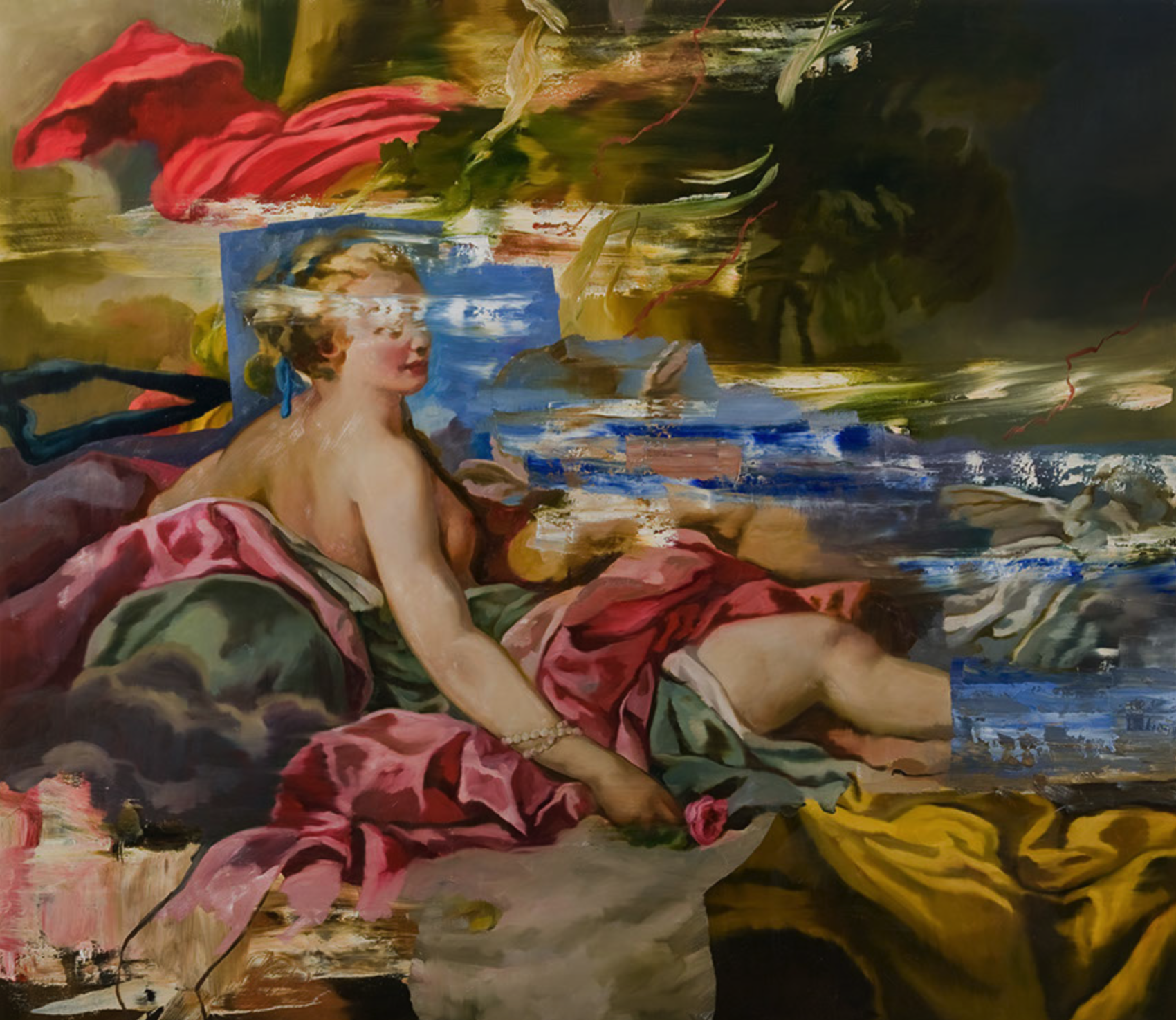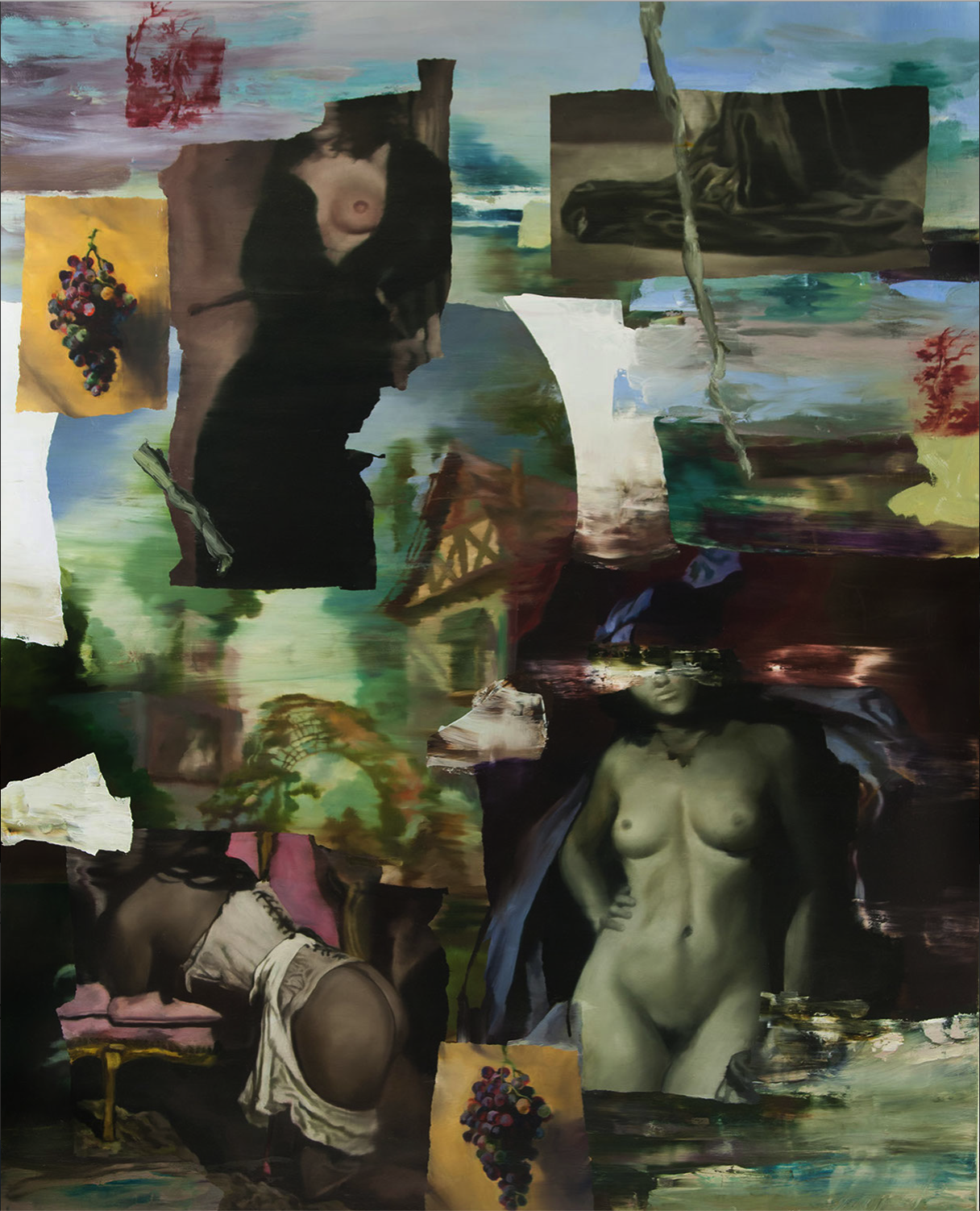 Casson's method is poetic he explains, he works on the aesthetic renaissance of the figure, bringing it into the 21century, painting more like poetry "When you read a poem" he explains "reading it over and over; when you re-read the poem 5 to 10 years later it has a different meaning" he emphasises. As with his artworks, walking away for a time and then coming back to it. Interestingly his inspirations are additionally abstract contemporary artists such as Anselm Kiefer and William De Kooning, Frank Stella as well as landscapes by Jean Baptiste Camille Corot. Cross pollinating from different mediums, film, poetry and photography he explains, borrowing from one discipline to another, blurring boundaries and finding visual inspirations from various fields. He references film director Peter Greenway's contemporary films, like A Zed and Two Noughts, and that emotions of post modernism excite him. Simon's style is an alternative version of modern art, escaping from concept art, that has been taking hold of the art world for a couple of decades, with advertising executives like Charles Saatchi, becoming collectors and art dealers.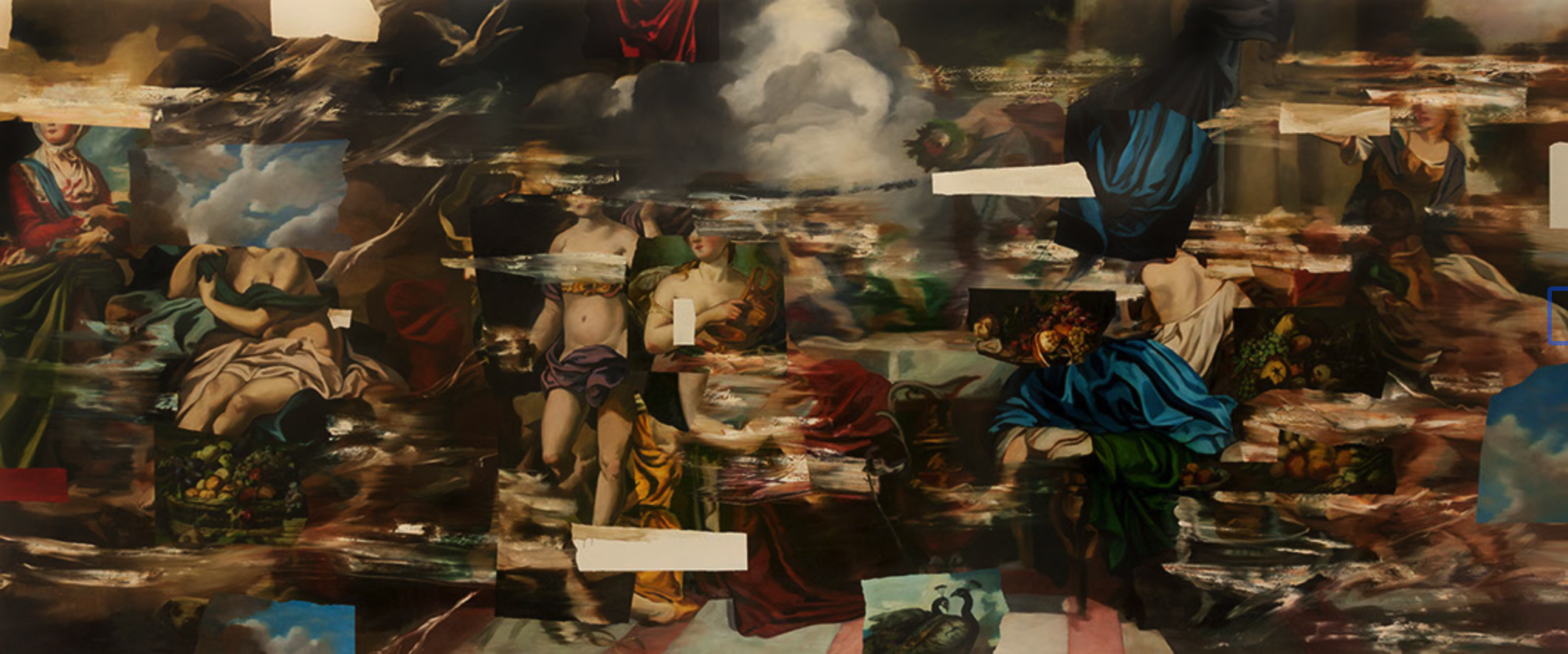 He moved away from London, after  spending 11 years in the city between 1988-1999. He now lives in Somerset with his wife and three daughters, with their chickens, and other animals, however he visits London regularly, and with each visit, he goes back to the National Gallery, where his journey began. He is still in love with sitting amongst those Greek Gods, and still visits Bacchus and Adriane.   
Interview: Antoinette Haselhorst